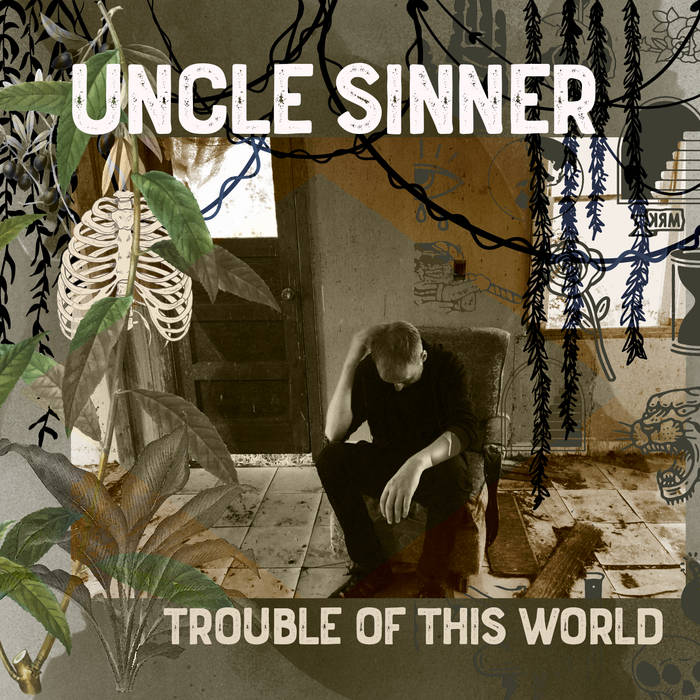 Uncle Sinner's third proper album "Trouble of this World" was released on March 16, 2020 and coincided with the covid-19 virus outbreak (the title is well-timed and fitting). My original plan was to publish the review on the release date, but other things came between. A preface for those of you who are unfamiliar to "dark canadiana". Uncle Sinner started out as a two-piece band with Uncle Sinner on vocals, banjo and guitar and Matt "Fuller Vengeance" McLeod on vocals, bass, mandolin, guitar, percussion and banjo. They parted ways a couple a years ago and Uncle Sinner continued on his own. The new album is dedicated to the memory of "Fuller Vengeance". Uncle Sinner wrote this on his Facebook page on October 8, 2018. "Sad to report that Matt McLeod, who produced my first album and played with me under the name Fuller Vengeance, died recently. Matt was a great guy and a talented, versatile musician. I can honestly say that without Matt agreeing to record me, and then encouraging me to share those recordings, there would be no Uncle Sinner." The album cover pictures an absorbed Uncle Sinner. The album art and design is created by Agnieszka Ledochowska (who also created the album art for the debut album "Ballads and Mental Breakdowns" and a couple of other Devil's Ruin Records releases). Uncle Sinner seems to thrive and seek inspiration outside and inside derelict buildings in the Interlake region between Lake Winnipeg and Lake Manitoba (a.k.a. "Sinterlake" in the world of Uncle Sinner). Uncle Sinner is also known for holding and smoking cigarettes to such an extent it makes the Marlboro Man look like a health freak. The new album is recorded, mixed and mastered by Uncle Sinner in his basement. Let's go over to the album and walk it trough.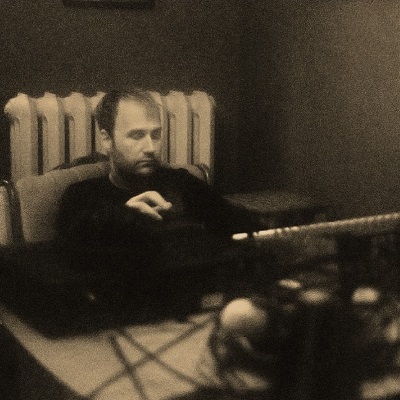 The new album contains 13 songs plus two bonus tracks (they are not reviewed). The songs on the album are both original and traditional songs. Let's start with an obvious remark. Uncle Sinner sticks to his working methods. The songs are not traditional in the traditional sense. The songs has been brought to the smithy and forged into a new shape and form, but still possible to discern. The album starts off with "Creation Myth". It contains tons of exquisite banjo playing. It's a strong opening song. It ends with an arrangement of "Greasy Coat" (traditional). The vocals is raspy and Uncle Sinner's voice cracks here and there. The raw and unpolished style fits the purpose. The second song is "Gallows Pole". It was made popular by no less than Led Zeppelin on their third album. An unusual pick if I may say so. Uncle Sinner's take on the song is innovative and twangy. Compared with Zeppelin's version, the tempo is slower and the dark lyrics stands out more clearly. "I didn't bring you no silver, I didn't bring you no gold / I just came to watch you swinging high up from the gallows pole". The third song "Trouble of this World", is a gospel-like hymn. The message is clear. Death is the greatest liberator. We are done with this world. We want to leave this earthly world for the heavenly world. "Well soon I'm gonna burn down what, what needs to burn / I'm going home to live with God, my Lord". The fourth song is called "Glory in the Meeting House", sounds like an Irish or Scottish jig. The song is instrumental with banjo and fiddle. The fifth song is "Motherless Child". The song has been covered by many artists in very different ways; from Boney M (disco version) to Van Morrison (hymnal version). Uncle Sinner's contribution to the long list of covers is a slow, heartfelt blues version. "Sometimes I feel like a motherless child / And a long way from home". Blues isn't my cup of tea, but reluctantly I like this version. The sixth song is "Long Gone", which is more catchy and upbeat with harmonica. Brute force, but not unsensitive. The seventh song is "Rocky Island", true and unadulterated Irish romanticism. So far, so good.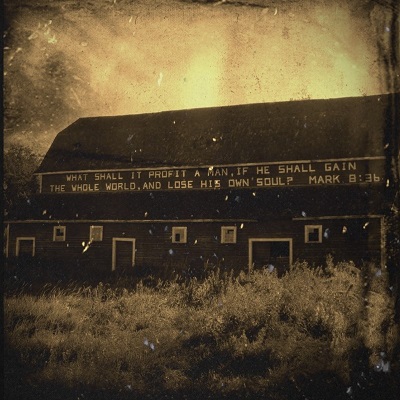 The second obvious remark is that Uncle Sinner is true to his mission statement: "adapting traditional American music for his own purposes". The eight song is a Blind Willie Johnson song, "Cant Keep From Crying". Great interpretation. The ninth song "God is Not Dead (He's Still Alive) has a distinct "O Brother, Where Art Thou?" vibe. The song is built more around the vocals than other songs on the album. Nice banjo picking at the end of the song. The tenth song "Our Little Things (for Vic Chesnutt)" is the best song on the album. It's a tribute to Vic Chesnutt who tragically died on Christmas Day 2009. Vic was criminally underrated during his lifetime. Seems like some artists have to die before they get their recognition. However, death did nothing for Vic. It's unfair since Vic flirted with death all his life. However, Uncle Sinner makes a splendid homage. The eleventh song is "That Suits Me". This is definitely a more upbeat song. I imagine myself in a church bench, swaying and frantically clapping my hands. The twelfth song is "Into Grace". By Uncle Sinner standards, this is a refined and polished song, well-arranged with fine-tuned vocals. The closing song is "Jubilee". The lo-fi singing is close to humming. Under all circumstances, a good closing song.

And the overall impression: this album is both varied and coherent, definitely very focused. Arrangements and performance are solid, but raw. In fact, it gives the concept rough around the edges a new and deeper meaning. Still, maybe the standard Uncle Sinner rawness is somewhat toned-down on this album. Anyway, it's a really good album. You can buy it through Bandcamp (double-click on the icon below).
If you click on the icons below they will open in a new window, from left to right: Uncle Sinner's Bandcamp page, main article on this website about Uncle Sinner, Uncle Sinner's Facebook page and Lyrics for "Trouble Of This World"