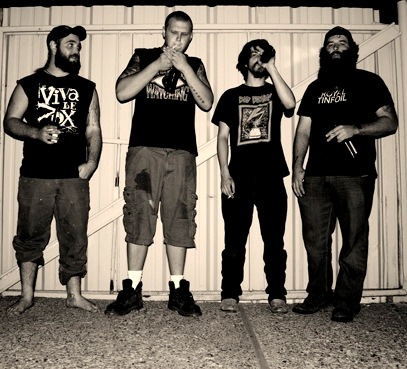 Filthy Still is a band from Providence, Rhode Island. Now disbanded. As been stated in this article series there is not exactly a crowd of band under the heading Northeast, so this is a welcomed addition. "Filthy Still" is synonymous with moonshine liquor that is not clean enough, and therefore need one or more turns in the distiller. Such a distillation device is also their logo. I don't know how versed they are in the Bible, but "Filthy Still" is also a concept in the book of Revelation (22:11): "He that is unjust, let him be unjust still: and he which is filthy, let him be filthy still: and he that is righteous, let him be righteous still: and he that is holy, let him be holy still". Johnny Cash cites these lines in "The Man Comes Around" on his third American-album.What can we make of this? There's not much of apocalypse or mystical religious brooding over this country-bluegrass-punk band so it's likely the moonshine and not the Good Book that's in focus here. In either case Filthy Still is a magnificently band name.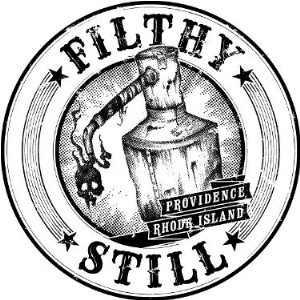 Filthy Still started as a solo-project with the frontman Jesse Roderick (guitar and vocal) in 2008. The band was formed in 2010 and their first "official" gig was at Club Hell in Providence. They opened for the more widely known The Goddamn Gallows (released on Farmageddon Records). The original lineup consisted (besides Roderick) of Matt Olson (guitar and banjo), Jeremy Garland (drums) and Dylan "Sleazy D" Wolk (washboard and vocals). Wolk died - only 20 years old - after a gig in December 2010 and the band was for some time considering whether they would continue. After a short while they did. Filthy Still has consumed a number of bass players: Mike Walker, Artie Elmer (playing a type of washboard bass). At present Guido Fassel plays bass. Jared McGovern (bass) and Liz Sloan (violin) who plays with Jayke Orvis & The Broken Band have also played with Filthy Still. The latter two are extremely talented musicians and provide stability and nuance to the otherwise furious driving band. Filthy Still have - apart from a short time after Wolk's death - basically toured constantly under, by any standards, very primitive conditions. Filthy Still always give their audience value for money. You know what you get: full speed from start to finish. There's nothing academic about Filthy Still, believe me.
There are really not much to analyze or immerse oneself in when it comes to Filthy Still. The music is born out of punk then mixed with country and bluegrass. Some of the songs start very traditionally, then with little notice, quickly gear up and then blasts. The tempo changes in the music makes Filthy Still interesting and distinguishes them from many other bands that more or less succeed to switch between tradition and modernity. Despite minimalistic production on their albums, it sounds very good. Seeing the band live (for me, that's on youtube) is actually quite entertaining, but everything is very rowdy and tinny and it's not possible to distinguish any nuances. Filthy Still takes alcohol and drug romanticism to new, higher- and for me - totally unknown levels. The texts are spelled "self-consuming" for example:…how I spent my dime, drinking beers by the bucket, smoking weed and passing time, with a pocket full with pills, my days are full of thrills… So it goes on in their lyrics – in the rough - in song after song. One exception is the closing song on "The Last Six Feet" where they suddenly and without warning showcases a softer and more melodic style:…life is a journey, and you travel alone…How true. Jesse Roderick appears to have seen the dark sides of life and sings the lyrics with a special insight. Definitely existential and almost a bit poetic (by Filthy Still standards). I didn't expect that from Filthy Still that otherwise drives on untiringly in "one-two-three-go" style, but life is obviously full of surprises.
Filthy Still have released two physical albums "All Bottled Up" (2009) and "The Last Six Feet" (2012). For a long time I thought that "All Bottled Up" hadn't been released. According to unconfirmed information on internet it was recorded in "do-it-yourself" style in a basement. Despite a fierce and systematic googling, I didn't come across it in any form. Until, their vehicle broke down in West Virginia and Farmageddon re-released the album to help the band get a new touring vehicle. There were only 100 hand-numbered copies of this CD for sale and I got my hands on no. 66. "The Last Six Feet" (2012) is also released on the reputable Farmageddon Records. However, the things Filthy Still have to say- they also say quickly. 12 songs in 35 minutes (!). At this point it's unclear if the album will be released on cd or only as a digital release. The album cover of The Last Six Feet is very stylish in brown, beige and green picturing a sorrowful gravedigger. The album cover was created by Timothy Holland. A third album "Dirty and Low" was released in June 2015 (digital only). I hope it sooner or later will be released on cd.
Below is a suggestion for a CD compilation.
| | | |
| --- | --- | --- |
| No | Song | Album |
| 1 | Shackled To The Throne | The Last Six Feet |
| 2 | Molasses | The Last Six Feet |
| 3 | Wrong Guy Dry | The Last Six Feet |
| 4 | Another Bottle | The Last Six Feet |
| 5 | Danced All Night | The Last Six Feet |
| 6 | Out Of The Ashes | The Last Six Feet |
| 7 | The Last Six Feet | The Last Six Feet |
| 8 | Goneward Bound | The Last Six Feet |
| 9 | Can't Get Out | The Last Six Feet |
| 10 | Dinosaur Shit | The Last Six Feet |
| 11 | Question The Answer? | The Last Six Feet |
| 12 | Life Is A Journey | The Last Six Feet |
Best album: The Last Six Feet
Best songs: Shackled To The Throne, The Last Six Feet, Question The Answer?, Life Is A Journey