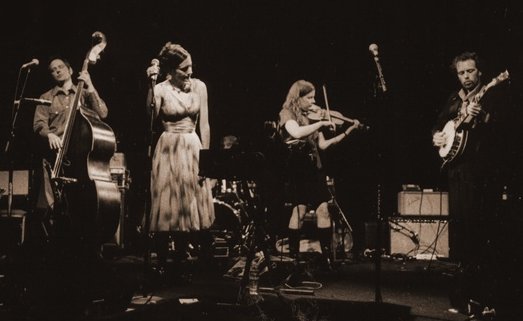 Tarantella is a band from Denver, Colorado. The band was formed in 2000 by Kal Cahoone (vocals and accordion) and John Rumley (guitar, banjo and keyboards). The latter had a background in Slim Cessna's Auto Club (SCAC). Kal Cahoone has a classical music education. John Rumley has a guitar workshop in addition to other musical commitments. Kal Cahoone spent some time in Chile and Argentina (more on what significance this might have below) and returned to Denver with a strong determination to start a band. After a SCAC concert she gave John Rumley a demo recording. Rumley liked what he heard and the band was a fact. The band was expanded with Kelly O'Dea (violin and keyboards) and Dan Jon Grandbois (double bass) and Ordy Garrison (drums). As the last member Bob Ferbrache (guitar) joined the band (all three of them from SCAC). Ordy Garrison left the band after a short time for Woven Hand a.k.a. Wovenhand. He was replaced by Chad Johnson. Grandbois left the band in 2005 and was replaced by Shane Trost. Subsequently, Bob Ferbrache left the band and returned to SCAC. He was replaced by Jimi Sedbrook.
Tarantella's first official appearance was as the opening act for 16 Horsepower in Denver on New Year's Eve 2000. A first 4-track demo was released on Smooch Records. Their first and only album, Esqueletos ("skeleton" in Spanish) was released in 2005 on Alternative Tentacles. An interesting observation I have made is that most musicians in Denver seems to play in at least one band, but often in three bands or more. SCAC is a good example. The band seems to be working as a Temporary Work Agency in the "gothic americana" industry. Also Cahoone and Rumley got inquiries. For example they contributed on Munly's album "Jimmy Carter Syndrome" and Lilium's album "Felt" (Cahoone), as well as touring with 16 Horsepower (Rumley). The many engagements obviously created logistical problems. They can however be solved. In general, other factors are more important for the survival rate such as different levels of ambition and absence of a common objective. Perhaps this is why Tarantella did not last. I have however not found any information about the true cause. In addition, neither Cahoone or Rumley was particularly interested in touring. The other members of the band have moved on.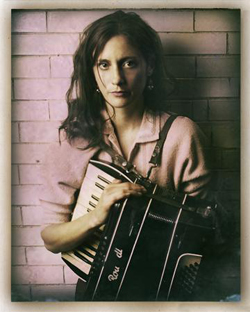 Although Tarantella started up as a joint musical project between Kal Cahoone and John Rumley and it was this combination that made it 1 +1=3, it's undoubtely Kal Cahoone who shines most brightly. Kal Cahoone went on with a solo career under the name Kal Cahoone and the Dirty Pretty already in 2005. She has released one album "Saints and Stars" (2009) and a EP "Build the Fire" (2010). Her solo-project is less "gothic americana" and more of a singer/songwriter with a depressive style not unlike Beth Orton. Anyway, it's very talented. But we are here dealing with "gothic country" or more correctly "gothic americana". It's unfortunate they didn't last. My assessment on the basis of the originality and brilliance in their debut is that there were very good future prospects. Tarantella had definitely been able to develop further as a band and release more albums with the same high standard as Esqueletos. But one should not indulge oneself in pointless counterfactual reasoning, but instead focus on the real world. As the doyen of "gothic country", Johnny Dowd, puts it: "be content with your life, it may not get any better". How true.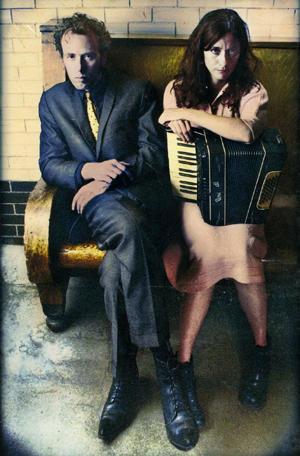 How shall I describe the music? We can start with how other people labeled it. The music of Tarantella is usually described as resting on rustic americana, spaghetti-western music, Spanish serenades, chanting, jazz and a little touch of pop and rock. Although Cahoone grew up in Denver, she was very influenced by both Argentine music and the Spanish language. The music has obvious elements of tango and bolero. In fact, several of the songs on the album have Spanish titles and are also sung in Spanish. The word eclectic has been used on Tarantella. Personally, I would like to add that the band is part of the "Denver sound". The lyrics are however hardly perceivable and that's not because the lyrics alternates between Spanish and English, but because the lyrics are generally a bit difficult to understand. The Internet provides no guidance in this matter. The band is just as odd as The Denver Gentlemen. It's definitely "gothic americana" although this "tex- mexvariant" is not directly the middle of the road. The term "dark folk" or "avant- americana" is sometimes used as labels on Tarantella. As stated in the introduction to this article series, labels are used diligently and resourcefully in "gothic country" as general consumer guidance. My advice to you as a consumer is to get Esqueletos by Tarantella. The record is, in contrast to many other albums, not hard to get. An album cover should interact with the music. The album cover in this case is absolutely amazing. The painting is made by Alfredo Benavidez Bedoya.
To present a suggestion for a CD compilation when there's only one album may, as pointed out in other articles, seem a bit odd and pretentious. But all the songs are solid. Tarantella is represented with a song (Dark Horse) on one (Rodentia I) of the four compilations with The Best Of Dark Roots from Devils Ruin Records. It is a mark of quality. Below is a suggestion of a CD compilation.
| | | |
| --- | --- | --- |
| No | Song | Album |
| 1 | Esqueletos | Esqueletos |
| 2 | A Cha Sa Dove Sara | Esqueletos |
| 3 | Dark Horse | Esqueletos |
| 4 | Un Ano de Amor | Esqueletos |
| 5 | Elder Tree | Esqueletos |
| 6 | Mexican Wine | Esqueletos |
| 7 | Misa Gringa | Esqueletos |
| 8 | Southern Cross | Esqueletos |
| 9 | San Telmo | Esqueletos |
| 10 | Dame Fuego | Esqueletos |
Best album: Esqueletos (naturally)
Best songs: Esqueletos, Dark Horse, Elder Tree, Misa Gringa, Southern Cross, Dame Fuego