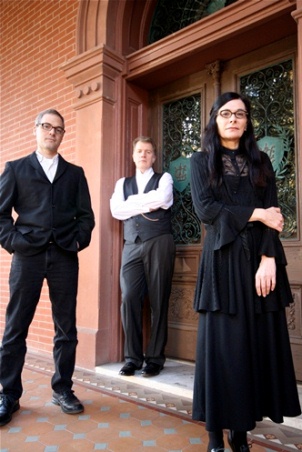 The Victor Mourning is a band from Austin, Texas (later relocated to Maryville, Tennessee and back to Austin again), see website. The band name "The Victor Mourning" really puzzled my head and I began to speculate what it referred to. The speculations grew wilder and shifted between such diverse phenomena as a Victorian mourning brooch (actually in their logo below) to when Victor mourns (mourning) to the music of Leo Delibes' opera Lakmé in an episode of the soap opera Young & Restless (which aired August 4 2008). In the end, I emailed The Victor Mourning to get an answer. Here is the clarifying response: "The Victor Mourning is mostly a combination of words that seem to fit our sound. Victor was an early record company which started around 1901. Early recorded music is a big influence on us. We have a dark sound and are fascinated by the art of mourning (tombstones, mourning jewelry, etc.), so the "Mourning" part was added. Also, if you take it as a phrase, "The Victor Mourning" can evoke the image of a winner who is deeply saddened by his victory, an image we also liked. And if all that weren't enough, in this era you must have a unique name if anyone is to find your band via Google." If you don't ask, you will never know. Above all, you will never know that you were wrong. Anyway, it's a very good name for a "gothic country"-band.
The Victor Mourning was formed in 2008 and consists of Stephen Lee Canner (guitar and vocals), Lynne Adele (guitjo - a six-string banjo and vocals) and Stefan Keydel (violin). Stephen has, to say the least, a checkered career in band such as Your Real Dad, Too Cool, The Nazarenes which played punk rock, glam rock and garage-rock. Then he performed under his own name for a period, but had the ambition to start a new band. One difficulty in Austin - which is an important cluster in the "gothic country" world - was to meet like-minded musicians who were not already involved in other projects. Arriving late to a concert with The Builders and the Butchers at Yard Dog Gallery, Stephen was introduced to Lynne. She worked at the gallery and fit the "job description". Stephen had previously played with Stefan sporadically a few years back. Thus, the band was formed. Besides being musicians, Lynne works at a university and Stefan works as a trained folklorist.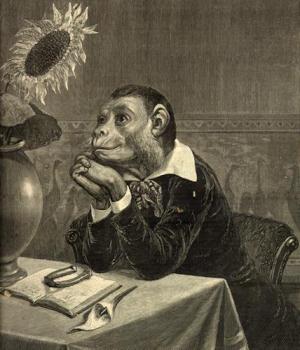 Stephen and Lynne were married in 2010. When the band relocated to Tennessee, Stefan stayed in Austin, but still performs and records with them. Now they're all in Austin again. Stephen Lee Canner writes all the songs and lyrics, but everyone in the band contributes to the arrangements. Like the band Blanche their dressing style and interests belong in another time – particularly the Victorian era. According to the band's website the influences are: "Ancient American & British ballads, pre-WWII hillbilly music, abandoned shopping centers & empty swimming pools, scythes, cemeteries & odd museums, the smell of old books, gasoline & matchbooks, jewelry made of human hair, and the broken shores of Patagonia." The Victor Mourning is the least known band in this article series. It is undeserved. I discovered the band during my triangulation of the genre. In a discussion thread on a music forum one member submitted extremely initiated suggestions for "gothic country" bands. The taste was exquisite. In passing and humbly, he mentioned his own band. After some time, I followed this lead and eventually bought their album online. Thereafter, I was hooked. There is a dark streak in the music, but at the same time is razor sharp and cuts right through your marrow and bones. Their website describes it as "dark Americana, hillbilly noir, gothic country, dark twang, the half barbaric yawp of ancestors who would shame you if you met them". The lyrics are dark and deals with "of grief-torn outcasts, confidences betrayed, piracy, and murder. There's a song about a man who eats nothing but locusts and Campbell's soup, another about an itinerant albino, and an unexpected version of the ancient Greek myth of Icarus set in the hills of rural Arkansas." Stephen sings nasally and gloomy in beautiful harmonies and Lynne is backing up in the choruses.
The Victor Mourning have released one album: "A Handful Of Locusts" (2010) on Backwood Modern Recordings. An EP with two songs was scheduled for spring 2012 at British Folk Police Recordings, but hasn't yet been released. However, in late December 2013 they digitally released an EP with two songs on Bandcamp. The first song "Kill a Spider (Frankie Silver)" is written by Stephen Lee Canner. The other song is a traditional 19th-century ballad "The Ballad of Frankie Silver". Both songs are based on the true story of Frankie Silver, who murdered her abusive husband in 1831 in western North Carolina, and was later hanged. I asked in the email if they had any plans for a second album. Such plans do exist, but it's likely the album only will be released on vinyl and digitally in late 2013 (which now have passed). Since cd is my format this information is quite worrying. As a second best solution - if a physical disc is not available - I hope the album will be released in FLAC (Free Lossless Audio Codec). The album cover is designed by Jamie Panzer and features a drawing Gryllus Cristatus (grasshopper), by George Shaw in 1805. After no end of bother TVM started to work in March 2019 on new material for an upcoming album.
| | | | |
| --- | --- | --- | --- |
| | | | |
What is the prognosis for the band? It's, of course, difficult for me to assess from a 7500 km distance, but the band is not just concerned with music. Under the heading "Journal " on their website there are many very well written articles on jewelry, art and artists , antiques, quackery , relatives, older historic homes and the "With signs Following" Church which is characterized by the five signs : exorcisms, speaking in tongues, laying on hands, drinking of poison (preferably strychnine or lye) and the handling of poisonous snakes. It is a significantly higher activity in this section than in the music section. What this means is unclear, but I hope it does not displace the music. Judging by the high quality of the first album, there should be more very good music to come from the band. But, it should be abundantly clear from this article series that you don't become a millionaire in the "gothic country" industry. It's more about survival than to make a living out of music. And one have to respect that when one is, like me, sitting comfortably at home long term parked in my favorite armchair with the laptop on my knee and have opinions on a band's choices, level of ambition and persistence.

In 2021 the band changed their name to Swarme of Beese, read more here (opens in a new window) and released "Backwoods of My Mind" in 2022, which may very well be the album of the year. Read the review here (opens in a new window)

Below is a suggestion for a CD compilation (all songs are solid).
| | | |
| --- | --- | --- |
| No | Song | Album |
| 1 | Zachariah | A Handful Of Locusts |
| 2 | Time Roll Over On Me | A Handful Of Locusts |
| 3 | Fire Fire | A Handful Of Locusts |
| 4 | Heber Springs Albino | A Handful Of Locusts |
| 5 | Mary Girl | A Handful Of Locusts |
| 6 | Patagonie | A Handful Of Locusts |
| 7 | Sparkle Blue | A Handful Of Locusts |
| 8 | This House Is Filled With Sickness | A Handful Of Locusts |
| 9 | Taste My Hand | A Handful Of Locusts |
| 10 | Too Many Drinking Songs | A Handful Of Locusts |
| 11 | Whiskey Bad | A Handful Of Locusts |
| 12 | Grasshoppers | A Handful Of Locusts |
Best album: A Handful Of Locusts (naturally)
Best songs: Heber Springs Albino, Mary Girl, This House Is Filled With Sickness, Taste My Hand, Too Many Drinking Songs, Grasshoppers