OldBoy is a band from Spalding, Lincolnshire in United Kingdom. They are also the third European artist/band in this prestigious article series. I came across them a couple of years ago in the process of triangulating the genre, but it wasn't until recently that I realized that I had overlooked them when making the order of priority. However, all is well that ends well. OldBoy was formed in 2007 by Adrian Hunt (vocals, guitar) and James Campbell (multinstrumentalist). The two band members have known each other since they were kids and played in other bands together previously. In an e-mail Adrian Hunt explains how it all began: "I guess around the mid 2000s I put the electric guitar to one side, picked up the acoustic and started in on the country songs. I'm a big fan of the stripped back Johnny Cash American recordings and they really influenced the direction of the band in the beginning." OldBoy is a good and fitting band name, but the choice of name means hard competition from the South Korean mystery thriller and neo-noir movie from 2003 and the two remakes with the same name, Oldboy. In order to separate the band from the film, you should search for OldBoy Roots or OldBoy UK. Not that there's much information about OldBoy on the Internet. It's next to nothing. The story behind the band name is very simple. In the e-mail Adrian Hunt explains: "Well, we are a couple of 'old' 'boys'. Certainly when we started the band it seemed apt as we were somewhat at the twilight of our youth, jaded before our time." In british english and cultural context an old boy refers (ironic) to an old man and is also a way that some men address male friends that they have known for many years. An old boy could also refer to a former student from a particular school. OldBoy is labeled "gothic country", "gothic americana", "dark roots" and "lo-fi pessimism" among other labels.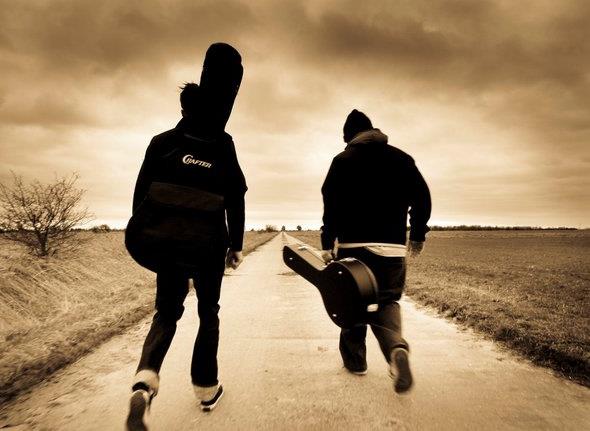 Most artists/bands in the "gothic country" genre follow a standard formula when it comes to their creative process, for example idea/theme first, then lyrics followed by arrangement and chords. OldBoy are men of few words. In the email Adrian Hunt describes how the songwriting process looks like: "With me it's usually the theme, followed by the lyrics, then I sit down with my guitar and find the right the chords." In the same email he develops his views on the creative process when it comes to finding themes, moods and expressions for their lyrics: "Sorrow, obsession, fear, guilt, desire. You know; day to day stuff." Adrian Hunt writes the lyrics. They write the music together. As stated in many other articles "gothic country" thrives in all climate and time zones. This particular twig of the "gothic country" genre could be labeled "british rural realism" and consists of the complete opposite to the long-running soap opera Emmerdale (the dark side of Emmerdale). The lyrics are well written and narrative, but very dark and sometimes also quite morbide and deal with murder ballads, nasty stories, inner and outer demons, cautionary tales, religious struggle among other subjects. The lyrics are articulated in a clear and emphatically manner. Dealing with dark themes means a balancing act which includes high risks. Wrongly balanced, it can easily switch over to almost posing and mannerism. However, OldBoy goes clear of all pitfalls. For the uninitiated all this death, doom and despair are probably hard to understand. Some people put an equal sign between lyrics and the lyricists. Misconceptions and prejudices about music in general and the "gothic country" genre in particular are very common. Writing a murder ballad doesn't mean that you're planning to kill someone in the near future (or even considering it). It's just an imaginative play with concepts and symbols. The concept of death in art (music is namely an art) has also a deeper and symbolic meaning than death in normal life. The music is stripped-down to the bone with simple guitar chords and almost funky bass lines. Despite their relatively limited formula Oldboy never becomes weary. Their songs are varied within the fixed parameters they work. What I like about OldBoy (and respect them for) is their honesty, unwillingness to compromise and endurance. There's no anxious glancing sideways, only a consistent implementation of their ideas. Soldiering on, no matter what. The quality of songs have not diminished over time. My assessment is that OldBoy know what they do and will continue to do what they do. In the email Adrian Hunt reveals their future plans: "Basically, write songs, record songs, put out the next album. We have a bunch of songs written that will go on the next album." In the email Adrian Hunt shares his thoughts about the future for musicians/bands in the "gothic country" vein: "Country songs with dark themes have been about a long time and there will always be a place for them. How popular is "Gothic Country"? I really have no idea, but I don't suppose it will ever threaten the mainstream. Let's hope not."
OldBoy has released one ep and five full-length albums. The band self released a promo EP "OldBoy" in December 2007. This EP was re-mastered and re-released along with the bands first full length album "In the Cold Light of Day" in December 2008 on legendary but now defunct Devil's Ruin Records. This latter album is extremely hard to find. After the DRR closed down OldBoy has become very self-sufficient. All music production including the album art are exclusively carried out by the two. The third album "How Lost I Am" was released in 2011. The fourth album "And So it Is" was released in 2012. The fifth album "The Whole Time" was released in 2014. The sixth album "Thicket" was released in 2016. All of the four albums are self-released. Within the prevailing hard, not to say hostile, conditions in the genre this is a tremendeous high production rate. I got all albums in the cd format.
OldBoy has contributed with a song (Death) on one of the four compilations (Rodentia I) in Devil's Ruin Records series "The Best Of Dark Roots". The songs "Town" and "A Tragic Accident" are represented on "Compendium", another compilation from Devil's Ruin Records. The songs "Still Waters" and "Even Less" are represented on "The Death Roots Syndicate", vol. 1 and vol. 3 respectively. Below is a suggestion for a CD compilation.
| | | |
| --- | --- | --- |
| No | Song | Album |
| 1 | Town | OldBoy |
| 2 | Sleeping On The Railroad Tracks | In The Cold Light Of Day |
| 3 | My Demon | In The Cold Light Of Day |
| 4 | Blind Eye | In The Cold Light Of Day |
| 5 | The Lesson | In The Cold Light Of Day |
| 6 | Suffer Like I Do | In The Cold Light Of Day |
| 7 | A Tragic Accident | In The Cold Light Of Day |
| 8 | A Few Kind Words | How Lost I Am |
| 9 | To Have And To Hold | How Lost I Am |
| 10 | Still Waters | How Lost I Am |
| 11 | Lost In The Crowd | And So It Is |
| 12 | Cold War | And So It Is |
| 13 | Toward Abyss | And So It Is |
| 14 | Little Girl Lost | The Whole Time |
| 15 | Mr Last Rites | The Whole Time |
| 16 | Holy Revolver | The Whole TIme |
| 17 | My Call | Thicket |
| 18 | Hold My Own Hand | Thicket |
| 19 | Pink Ribbons | Thicket |
Best album: In The Cold Light Of Day
Best songs: Town, Sleeping On The Railroad Tracks, Blind Eye, The Lesson, Suffer Like I Do, A Tragic Accident, A Few Kind Words, To Have And To Hold, Still Waters, Lost In A Crowd, Little Girl Lost, Mr Last Rites, Holy Revolver, Hold My Own Hand