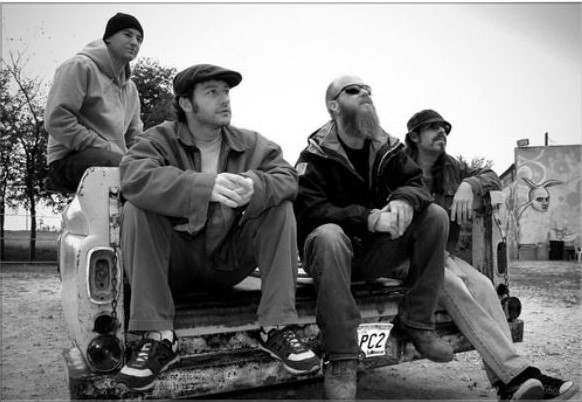 American Graveyard is a band from Austin, Texas. They first performed in front of an audience during an open mic night in the spring of 2004. After a couple of changes the band got a stable line-up in the beginning of 2005. American Graveyard are Chris Watkins (lead vocals, acoustic guitar, harmonica), Jim DeGregorio (acoustic and electric guitar, banjo, dobro, pedal steel and vocals), Doodle Cox (bass guitar, vocals) and Billy Jack Phillips (drums, percussion, vocals). The band members comes from completely different musical backgrounds. Maybe this is an explanation for their unique mix of bluegrass, punk, country, rock and blues (in any other context this is a quite terrible blend of styles). They elude any classification. American Graveyard is a very good band name, both in terms of an epitome of an old graveyard (in a figurative sense) and linking the past with the present (in a literal sense). American Graveyard likes to rock, but they are forgiven since they rock with a punk attitude. It's raw and unpolished. However, there's a unmistakable dark streak, twist and edge over the rocking. Despite this redeeming feature, they are not very interesting when they rock. But then, I prefer country music. What I like about American Graveyard is their fervor, energy and attitude. And last but not least, the fact that the music is perfectly attuned to the lyrics.
Chris Watkins is the main songwriter in the band. He possesses a classic rock 'n' roll voice, which sometimes cracks up under strain. It's not really a flaw, it's only charming. The use of foul language is extensive. There's not much explicit profanity in the "gothic country" genre (at least not in the lyrics), but American Graveyard fill the profanity cup to the brim with their "dirty South, dirty mouth" style. No mannerism, it's just the way they talk. The lyrics are filled with drinking, fighting and sinning (and a disproportionate number of references to prison). But, the profanities is not all. The band also display a deep and sincere social pathos. Some songs deal with social awareness and social criticism, like the song "Common Ones", which have a bite you don't come across too often and also will remember. "cause it's the common ones, like you and me/that keep the country running, keep the flag flying free … the flag is still flying but the colors are starting to bleed". This is their best known song (watch the video in player upper right). The song got viral, by gothic country standards, and have now been seen over a quarter of a million times. Another example is the song "Hallelujahland": "The few get the most, while the most get poor/Whoa Lord, once again, We've all been had in Hallelujahland".
American Graveyard have been labeled "debauched Americana", "Punk Politico Americana", "southern gothic stomp", "gothgrass", "gothic americana", "cowpunk", "swampy hillbilly rock", "alt-country" (with a strong emphasis on the prefix "alt"). American Graveyard seems to be disbanded. The last sign of life is a concert in Driftwood, TX in March 2013.
American Graveyard have released two studio albums. Their debut album "Rough Around The Edges" was self-released in 2006. The album art is very fitting. A man - drunk, unconscious or even dead - on the railroad tracks, with his old and battered guitar beside him. The album art was presumably designed by American Graveyard. Their second album "Hallelujahland" was self-released in 2010. The album cover is astonishing. A veritable snake pit of ecstatic arms and hands with the bandname and the spectacular title in stylish fonts. The album art was designed by Douglas Manry. Furthermore they self-recorded a demo EP "Homebrewed" in 2005.
Below is a suggestion for a CD compilation.
| | | |
| --- | --- | --- |
| No | Song | Album |
| 1 | Doin' Time | Rough Around The Edges |
| 2 | Minor Lies | Rough Around The Edges |
| 3 | Penance | Rough Around The Edges |
| 4 | Mark Wilshire | Rough Around The Edges |
| 5 | New 22 | Rough Around The Edges |
| 6 | The Lord He Left You | Rough Around The Edges |
| 7 | All Rise | Hallelujahland |
| 8 | Pinebox | Hallelujahland |
| 9 | Hallelujahland | Hallelujahland |
| 10 | Common Ones | Hallelujahland |
| 11 | Odessa | Hallelujahland |
| 12 | Say Grace | Hallelujahland |
| 13 | A Good Thing | Hallelujahland |
| 14 | Shackled To The Log | Hallelujahland |
| 15 | Moustache Man | Hallelujahland |
Best album: Hallelujahland
Best songs: Penance, Mark Wilshire, Pinebox, Hallelujaland, Common Ones, Shackled To The Log