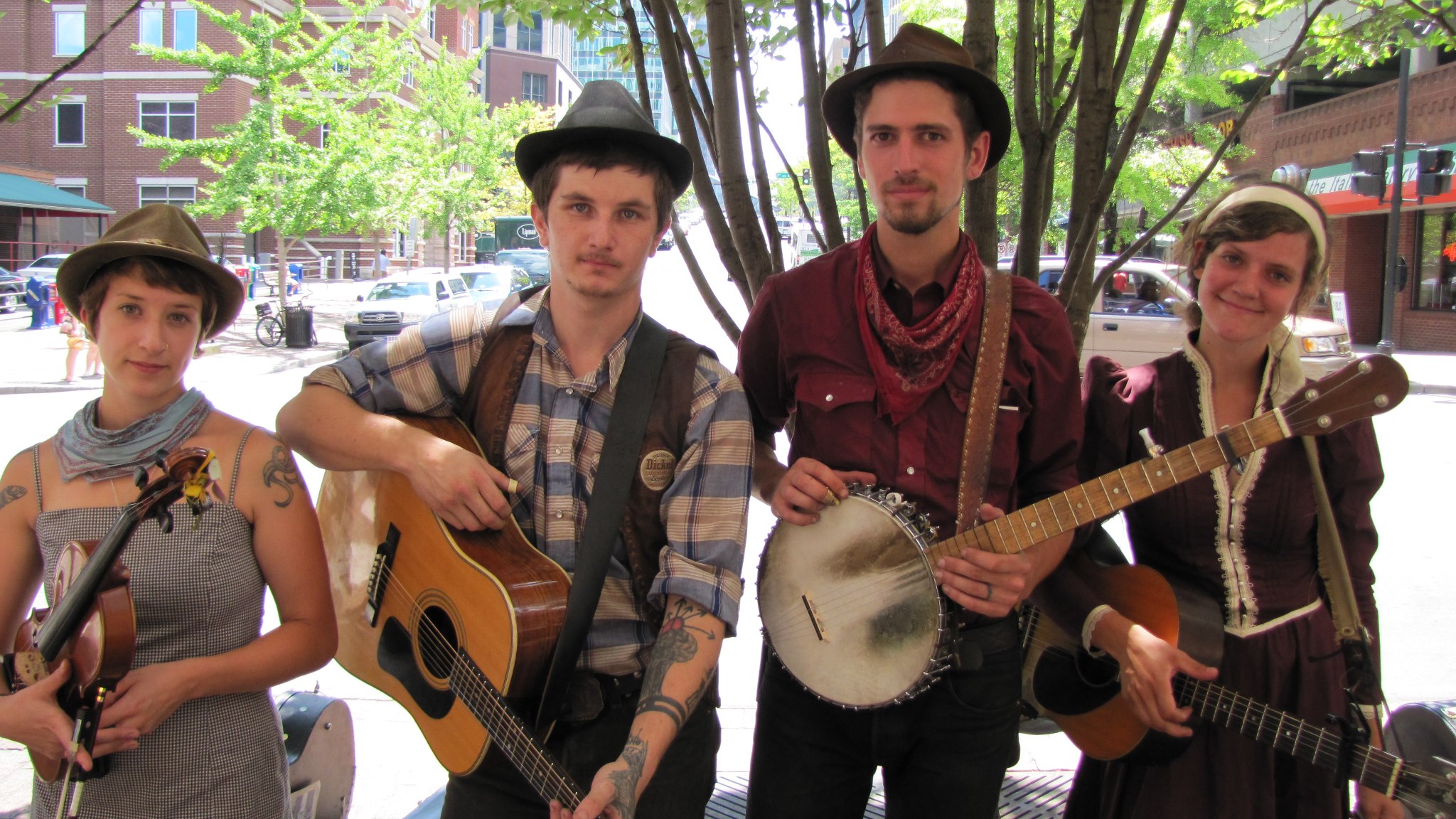 Spit Shine was a short-lived band from Nashville, Tennessee. The band was active between 2011-2013 and should be labeled as "miserable country", "wanna-die country" and "dark country" among other labels. To my knowledge, there's no information abouth the background of why they chose Spit Shine as their band name. But, the common definition is a very high gloss on a boot or shoe especially when partially obtained by the application of saliva. There's also a more dirty interpretation. Spit Shine consisted of Nicholas Ridout (banjo and vocals) and Shannon Jae Ridout (guitar and vocals), Benjamin Tod (guitar and vocals) and Ashley Mae (fiddle). I came across this street-quartet when I went through literally hundreds of lists, threads with recommendations and playlists. Short executive summary of the result: the word "awesome" is probably the most overused and misused word in the English language. However, a person with the username Crowsong_Malingerer wrote on Reddit: "Some of the darkest, bleakest, openthroated music I have ever heard." Of course, this assessment got my full attentention since it ticked in all boxes. The story of Spit Shine is a bit odd. There were two couples, two bands and two dogs: Benjamin Tod and Ashley Mae in Lost Dog Street Band, and Nicholas Ridout and Shannon Jae Ridout in Sour Mash Melodies. The former couple (Tod/Mae) had met as teenagers growing up in Tennessee and started their band in the winter of 2010. The latter couple (Ridout) had been playing on the streets around the country separately for years, when they eventually came together with their strung up sorrow to form their band. In the summer of 2011, while performing on the streets of Nashville, Tennessee the four of them met, music for country-loving ears arose, and they joined forces. The aim was to start a dirty rotten country band with the mission statement to write the saddest songs ever played. All the prerequisites were in place for achieving this challenging goal.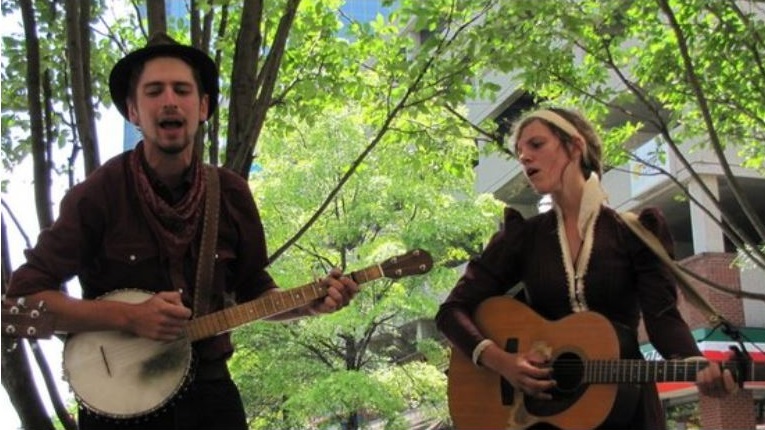 Spit Shine wasn't only a quartet, they were a street-quartet. Street performing or busking isn't common in the gothic country genre. In fact, I haven't come across a single artist or band before. It's not just semantics. There's a difference between being a touring and a travelling musician. I haven't come across any information of that they made a single gig at a venue. Spit Shine was an anachronism in this tragic hipster world. Not many young people choose the path of train hopping and squatting. There's no money in the gothic country genre. There's even less money busking in the gothic country genre. Obviously, it's not for everyone. There are, as always, two sides of the coin: total freedom and indepedence at one hand, and hardship and survival in the other hand. But, there is a hard life wherever you go. However, it requires a pretty strong mentality to become a busker and to sell your cd-r from a hard case guitar box. Money was, obviously, never the object of their desire. For this, they have my full and unreserved respect. Their songs deal with addiction, heartbreak and death. What I particularly like about Spit Shine is their dark banjo-driven songs and haunting vocals. It's heavy irony that a true and genuine band like Spit Shine was active in Nashville, the Sodom and Gommorah of mainstream country. Spit Shine withstands all authenticity tests and deserves a place in my prestigious article series. It's also important to document for posterity before everything in the genre fall into oblivion. The saying "once it's on the internet it's there forever" isn't true. Loss of information could be permanent and have serious consequences for our cultural heritage.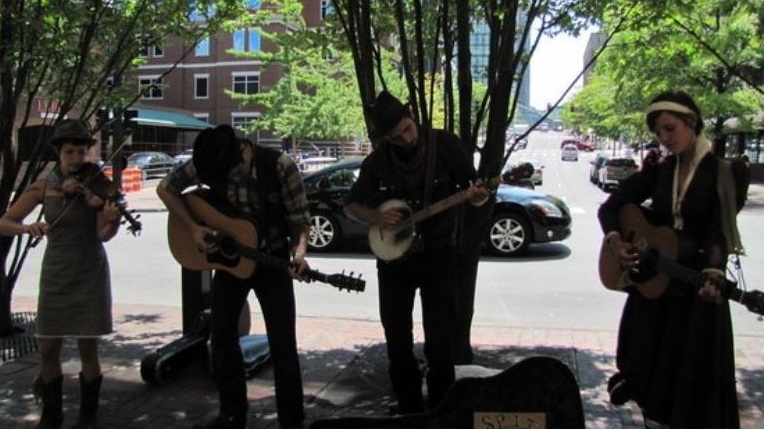 Spite Shine came to a grinding halt when Nicholas Ridout took his own life in May 2013, only 24 years old. Tragedy struck and devastation and sorrow followed. It's hard to reconstruct the time-line and ups-and-downs for the band. For a while Nicholas Ridout was busking on his own in Athens, Georgia. An interview for the University of Georgia student paper The Red & Black in November 2012 may hold a key to why he decided to end his life. When asked about the reasons for performing in the streets Nicholas Ridout replied: "It's something I have to do. In a way, you can say it brings me joy. It's more of an outlet for sorrow. And it brings me joy because it gives me an outlet for my sorrow." Clearly, Nicholas Ridout had a dark side of mind. Spit Shine was built upon love and a very close friendship. The remaining members including a widow were devastated. They pulled themselves together and formed The Teardrop Trio, "three broken hearted souls coming back to musical life from the loss of one of their members." The trio released a self-titled digital album. The look downright miserable on the album cover. The last song on the album "I do believe" was written by Nicholas Ridout. The hidden track was a sound check recording on the lost dog album, 'life's a dog-gone shame'. It's also the last recorded song done by Nicholas Ridout. After this they parted ways. Benjamin Tod and Ashley Mae took up Lost Dog Street Band again, which have been on hiatus. They have left the streets for touring and are now playing at proper venues. Shannon Jae Ridout continued as a solo musician. In my opinion, she's very talented and sings like a goddess. The recordings of Spit Shine are raw, simple and low-fi. The latters means that the music or production quality in which elements usually regarded as imperfections of a recording or performance are audible, sometimes as a deliberate aesthetic choice. No mastering equipment or mastering skills in the world can change that. Spit Shine was doomed to obscurity, or maybe not. I often engage myself in counterfactual thinking. Performing in the streets isn't a path that leads to fame and fortune. On the contrary. However, the songwriting skills were destined for something better. Spit Shine should have become more known to a larger audience and also achieved a far more prominent position in the genre. The injustices in the "gothic country" genre are numerous, extensive and outrageous. This is a perfect example. Personally, I think that Nicholas Ridout and Shannon Jae Ridout were the better talents, but Benjamin Tod seems to get the most attention in traditional and social media. Anyway, he is definitely the better marketer and copywriter.

Spit Shine released two albums (cd-r). The self-titled "Spit Shine" (2011) and "A Bottle & A Gun & A Troubled Mind" (2013). They are available digitally on Bandcamp.

Below is a suggestion for a CD compilation. Well, all songs from the two albums are included.
| | | |
| --- | --- | --- |
| No | Song | Album |
| 1 | Jailbird Jay | S/T |
| 2 | Luanne | S/T |
| 3 | The Way I Am | S/T |
| 4 | Tie Me Dry | S/T |
| 5 | Caroline | S/T |
| 6 | Old Church Yard | S/T |
| 7 | Oh, My Love | A Bottle, And A Gun, And A Troubled Mind |
| 8 | Nicholas Rode Out | A Bottle, And A Gun, And A Troubled Mind |
| 9 | That Bourbon | A Bottle, And A Gun, And A Troubled Mind |
| 10 | Leavin' Me | A Bottle, And A Gun, And A Troubled Mind |
| 11 | O'dea | A Bottle, And A Gun, And A Troubled Mind |
| 12 | Angel In A Wild Wind | A Bottle, And A Gun, And A Troubled Mind |
| 13 | Sidewalk Serenade | A Bottle, And A Gun, And A Troubled Mind |
| 14 | Troubled Mind | A Bottle, And A Gun, And A Troubled Mind |
| 15 | Coming Down | A Bottle, And A Gun, And A Troubled Mind |
| 16 | Hangman | A Bottle, And A Gun, And A Troubled Mind |
| 17 | When I Get My Gun | A Bottle, And A Gun, And A Troubled Mind |
| 18 | Ballad Of A Broken Man | A Bottle, And A Gun, And A Troubled Mind |
Best album: A Bottle, And A Gun, And A Troubled Mind
Best songs: Luanne, Time Me Dry, Caroline, Old Church Yard, Oh, My Love, That Bourbon, Angel In A Wild Wind, Sidewalk Serenade, Troubled Mind, Hangman, When I Get My Gun, Ballad Of A broken Man