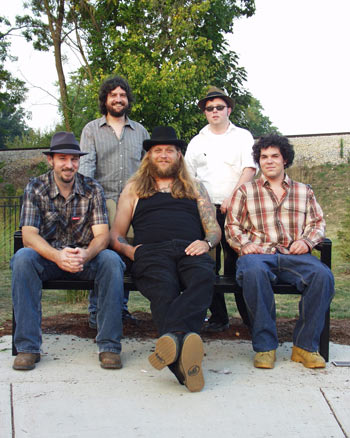 The Woodbox Gang is a band from Herod, Illinois. Later they relocated to Makanda, Illinois. The band was formed in 1999 by brothers Hugh (guitar, kazoo and vocals) and Brian (bass) DeNeal and dobro player Brad Bolin. There has been several changes in the lineup over the years. Bolin left early and the trio became a duo. Bolin rejoined in 2000 along with Alex Kirt (vocals, dobro, slide guitar, mandolin, banjo, guitar, harmonica, washboard, [suitcase] kick drum, didgeridoo, kazoo). Then Brian DeNeal left the band to pursue a career as a newspaper reporter. Bolin left the band again. This time for good. Allegedly, the aesthetic of WBG did not longer represent him. The band were later joined by Greg Edwards (bass), Ratliff Dean Thiebaud (guitar and vocals), and Dan Goett (banjo, mandolin, dobro, guitar). Then Ratliff Dean Thiebaud left the band. WBG became a quartet. Furthermore, Pete McRaven and Chad Schaffer can also call themselves former gang members. The story behind the band name is touching. It comes from nickname their father gave the DeNeal brothers as children because they built a fort in the storage box for the family's wood-burning stove. "You guys must be the Woodbox Gang." The Woodbox Gang can be labeled "caustic acoustic cacophony", "trashcan americana", "insurgent americana", "jug punk", "punk rock jug band", "country jug band", "y'allternative", "funk-a-billy", "gang bluegrass" and "gothic bluegrass". The extreme southern Illinois is a part of the Bible Belt. People put their fellow human beings on their prayer lists. This doesn't stop the band from singing about a "manly margarita" in the song "Eat, Drink, & Be Dead. "I sold my blood and semen for a bottle of tequila. If you'd mix them all together that's a manly margarita!". Other topics deals with teen pregnancy and crystal meth. WBG also focus on drinking and smoking. They are, by some Christian people, considered to play the devil's music.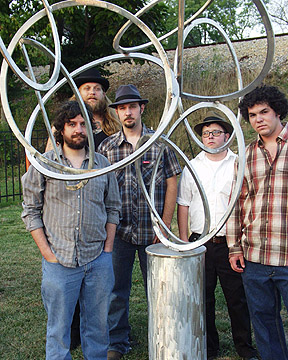 The Woodbox Gang meets the criteria for inclusion on this high-brow website. If this was high jump in track and field there would be plenty of space between them and the horizontal bar. It took some time for me to understand their greatness. The band members grew up in a remote delta region bordered by the Mississippi and Ohio rivers and surrounded by forests, swamps and coal fields. A perfect setting for their music. This isn't any trailer park chic style adopted by city boys. This is the real thing. Hugh DeNeal and Alex Kirt are the hub and creative force in the band. The musical style can be decribed as a combination of traditional Americana, bluegrass, delta blues, outlaw country and rockabilly with a large dose of punk rock attitude. The Woodbox Gang has declared that they don't see themselves as a bluegrass band. However, they raise the bar for every other bluegrass band. But, WBG don't play it traditionally. They have their own twisted take on bluegrass. This is perhaps the finest example of "gothic bluegrass" in the whole genre. It's really catchy and truly amazing. Their dark, humorous and sardonic lyrics are the icing on the cake. The DeNeal wordplay are excellent. The lyrics aren't just lyrics. The lyrics are often complete stories populated with shady characters with low moral standards and questionable objectives. Some of the quirky stories are inspired by real events, while other stories emanates from twisted imaginations. The band has worked very hard over the years. They have played on locals clubs, dive bars and coffee shops where they barely outnumbered the audience. Their audience have grown since then and they have toured nationwide. Their rowdy live gigs are filled with a lot of energy. Things were going pretty well, but suddenly it all came to a stop.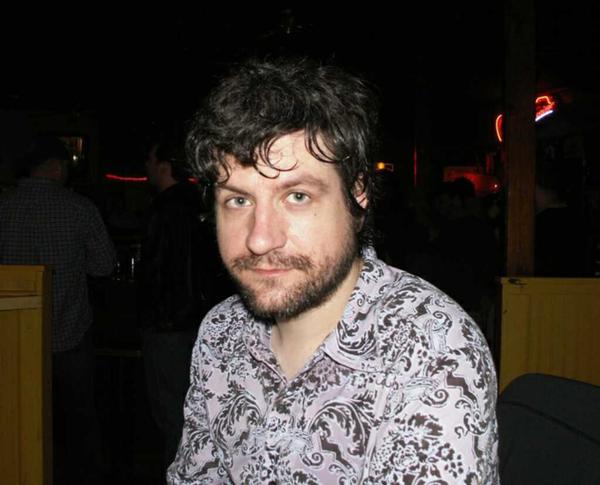 The photo on the right depicts frontman and lyricists Hugh DeNeal. He has been convicted of a felony. You start to imagine crimes that fits the dark and gloomy gothic country genre: murder of all degrees, manslaughter, assault or battery, kidnapping, unlawful deprivation of liberty, unlawful coercion or intrusion, drug dealing, sexual assault, molestation or even drunk driving. However, it was a simple white-collar crime. Hugh DeNeal began an online high-yield investment program in 2006 called Hyippylove that sold T-shirts below cost. Initial investors were promised an 80 percent return, while additional investors were promised a 30 percent return. The business didn't generate enough funds to pay back investors. It all fell apart when the federal government began a mail fraud investigation after receiving several complaints. Hugh DeNeal turned himself in an attempt to make amends. In 2009, Hugh DeNeal pleaded guilty to one count of fraud. Hugh DeNeal was sentenced to 34 months in federal prison and ordered to pay back restitution in the amount of $601,246.62 on September 14, 2009, by the Honorable Judge Patrick Murphy. The band was put on hold and entered an unintended hiatus.

Then came the bitter epilogue. An unsuccessful investor put up a blog, anonymously of course, with the sole purpose of naming and shaming Hugh DeNeal. Not only was he discredited. His home address and phone numbers were displayed. For some peculiar reason WBG were dragged in. Maybe the investor thought it was suspicious to be in a band. Anyway, links to videos, contact information and a photo of the band were displayed on the blog. Apparently a really sick investor. Allegedly, the investors ranged from a few hundreds thousand dollars, to the largest investor being roughly $250 000. Here are some words for you. If you put your money in high risk investment you have no one else to blame than yourself. It wasn't fraud that made you loose your money, it was greed. And greed is one of the seven deadly sins. The world wants to be deceived, so let it be deceived. And if something seems too good to be true, it probably is. The documentary "Confidence Man: The Hugh DeNeal Story", was released in 2011. The documentary explores the life of Hugh DeNeal, art and legal troubles out of financial desperation. People who knew Hugh DeNeal described him as a guy just trying to make ends meet but he went over his head in a risky business that he lost control of. The scam was so amateurish and it was not a question of if, but when, he would be exposed. The songs in the film are integral to the telling of the cautionary tale. The Woodbox Gang is still active. They have a cult-like following in the southern Illinois. However, they deserve better and have earned a better outcome. Maybe the investors could contribute? It would be a safe investment.


The Woodbox Gang has released eight full-length albums and two live albums. Their very first album was "A Caustic Acoustic Cacophony" in 2000. The self-released album is for some reason usually not included when their albums are listed. The album cover is state of the art. Never seen it for sale. Their first official album "Trashcan Americana" was released in 2001. What you read (trashcan) is what you get. The album cover photo was taken by Charles and Walt Hammond. Their second album "Wormwood" was released in 2002. By some regarded as their darkest album, topicallly and musically. The album art was designed by Nathan Krummel. Their third album "Born With A Tail" was released in 2003. By some regarded as the groups most diverse album, both musically and stylistically. The front cover illustration was created by Allen Jaeger CD Design. Their fourth album "I've Killed Men" was released in 2003. The album music was used for the soundtrack to public television documentary "The Legend of Charlie Birger". Charlie Birger was an American bootlegger and gang leader during the Prohibition period in Southern Illinois. Charlie Birger was the last person to be publicly hanged in Illinois. The album cover depicts Charlie Birger and his men posing with their weapons outside of his hideout and fortified speakeasy Shady Rest in Williamson County. Their fifth album "Drunk As Dragons" was released in 2006. It was re-released with bonus tracks as "Drunk As Dragons: Fortified Edition" on Jello Biafra's Alternative Tentacles in 2008. The artwork was created by Bob Hunter. Calligraphy by Greg Edwards. Their sixth and best album "White Trash Voodoo" was released in 2009. The album was recorded, produced, mixed, and mastered by Alex Kirt in a small, rotten, rented house in rural Southern Illinois. The makeshift studio was heated with kerosene stoves, a perfect setting for this darkly insightful, hauntingly introspective masterpiece of tales, partially inspired by the ominous shadow of Hugh DeNeal's imminent incarceration. I've been searching for a cd copy for some time now without any luck. In October 2018 the album was remixed and remastered by Alex Kirt. I instantly ordered a copy. Absolutely brilliant album. The album cover artwork was hand illustrated by Madame Talbot. Their seventh album "Glorious Scars" was released in 2012. The album cover illustration was created by Jennifer Rollinson. All albums released on Rolling Machine Records (their own label) or are self-released except where noted.

Below is a suggestion for a CD compilation.
| | | |
| --- | --- | --- |
| No | Song | Album |
| 1 | The Termite Song | Trashcan Americana |
| 2 | God Box Wagon | Wormwood |
| 3 | Skyclad | Wormwood |
| 4 | Soap In My Mouth | Wormwood |
| 5 | Scarecrow | Wormwood |
| 6 | Born With A Tail | Born With A Tail |
| 7 | Never Kissed A Girl | Born With A Tail |
| 8 | The Hanging Of Charlie Birger | I've Killed Men |
| 9 | I've Killed Men | I've Killed Men |
| 10 | Death Is Coming | I've Killed Men |
| 11 | Dirty Sponge | Drunk As Dragons |
| 12 | The Devil Can Tell | White Trash Voodoo |
| 13 | 160 Years (For My Crimes) | White Trash Voodoo |
| 14 | Fiddlin' With The Line | White Trash Voodoo |
| 15 | On A Red Midnight | White Trash Voodoo |
| 16 | Cheer Up The Devil | White Trash Voodoo |
| 17 | Hard To Dig A Hole | White Trash Voodoo |
| 18 | Two Dollar Ticket | White Trash Voodoo |
| 19 | The Good Ole Days Of Grunge | White Trash Voodoo |
| 20 | Glorious Scars | Glorious Scars |
Best album: White Trash Voodoo
Best songs: The Termite Song, God Box Wagon, Born With A Tail, Never Kissed A Girl, Death Is Coming, The Devil Can Tell, 160 Years (For My Crimes), Fiddlin' With The Line, On A Red Midnight, Cheer Up The Devil, Hard To Dig A Hole, Two Dollar Ticket, Glorious Scars