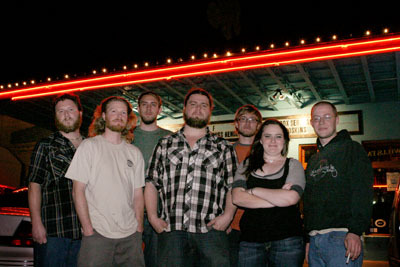 Pinebox Serenade (hence PS) is a band from Denton,
Texas. Pinebox is American slang and refers to a simple coffin. Pinebox Serenade is a perfect band name for a "gothic country" band, or "gothic americana", "gothic folk rock", "roots-meets-bluegrass-and-goes-goth band" or "goth-grass", are also used as labels. Pinebox Serenade was formed in 2003 by Chris Welch (guitar and vocals) and Patrick Newkirk (mandolin and vocals). They started as an acoustic trio with bluegrass influences. Denton is an important cluster in the world of "Gothic Country". The group also consists of five additional members: Holly Manning (violin), Tyler Adams (bass), Chris Ott (steel guitar and cello), Nick Foreman (banjo, accordion and vocals) and Jeff Barnard (drums). The members are also involved in other bands and play rock music of different hardness on the Denton scenes. The music of PS is rather close to rock, so this sideline is not completely unexpected and out of line. They are now reborn as a four piece string band style band, with Welch and Newkirk, longtime fiddle player Holly Manning along with new member Ben Bigby on upright bass. delayed.
The music is not particular tortuous. The style of PS is close to rock and also close to alt-country, but with the difference that there are lots of lingering banjo, mandolin and fiddle. Chris Welch (in checkered shirt in the middle of the picture) writes most of the songs and has a good, deep baritone. The songs are of the highest class. With seven members in the band (and even more instruments) there's an obvious risk that the sound would be thick and sanitized, but this is not the case here. WhatzUp Magazine has described the sound: "Then they play original mountain music and bluegrassy dirges and smoky campfire songs, music that is formed from the dirt of despair, songs of love and rejection, life and death, daily pleasures and hourly pains."


Pinebox Serenade has released three albums " Pinebox Serenade" (2005), "Let The River Take Them Home" (2008) and "The Silent Years" ( 2013). The first album was released on Hot Links Records, the second album was released on the now defunct Devil's Ruin Records. The third album was self-released. The latter album has a more rock-oriented sound compared to the first two albums. I prefer their "countryish" sound, however. All three albums have been recorded and produced by Brent Best (ex-Slobberbone). All cd release parties have taken place at Dan's Silverleaf in Denton (the information about the first album is however unclear). The second album "Let The River Take Them Home" is out of print and extremely difficult to find (the curse of a release of relatively few copies on a company that no longer exists). I put in a lot of work to find an album. I finally found the album in Graz, Austria (!), where else? I was however close to a nervous breakdown when the shipping dragged on (18 days), which is long time for shipping from Austria to Sweden. It was unclear if the third album would be released in digital format only or if there also would be some physical copies (they planned to distribute cds at least locally). I sent an email to Chris Welch. His reply was however reassuring. PS was going to distribute physical copies on Bandcamp. I was very pleased with the information, since cd is my preferred format and I don't live in Denton, Texas. In October 2013, I bought one of first copies (first edition and limited to 20 copies!). Very exclusive, indeed. It's been quite from Pinebox Serenade for a long time. But on September 20th 2019 they wrote on their Facebook-page "After being gone for a few years, we are returning to you as a four piece all acoustic string style band, consisting of acoustic guitar, mandolin, violin and upright bass. We are proud to announce that with this new lineup, we will be touring Europe next June 2020!" That sounds both exiting and promising.

The album covers are very stylish. On the cover of the first album: a boy (significantly distressed) dragging a toy duck behind him. On the back cover: the boy walking behind a bear, a turtle, an elephant, an ostrich, a hippopotamus and a giraffe carrying a coffin (pinebox). The album cover is designed by Brian Gibb at Art Prostitute. The second album cover is brilliant. Two transparent deer depicted against a gray-speckled background. On the back cover: two arms in medieval armor which form a rhomb. The album cover is designed by Agnieszka Ledochowska. The third album cover is also good, but not quite in the same division as the first two albums. The album cover is designed by Tony Ferraro. Pinebox Serenade is represented by a song (The Lash) on one (Rodentia I) of the four compilations with The Best Of Dark Roots from Devils Ruin Records. It is a mark of quality.
Below is a suggestion for a CD compilation.
| | | |
| --- | --- | --- |
| No | Song | Album |
| 1 | Lost Pines | Pinebox Serenade |
| 2 | Snow, OK | Pinebox Serenade |
| 3 | Emptiness | Pinebox Serenade |
| 4 | Gravediggers Blues | Pinebox Serenade |
| 5 | Town Drunk | Pinebox Serenade |
| 6 | Last Breath | Pinebox Serenade |
| 7 | Diamond Bessie | Pinebox Serenade |
| 8 | Black Dress | Pinebox Serenade |
| 9 | Your Turn | Pinebox Serenade |
| 10 | Carried Away | Pinebox Serenade |
| 11 | Woven Arms | Let The River Take Them Home |
| 12 | Bottle And Rusty Blade | Let The River Take Them Home |
| 13 | The Plains | Let The River Take Them Home |
| 14 | Too Cold To Snow | Let The River Take Them Home |
| 15 | The Faithful | Let The River Take Them Home |
| 16 | Forgiveness | Let The River Take Them Home |
| 17 | Sons Of Soil | Let The River Take Them Home |
| 18 | Darkness Falls | Let The River Take Them Home |
| 19 | Witch On The Mountain | Let The River Take Them Home |
| 20 | The Lash | Let The River Take Them Home |
| 21 | Brushfire | The Silent Years |
| 22 | San Saba | The Silent Years |
| 23 | Shine | The Silent Years |
Best album: Let The River Take Them Home
Best songs: Lost Pines, Snow OK, Woven Arms, Bottle And Rusty Blade, The Plains, Forgiveness, Witch On The Mountain, The Lash