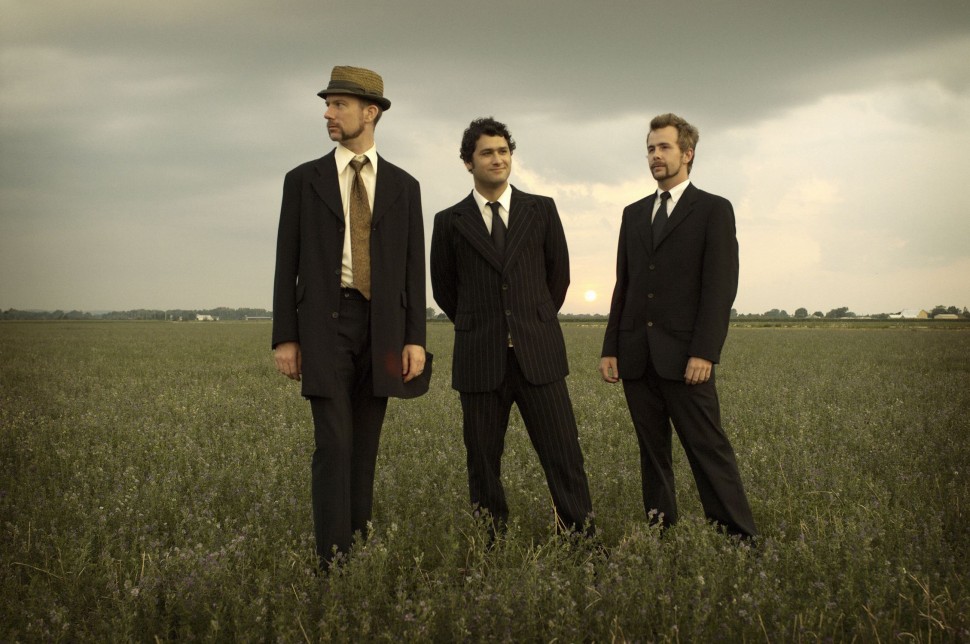 Elliott Brood (sometimes stylized as Elliott BROOD in capital letters) is a band from Toronto, Ontario in Canada, see website. The band name refers to a fictional character based on "Harriet Brood" (actually "Harriet Bird" from the movie "The Natural") as her "imaginary" brother "Elliott". "Elliott Brood" is a fictional person who travels through time and places, taking notes and telling stories from a third-person perspective. Elliott Brood was formed in 2002 by Mark Sasso (lead vocals, guitar, banjo, ukulele, harmonica and kazoo) and Casey Laforet (guitar, lead vocals, backing vocals, bass pedals, keys and ukulele). In 2005 the sound engineer Stephen Pitkin (percussion, sampler and backing vocals) joined the band (he also recorded their first EP "Tin Type"). Pitkin used to play on a Samsonite "Silhouette" suitcase instead of a conventional bass drum. The suitcase was replaced in 2008 after a brutal encore in Montreal by a vintage bass drum. Like Blanche and The Victor Mourning the band dress in vintage suits. Elliott Brood looks like successful undertakers.
Elliott Brood has toured extensively throughout Canada and internationally. They are known for their raw and energetic gigs and close interaction with their audience. Elliott Brood use dark elements to create illustrative songs. They often use actual historical events in their songwriting. The manage to connect the past with the present. Their lyrical content is dark, while the music is upbeat (that is, with "gothic country" standards). Sasso and Laforet often come up with the bulk of the song, which later is refined by the whole band. Elliott Brood use a form of "commando recording" (a minimalistic approach to bring only the adequate and necessary equipment). Then you can make the recording anywhere (which they also do).
Elliott Brood has many labels "canadiana", "frontier rock", "revival music", "anachronist folk", "folk-punk", "urban hillbilly", "blackgrass" or "bloodgrass" (as opposed to bluegrass), "banjo rock", "black country rock" or "death country". This last label is self-described. I wrote in the introduction to the article series that labels are used profusely both diligently and resourcefully in the genre, but has more of a function of general consumer information than to include or exclude. However, I have to draw the line here. The style of Elliott Brood can be called many things, but never "death country". It's very misleading and can lead to a consumer complaint. Elliott Brood plays adroit banjo- and guitardriven bluegrass with strong punk influences. Elliott Brood is not "death country". On their last album they have moved away from their earlier sound towards a more traditional and accessible (and for that matter, generic) alt country. I prefer their former electro-acoustic sound with a lot of distortion, which in my opinion is very innovative and fresh.

Elliott Brood has released one EP and three studio albums. Of course, I have all albums. The EP "Tin Type" was released in 2004 on the Weewerk record label (originally released in a hand-bound album wrapped in a brown paper bag). The album title refers to old tintype photos. Their first full-length album "Ambassador" was released in 2005 on Six Shoother Records (whose motto is: "Life is too short to listen to shitty music"). The album title refers to the Ambassador Bridge linking Detroit to the Canadian town of Windsor where Sasso and Laforet grew up. The theme for the album is built upon a lost (and later found) wallet giving clues to the stories and characters contained within. Their second album "Mountain Meadows" was released in 2008, also on Six Shoother Records. The album title refers to the Mountain Meadows massacre in 1857, in which a Mormon militia attacked and slaughtered all but the youngest children in a wagon train of families travelling from Arkansas to California (only 17 children survived and were either sent home to Arkansas or adopted and raised in the Mormon community). Their third album "Days Into Years" was released in 2011 on Paper Bag Records. The album and the title was inspired by a visit at the WWI Etaples Military Cementary (where many Canadian soldiers are buried) near Boulogne on the north-west coast of France. Their fifth album "Work And Love" was released in 2014. Unfortunately, the quality of their music has deteriorated significantly on their last two albums where the have moved in a mainstream direction. We can only hope for the best and prepare for the worst. Actually, since then they have released "Ghost Garden" (2017) and "Keeper" (2020). I haven't dared to check them out. I'm afraid of what I might find.
The album covers are very stylish. Elliott Brood believes that album art is just as important as the music. In other articles I have stressed that a good album cover interacts with the lyrics and the music. Just as a book's cover should indicate its content, an album cover should interact with the music. A album cover and the music constitute an indivisible whole. The album covers are aesthetic. All albums are designed by Mark Sasso, who also is a graphic artist.
Below is a suggestion for a CD compilation.
| | | |
| --- | --- | --- |
| No | Song | Album |
| 1 | Oh, Alberta | Tin Type |
| 2 | Edge Of Town | Tin Type |
| 3 | Cadillac Dust | Tin Type |
| 4 | Twill | Ambassador |
| 5 | President 35 | Ambassador |
| 6 | Second Son | Ambassador |
| 7 | Wolfgang | Ambassador |
| 8 | My Friend | Ambassador |
| 9 | Fingers And Tongues | Mountain Meadows |
| 10 | Write It All Down For You | Mountain Meadows |
| 11 | Garden River | Mountain Meadows |
| 12 | 31 Years | Mountain Meadows |
| 13 | The Spring Floods (Interlude) | Mountain Meadows |
| 14 | Chuckwagon | Mountain Meadows |
| 15 | The Body | Mountain Meadows |
| 16 | Will The Bury Us? | Days Into Years |
| 17 | West End Sky | Days Into Years |
| 18 | End Of The Day | Work And Love |
Best album: Ambassador or Mountain Meadows (can't decide)
Best songs: Cadillac Dust, President 35, Second Son, Wolfgang, Write It All Down For You, 31 Years, Chuckwagon, Will They Bury Us?