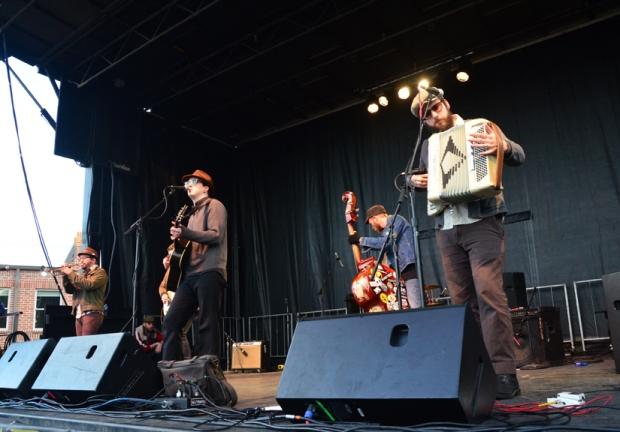 Baptist Generals is a band from Denton, Texas, see website. Baptist Generals can be likened to the "gothic country" counterpart to Nirvana. Baptist Generals was formed in 1998 by Chris Flemmons (guitar and vocals) and Steve Hill (drums). Over the years, many musicians passed through, while at the same time it became more crowded on stage.The last lineup consists of - as far as I know - besides Chris Flemmons of Paul Slavens, Jeff Ryan, Peter Salisbury, Ryan Williams, Jason Reimer, David Pierce and Charles Brunswick. A presentation of the band starts with the declaration "…included but not limited to". Who is a member of the band doesn't seem to be an important issue. A caveat is in place. Baptist Generals are not for everyone. The music is extremely simple, stripped down and raw, especially on the first album. It sounds like a first raw demo. But Baptist Generals makes also pretty varied music. It's like country-grunge combined with "plink and plonk". The vocals are unpolished on the border to unbearable.
There is an intriguing feature on the song Ay Distress where a mobile phone suddenly starts to ring (about 25 seconds from the end), followed by a total outburst from the owner of the phone. The other members in the band take it easy: "Hey hey, its OK…we'll do it again…". Need to be listened to. The lyrics deals with "interpersonal desolation, detachment and emotional ruin". In recent years Baptist Generals has "de-electrified" themselves and their music has become more acoustic and low-profiled. The band also chooses to play at smaller venues like art galleries, museums and similar places.
Baptist Generals have made four albums: "Dog" (2000), "Void Touching Faster Victuals", EP (2002) and "No Silver/No Gold" (2003). Baptist Generals put themselves on hiatus 2009-2012. A fourth album "Jackleg Devotional to the Heart" was released in 2013. The band needed ten years to complete it, after Chris Flemmons recorded the album's first attempt in 2005, and then trashed it because, according to him, "it sounded like any other indie rock-type band." Kudos to him for his insight and good judgment.
Below is a suggestion for a CD compilation.
| | | |
| --- | --- | --- |
| No | Song | Album |
| 1 | 2/3rd Jim's Head | Dog |
| 2 | Blue Suit Tobacco | Dog |
| 3 | Sweet Red Wine | Dog |
| 4 | Socials | Dog |
| 5 | Damn The Bloom | Dog |
| 6 | Jim's Head | Void Touching Faster Victuals |
| 7 | Fucked Up Life | Void Touching Faster Victuals |
| 8 | Unimaginative | Void Touching Faster Victuals |
| 9 | Ay Distress | No Silver/No Gold |
| 10 | 500 League Reunion March | No Silver/No Gold |
| 11 | Diminshed | No Silver/No Gold |
| 12 | Going Back Song | No Silver/No Gold |
| 13 | Creeper | No Silver/No Gold |
| 14 | Preservatine | No Silver/No Gold |
| 15 | On A Wheel | No Silver/No Gold |
| 16 | Feds On A Highway | No Silver/No Gold |
| 17 | My Oh My | Jackleg Devotional to the Heart |
Best album: No Silver/No Gold
Best songs: Sweet Red Wine, Jim's Head, Fucked Up Life, Unimaginative, Ay Distress, Diminished, Going Back Song, Creeper, Preservatine, On A Wheel, Feds On The Highway, My Oh My