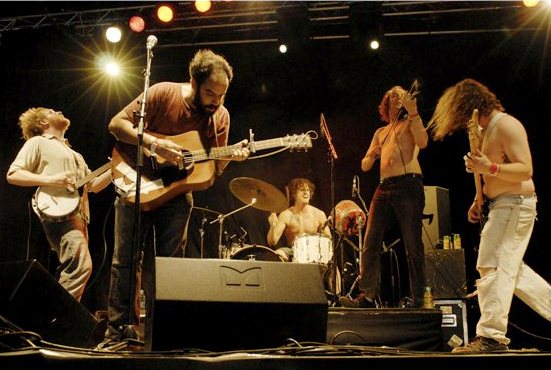 O'Death (sometimes stylized o'death) is a band from New York, New York, see website. On the website you can sign up for a mailing list, but they inform you that "we probably won't write". O'Death should not be confused with Odeath (without an apostrophe). Odeath seems to be pretty tired of being confused with O'Death (with an apostrophe) and problems with wrong-placed orders and therefore informs on their website "because it just takes too much time to weed out mistake orders, refunds will not be given for this purpose". The name comes from the hymn made famous by Ralph Stanley: "O, Death. O, Death. Won't you spare me over 'til another year? Well, what is this that I can't see With ice cold hands takin' hold of me. When God is gone, and the Devil takes hold, Who'll have mercy on your soul. Well I am death, none can excel, I'll open the door to heaven or hell. 'O, death, someone would pray 'Could you wait to call me another day?" O'Death has many labels. They can be labeled "gothic country", "gothic americana", "alt-punk-country-revival", "appalachian hard-core" (or "hard-core appalachian"), "appalachian dirge", "appalachian rust-punk", "insurgent bluegrass", "gothic folk", "folk-punk" and "bluegrass-mountain music" etc. O'Death combines elements of folk, bluegrass, punk, gypsy music, metal and americana music. However, they are more of a punk band that plays folk music, than a folk band that plays punk music. A "gothic country" band with bluegrass influences from the hipster city New York - is that possible? Yes, it is. As mentioned in the introduction to this article series, "gothic country" is not bound by geography.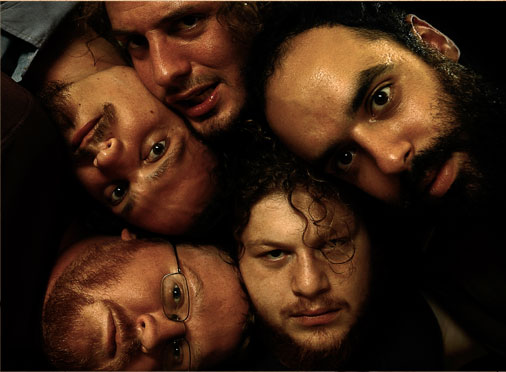 The members of O'Death met in 2000-2003 when they all attended State University of New York in Purchase (specialized in programs in the arts and conservatory programs). Founders were David Rogers-Berry (drums) and Greg Jamie (guitar and vocals). Then Gabe Darling joined in (initially on guitar but switched to banjo after two years). He also plays ukulele and piano. Next in line was Bob Pycior (violin) and Andrew Platt (bass). Jesse Newman replaced Andrew Platt in 2005. Dan Sager and Tristan Palozola are also former members and played trombone among other instruments. In 2004 the band had a standing gig at the now defunct Apocalypse Lounge in New York. O'Death were (and are) known by their, by any standards, frantic and rowdy concerts. Nothing can, however, be compared with their gigs at Apocalypse Lounge. It's hard to believe that they are almost an acoustic group. The bass, guitar and violin are amplified. The drums, however, does not just consist of the normal setup. It's complemented with garbage cans, buckets and broken cymbals (which also are used frequently and loudly). One of the most important instruments is the vocals. Greg Jamie has a very distinctive voice. His voice is nasal, theatrical and high-pichted. In addition, he growls and howls. However, it fits perfectly to this kind of music. Their fan base has grown substantially since the Apocalypse Lounge-era. They have toured almost constantly in US and Europe (they have also played in Sweden). At most, they played over 100 gigs per year. However, the band has been through some difficult times. In 2007 the fiancé of David Rogers-Berry died of an aneurysm. The band cancelled their European tour plans. Their third (officially) album is dedicated in her memory. In 2009 the band went on a one-year hiatus when David Rogers-Berry was diagnosed with bone cancer. After chemotherapy and a shoulder replacement he was well enough to begin and play drums again (not as martial as before, but still pretty wild). They returned from their hiatus with a critically-acclaimed concert in July 31, 2010 at the Newport Folk Festival. In certain circles O'Death still has a "cult" band status, in spite of the fact that they now have a much larger fan base. In spring 2013 O'Death celebrated 10 years as a band (in the "gothic country" genre this is equivalent to the longevity of Rolling Stones). The survival rate is low in the genre. They celebrated the anniversary with eight concerts in five north-eastern states in April 19-26, 2013. It's been quiet since then and I think it's safe to say that they have disbanded.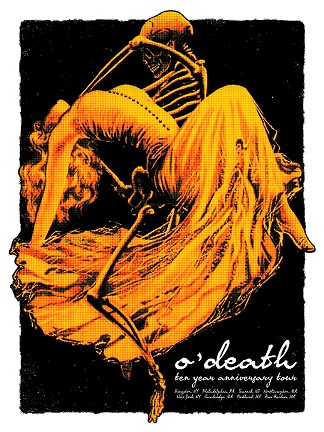 O'Death master exceedances of genres and tempo changes to the fullest, often they are made within the same song. The music is compact. They possess a stable foundation of bass, guitar and drums upon which banjo and violin linger in beautiful harmonies. The violin is often used in a very tough, almost brutal, way. The lyrics are also very good. An example is the song "Home".
"I'd light a fire beside the skin and dig a hole for bones to lay
Find a sacred resting place where the pecking hens won't harm the eyes
Home, home the air I breathe
Home, home the air I breathe"
Another good example is the song "Grey Home".
"Hang the hardship baby, hang the hardship baby,
hang the hardship baby
we go to sleep and then we die"
The songwriting process normally begins with Greg Jamie and Gabe Darling writing more or less fully-formed sketches and then brings in the band. In other cases all work are done together. Sometimes other members come up with an idea that is put in the creative process. Common themes in the songwriting are fables of burials, sour women and the perils of sin. Some songs are based on actual events like "Fire On Peshtigo" which refers to the catastrophic firestorm in Peshtigo in 1871 that killed 1,500 people. Their focus has also changed over time from how the music would be perceived live to how they want it to be perceived when listening to music on an album. A common and tiresome point of view is that their records don't stand up to their live performances. First of all, it goes both ways. There are band that are pretty crappy or uninteresting live, but make very solid albums. Secondly, you have to realize that it is two completely different ways of communicating the music. When you're playing live there's an interaction. When you play an album there's a listening experience. However, depending on your preferences, a pure listening experience can be as great as a live performance and sometimes even greater. Thirdly, the albums are really great. My claim rests on objective and substantive grounds.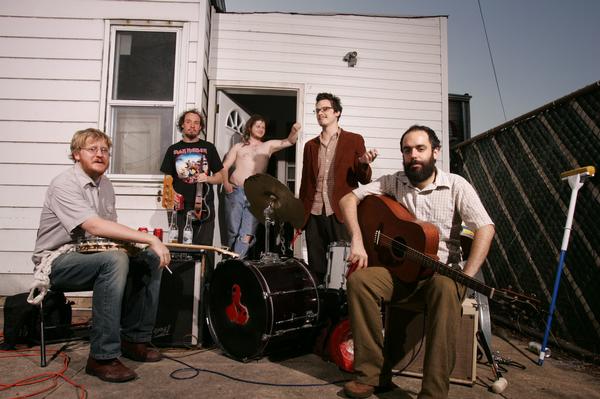 However, the band and the music have changed over time. Maybe evolved is a better word for it. The first albums were really rough. On the third (officially) album they have toned down their frantic act and moved in a more melodic direction. Everybody was not happy. They miss the raw and rough expression. I, on the other hand, think it's a good move. It still, by normal standards, raw and rough. It's less bombastic, but more creepy. The songs are more refined, developed and darker. They didn't spend too much time on writing and recording their first albums. The last album was recorded over a period of two months (aeons of O'Death-time), which created very good conditions for the creative process. This time they even wrote down the lyrics for every song on the album. O'Death is 100% authentic. In other articles I have stated that some artists/bands seek attention through bombastic expressions. O'Death has a bombastic expression while still playing acoustic, but don't seek any attention. In an interview, they declare: "We're just really real about what we do, and we connect deeply with our audience. We just keep it going. There's a lot of things we suck at like networking, being fashionable, and taking good pictures. But the things we're really good at are the thing that really counts… or least should count… you know – the music." O'Death has released four albums. In some discographies only three are counted for. The namely put together a very raw CD-R in 2004 that was sold at their concerts entitled "Carl Nemelka Family Photographs". It was recorded by Joshua Benash. It's very hard to find. I have never seen it physically or virtually. But, if you against all odds have a copy and want to sell it, please contact me. They self-released "Head Home" in 2006 which was later re-released in 2007 by Ernest Jennings Record Co. and by City Slang in Europe. The album cover is designed by Jimmy Joe Roche. Then followed "Broken Hymns, Limbs and Skin" (2008) at Kemado Records (City Slang in Europe). The album cover is designed by Jimmy Joe Roche. The third album "Outside" (2011) was released by Ernest Jennings Record Co. (City Slang in Europe). The album cover photo is taken by Matt Hawkes. The fourth album "Out Of Hands We Go" (2014) was released Northern Spy Records. The album cover art is made by by William Schaff. The band has also directed a video for the first single, "Bugs" of the third (officially) album. Two of the members were film majors when they attended SUNY Purchase and now they were given an opportunity to direct their own video. The result is overwhelming. The video was filmed on the coast of Maine near Portland and Biddeford. O'Death is represented with a song (Adelita) on one (Rodentia I) of the four compilations with The Best Of Dark Roots from Devils Ruin Records. That is - as I'm been nagging about - a mark of quality.

Below is a suggestion for a CD compilation.
| | | |
| --- | --- | --- |
| No | Song | Album |
| 1 | Down To Rest | Head Home |
| 2 | Adelita | Head Home |
| 3 | O Lee O | Head Home |
| 4 | Face Mask | Head Home |
| 5 | Only Daughter | Head Home |
| 6 | Ground Stump | Head Home |
| 7 | Jesus Look Down | Head Home |
| 8 | Lowtide | Broken Hymns, Limbs And Skin |
| 9 | Fire On Peshtigo | Broken Hymns, Limbs And Skin |
| 10 | Vacant Moan | Broken Hymns, Limbs And Skin |
| 11 | A Light That Does Not Dim | Broken Hymns, Limbs And Skin |
| 12 | Grey Sun | Broken Hymns, Limbs And Skin |
| 13 | Home | Broken Hymns, Limbs And Skin |
| 14 | Crawl Through Snow | Broken Hymns, Limbs And Skin |
| 15 | Ratscars | Broken Hymns, Limbs And Skin |
| 16 | Bugs | Outside |
| 17 | Ghost Head | Outside |
| 18 | Alamar | Outside |
| 19 | Black Dress | Outside |
| 20 | Ourselves | Outside |
| 21 | Look At The Sun | Outside |
| 22 | Back Of The Garden | Outside |
| 23 | The Lake Departed | Outside |
| 24 | Herd | Out Of Hands We Go |
| 25 | Wrong Time | Out Of Hands We Go |
| 26 | Roam | Out Of Hands We Go |
| 27 | We Had A Vision | Out Of Hands We Go |
| 28 | Heal In The Howling | Out Of Hands We Go |
| 29 | Isavelle | Out Of Hands We Go |
| 30 | Reprise | Out Of Hands We Go |
Best album: Broken Hymns, Limbs and Skin or Out Of Hands We Go
Best songs: Down To Rest, O Lee O, Ground Stump, Lowtide, Vacant Moan, Home, Ghost Head, Black Dress, Herd, We Had A Vision, Heal In The Howling, Reprise