Salter Cane is a band from Brighton, UK, see their website here. Salter Cane was formed by Chris Askew, Jeremy Keith and Jessica Spengler. After playing in a band in Germany for several years they decided to move to Brighton, on the south coast of England. However, they all come from different places. Jeremy Keith is originally from Ireland and Jessica Spengler is from the USA. Chris Askew is the only one from the UK. In Brighton they decided to form a new band and started to look for a drummer. Salter Cane was formed circa 2002/2003. They have had a few different drummers over the years. For eight years Jamie Freeman played the drums. In 2014 he left the band and was replaced by Emily Powell. Salter Cane considers itself fortunate to have always had really good drummers, all inevitably playing in slightly different styles. The present lineup consists of Chris Askew (guitar and vocals), Jeremy Keith (bouzouki), Jessica Spengler (bass) and Emily Powell (drums). The band name - Salter Cane - has an undeniable ring to it. The name gave me something to ponder about. I started to investigate the matter through intense googling. My best guess was Nellie Salter, cane-mistress to Sir Francis Bacon. But this theory turned out to be too far-fetched and complicated. In an e-mail Chris Askew explains: "It didn't come from anywhere and isn't not based on anything specific. It was just a name we thought up. The name just seemed to fit the band and the music we were playing." It's not the first time that I have turned and twisted with the origin of a name and the band reveals that they just liked the sound of the name and that's all there's to it. You have to be prepared for sudden anticlimax when you are exploring the gothic country genre.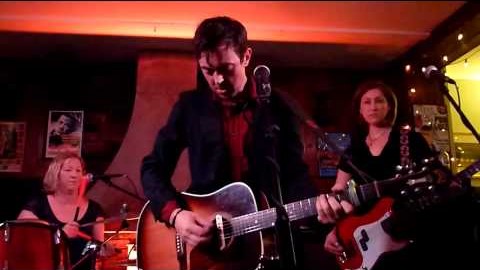 Salter Cane can be labeled "gothic country", "melancountria", "country noir", "folk noir" and "alt-country darkmeisters". They are heavily influenced by Joy Division and Nick Cave. This is very clear when it comes to the vocals. The vocals of Chris Askew stand the comparison with both Ian Curtis and Nick Cave, both when it comes to vocal range and singing style. Salter Cane have always been a four-piece with vocals/guitar, bouzouki, bass and drums. They have an odd setup of instruments, prominent female band members and a dark mood ("let the river take you to a cold, dark bed"). The lyrics deal with love, misery and death. According to their website they trade in ballads of melancholie and tales of murder. Salter Cane deal in "tales of whiskey-soaked madness, bloodied hands and long dark nights of the soul". Most artists/bands in the "gothic country" genre follow a standard formula when it comes to their creative process, for example idea/theme first, then lyrics followed by arrangement and chords. In the email Chris Askew describes how the songwriting process looks like: "I tend to write the songs then we work on arrangements as a band. The writing process varies but it's rarely as linear as your example. Generally, it begins with a few chords that suggest a lyric and that leads on to some more chords, which are hopefully accompanied by some more fairly spontaneous lyrics. I usually have most of the chord structure, rhythm, melody and some of the words fairly quickly. Then begins the harder work of filling in the lyrical holes, which can take a very long time." In the email Chris Askew develops his views on the creative process when it comes to finding themes, moods and expressions in their lyrics: "It's not a very conscious process so I'm honestly not really sure. I know that it can be influenced by people or places I know, films I've seen, or books I've read."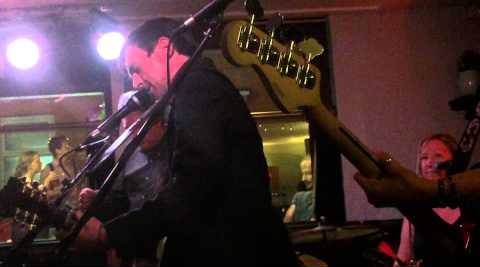 You can have worse role models than Nick Cave and Joy Division. Their influence on the band can not be overstated. But, Salter Cane are influenced, not controlled by their heavy legacy. They bring something new and fresh to the table. Their music have been described as menacing and melodic Americana-tinged rock. Sometimes it's more rock than country, but the country is always there. They are all talented musicians. The arrangements are nicely done and the sound quality on the albums is impeccable. The last album "Sorrow" is their best album. Salter Cane is an experienced band and a popular fixture on the Brighton live scene. My assessment is that Salter Cane will continue to do what they do. In the email Chris Askew reveals their future plans: "We're working on some new songs and hoping to get into the studio to record in the spring" [2016, my remark.] Chris Askew also develops his view on the future for musicians/bands in the "gothic country" vein: "I'm not sure I know much about that. As long as there's an audience I'm sure people will carry on playing shows and making good music." Salter Cane seems to be people of few words. Their elegant and tasteful website isn't exactly overloaded with information and updates either. Just the bare necessities with their music, tidings with upcoming and past shows. No biography or endless lists of adjectives. This kind of music thrives in all climate and time zones, even on the Southernmost Reaches of Great Britain.

Salter Cane have released two full-length albums and one EP. Their debut album "Salter Cane" was released in 2006. The album art (woodcut) was designed by Josef Brunner. The EP "Black Swollen River" was released in 2008. Their second full-length album "Sorrow" was released in 2010. All three albums are released on Black Ship Records. The album art on the two latter albums are presumably designed by Salter Cane.
Below is a suggestion for a CD compilation. All songs on the EP "Black Swollen River" are included on the second full-length album "Sorrow".
| | | |
| --- | --- | --- |
| No | Song | Album |
| 1 | Love Stranger Than This | Salter Cane |
| 2 | The Other Side | Salter Cane |
| 3 | Wicked Boy | Salter Cane |
| 4 | A Cain Light | Salter Cane |
| 5 | People Get Lost | Salter Cane |
| 6 | Low Life | Salter Cane |
| 7 | Black Swollen River | Sorrow |
| 8 | Sorrow | Sorrow |
| 9 | Anomie | Sorow |
| 10 | The Truth is Nothing | Sorow |
| 11 | Something Broken | Sorrow |
| 12 | Amelia | Sorrow |
| 13 | The Angel Choir | Sorrow |
| 14 | Cut It Down | Sorrow |
Best album: Sorrow
Best songs: Wicked Boy, Low Life, Sorrow, Anamie, The Angel Choir