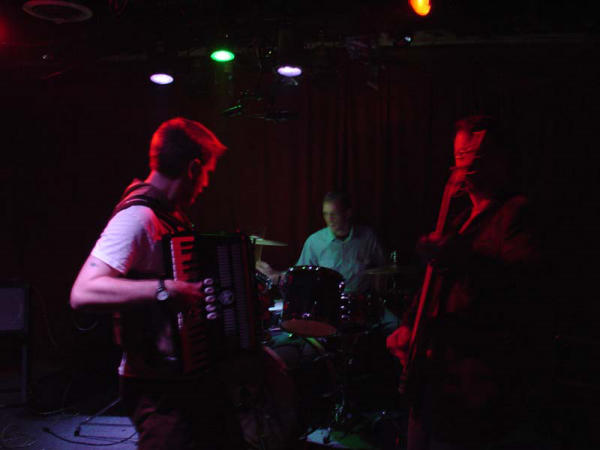 American Sinner is a band from Washington, D.C. see website. American Sinner is a brilliant band name. The story behind the name is dripping with irony. The founder (Scott Trowbridge) began to call himself "American Sinner" as a sardonic commentary to his experiences of growing up in the deep of South after converting to Hinduism in adolescence. He was often told that he would go to Hell, even though in his profession was committed to helping poor, working against drugs, child custody issues and public care, domestic violence , abuse and other issues. It's a very interesting paradox. One religion (Hinduism) leads to good karma while the same action (due to apostasy) will lead straight to Hell in another religion (Christianity) He used the pseudonym "American Sinner" in various contexts, and it later became his artist name. When the band was formed in late 2004 they took "American Sinner" as their band name. In some contexts, they use "Sinner" in conjunction to their first name, for example Scott Sinner. American Sinner was formed by Scott Trowbridge (vocals and accordion), Doug Pettway (bass), Michael Prince a.k.a. Prince Michael (drums) and Krissy Downing (violin). Originally, a guitarist was included, Sam Levy. He left the band in 2005 to move to North Carolina for work and family. After some years, Doug Pettway was replaced by Chuck Rainville. He was in turn replaced by Nic Lavalier. A second drummer, Mark Mullis a.k.a. Plug "Ug" Lee, joined the band. The band is now a trio since Krissy Downing moved away to the West Coast. Founder Scott Trowbridge is the former singer and bass player of Blackgrass. Blackgrass was disbanded when Scott Trowbridge moved to Washington DC to attend law school. He wanted to start a new band. He ran a classified advertisement in a newspaper for "drums" and "a lead instrument". In an email Scott Trowbridge writes: "Actually, that was funny. I had run a couple ads that were being flagged by people that thought they were jokes because I was asking for people for an accordion metal band or something like that. I had to add some demo mp3s so that people would know I was serious." American Sinner has been labeled as "gothic americana", "gothic folk", "gulag rock", "death accordion", "accordion & violin death metal", "accordion music for people that like goth, punk, grunge, folk etc." I have also come across the phrase "This ain't your Großmutter's accordion music" which is a paraphrase to the description of .357 String Band ("This ain't your grandaddy's bluegrass").
It's difficult to distinctly define American Sinner. They're just too much country to be labeled rock and too much rock to be labeled country. You can go on indefinitely and discuss the band in relation to different genres. To complicate matters further, American Sinner, also have some influences from Eastern European music. Fortunately, in the "gothic country"-community there's no obvious definition but an inclusive view of American quality music. There are several connections (some of them are obvious) between American Sinner and Blackgrass. In the email Scott Trowbridge writes about similarities and differences: "I think the lyrics often come from similar places. Also, I think both bands share the sometimes uncomfortable mixture of influences, most strongly punk, metal and American folk music. I think without trying at all to sound like 'world music', I think both bands had a lot of international influence... I'm not sure how much that comes across easily, but I could point you to a few things. The intro to Blow up a Storm is basically Banjo-sitar style. Always trying to get the guitars to sound more like West African stuff like Ali Farka Touré or Orchestra Baobab. You'll definitely hear that guitar tone on the upcoming album/movie. Differences...I don't know. More banjo in Blackgrass. Blackgrass band members were a lot more interested in jamming over repeated parts and that kept song progressions a bit more predictable I think. The beats were more straightforward which I think is a plus and a minus, depending on my mood." American Sinner and Blackgrass also to some degree share songs. This includes both covers and original songs. Both bands have recorded the murder ballad "Knoxville Girl" and the hymn "Wayfaring Stranger". "Tiny Ghost", "Big House (Blues)", "Hope", "Lillies" and "Like a Clock" have earlier been recorded by Blackgrass. There are both similarities and differences in the interpretations, but this lies outside the scope of the article. American Sinner has recorded several covers. "Cover" is a misleading term in this context, because they has put in time, thought and effort to make their own and different interpretation. It's liberating when covers not are played mechanically from A to Z. Unfortunately, it's not very often that this is the case in the world of music in general and within "gothic country" in particular. At the same time American Sinner stands on solid ground in their own songwriting.

American Sinner belongs without a doubt to the hardest category of bands in "gothic country" and are rock-orientated. It's still beautiful. The music is well arranged and produced. Their songwriting will usually start with idea and theme, then lyrics followed by arrangements. In the email Scott Trowbridge describes the process: "And the lyrics usually go through many revisions to include the most double entendres possible and to include obscure historic references. For the next release, we plan to provide annotations, both for listeners and for alien archeologists of the future; especially since, some of the new songs have involved extensive research and trips to different locations around the U.S." Scott Trowbridge, moreover, has very good vocals and lyrics are articulated clearly. The lyrics are dark. In the email Scott Trowbridge explains how the creative process looks like in terms of finding themes, moods and expressions: "I have seen a lot of unhappy things as I've worked in child abuse and neglect prevention for many years. I've also seen the resilience of people, which is also inspiring, but for me at least, doesn't translate to positive sounding things, even if I would characterize them as positive on the whole. Some of the horrible things I see are what you'd expect from knowing that, physical abuse, sexual abuse, etc. But part of the depressing nature of that is how low a priority people are in U.S. politics. We spend more on keeping rich people rich here than on making sure kids have enough to eat or decent schools. That is what the song Temptation is about...and eminent domain."
During my triangulation of the "gothic country" genre I have sadly noted that some bands are more concerned with social media (website, Facebook, Myspace, etc.) than with their music. A strong focus on the music is honourable, but you still have to reach out with your music. Taking in moderation social media can be a good thing. Social media has previously been a neglected area for American Sinner. However, this has changed drastically. They have pervasive updated their website. It's now more functional, easy to navigate and at the same time very aesthetically attractive. They opened Twitter and Instagram account. Their Facebook-page is updated with news, pictures and links. Their two physical albums are also re-mixed and mastered and re-released as downloads. The above changes should make it easier for people to discover this highly overlooked band and separate the wheat from the chaff.
American Sinner has released three albums "Revival" (2006), "José Arcadio is Dead" (2009) and "Island of the Dolls (2014) on the Yahrr!!! label. All three albums are available on the band's website and are very affordable. The album covers are consistent with the music. On the cover of Revival: a skeleton in a beautiful lily. The album cover was created by Krissy Downing. On the cover of José Arcadio is Dead: a man lying on a floor with blood running from his head. It is not clear from the information on the album who designed the album cover. The title José Arcadio is Dead "refers to one of the characters in Gabriel Garcia Marquez's masterpiece" One Hundred Years of Solitude." There is also a quote from the book in the" liner notes" on the album. On the cover of "Island of the Dolls": a startled woman. It is not clear from the information on the album who designed the album cover. With "Island of the Dolls" they take their music in a new and exiting direction. You can read a review of the album here.
American Sinner has film plans. However, the plans has been scaled down from a big film to a short feature film. They have hours and hours of footage from seven states that can be used in stand alone videos or for some other use. Alongside American Sinner, Scott Trowbridge plays now and then with Will D. McB. They met back in 1994, see website. They recently released an acoustic tribute album to Glenn Danzig a.k.a. "Evil Elvis". What is the prognosis for the band? As usual, it is difficult to judge about 6700 km away, but my assessment is that there will be more great music from American Sinner to come.
Below is a suggestion for a CD compilation.
| | | |
| --- | --- | --- |
| No | Song | Album |
| 1 | Hope | Revival |
| 2 | Toys Go Winding Down | Revival |
| 3 | Knoxville Girl | Revival |
| 4 | Lillies | Revival |
| 5 | Wayfaring Stranger | Revival |
| 6 | Tiny Ghost | Revival |
| 7 | Bright Smile | Revival |
| 8 | Center | José Arcadio Is Dead |
| 9 | Henry Lee | José Arcadio Is Dead |
| 10 | I Just Burned The Lord's House Down | José Arcadio Is Dead |
| 11 | Flowers | José Arcadio Is Dead |
| 12 | Goat Castle | Island of the Dolls |
| 13 | Maritana | Island of the Dolls |
| 14 | Lila Anne | Island of the Dolls |
| 15 | Copper Queen | Island of the Dolls |
| 16 | Hours | Island of the Dolls |
| 17 | Gold | Island of the Dolls |
| 18 | 483 | Island of the Dolls |
| 19 | Judgment Day | Island of the Dolls |
| 20 | Bright Smile | Island of the Dolls |
Best album: Island of the Dolls
Best songs: Hope, Knoxville Girl, Lillies, Wayfaring Stranger, Tiny Ghost, Center, Henry Lee, I Just Burned The Lord's House Down, Flowers, Waiting Around To Die, Goat Castle, Lila Anne, 483, Judgment Day, Bright Smile