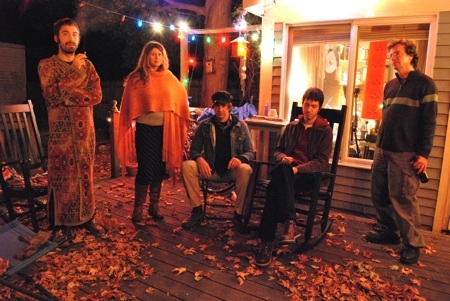 Fire on Fire is a band from South Portland, Maine. The city is best known for its harbor with a huge tank farm (23 tanks for crude oil with a capacity of 560 000 cubic meters) and a 380 km long underground pipeline to Montreal. I mention this fact only because it has some bearing on the band. More about this below. Maine is located on the East Coast and the band will be filed under Northeast in this article series. The band was formed in 2004 by Colleen Kinsella (vocals, harmonica, guitar, accordion and banjo), Caleb Mulkerin (vocals, guitar, banjo and dobro), Tom Kovacevic (vocals, oud, ney, tamburitza, djembe and tambourine), Chriss Sutherland (vocals, guitar and doumbek) and Micah Blue Smalldone (vocals, upright bass and banjo). All except Smalldone have a background in "art-punk-prog-chaos"-collective Cerberus Shoal (released several albums and involved many people over the years). Like many other bands in this article series, several members of FoF have a background in punk rock. Fire on Fire has been on my list for an article for quite some time, but it has nevertheless taken some to time to make the decision. There has however never been any question about the quality. I hesitated because the music under certain circumstances and by some people can be characterized as "psych-folk" or "freak-folk". Beware! Should this become a precedent then a whole ocean of bands could be amenable for an article. What is the problem? In other articles I have made a point of that there exists an extremely permissive view of who is, what and why someone or some are included in the genre. But I find myself outside the genre and certainly do not have any permissive view. On the contrary, someone has to take on the necessary, but very ungrateful, sanitation work. And without sanitation work there will not be any consumer guidance and this is one of the main purposes of this article series. But Fire on Fire is checked and cleared. No doubt about that. Some call it "gothic folk", but I prefer to call the style for "dark psychedelic Americana".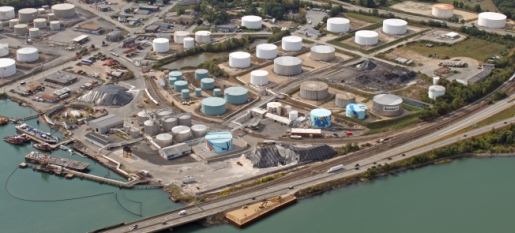 For many years the band lived together in a big blue house across from the oil tank number 28 on South Portland's Oil Tank Riviera. Living in the same house created many spontaneous opportunities to improvise. That's also how it all began in their kitchen. After a while a more simple, accessible and traditional music compared to Cerberus Shoal was formed. The songwriting process changed from clashes of ideas and compromises to a more incremental, evolving and involving process where everyone contributed. It eventually led to the inevitable disintegration of Cerberus Shoal.
The conversion and transformation of the band also applied to their instruments. Electric instruments were abandoned for a traditional set of bluegrass instruments (at their gigs, they used an "old-school" lineup with only two microphones) combined with a very untraditional set of Arabic, Asian and African instruments (oud, ney, tamburitza, djembe, tambourine and doumbek). And that's pretty much how Fire on Fire sounds: appalachian bluegrass meets world music. A band name did not exist at this time. It was very difficult to come up with a name and it caused a lot of frustration for the band. In an email Chriss Sutherland remembers: "Caleb came up with the name. We were originally calling the group Threads, but there were already a few other groups using that name so when the Young God Records deal came along we had to make the tough choice. It took about six months to come to a consensus. I think the name describes the nature of the personalities of the group: strong, opinionated, and experienced." The adjective experienced is no exaggeration. When I read about the band, it struck me how young they are and still veterans of the music scene in the East Coast.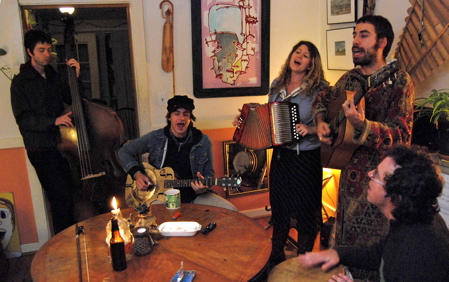 The trademarks of Fire on Fire are variation and musical skill. The music may appear simple at first glance, but it's step-by-step developed with beautiful arrangements and small, but nevertheless, important details. Harmonies and fine-tuned choir completes the listening experience. They take turns to sing, which also adds to the variety. Meanwhile, it's consistently and coherently implemented, which is a great achievement when you consider the band's creative process. The lyrics are well written and there's no nonsense. Sometimes they are very inventive, for example in Hangman: "Even the worst of man has friends even the hangman has friends..." or in the refrain to Sirocco: "If we tear this kingdom down let it be with a deserving and joyous sound." At the same time it is dark, disturbing and frightening, that is, just as it should be. "Gothic Country" thrives not only in "wide open spaces", but also among oil tankers. Which stresses the fact mentioned in the introduction to this article series that bands/artists come from all over America. Fire on Fire has found its own niche. It's however not a result of a market survey to be capitalized, but simply a result of their own experiences, talents and interests.
Fire on Fire does not exist anymore. It ended very much like it started, slowly and without any drama. There are several reasons why the band did not continue together. "Caleb and I became parents." Colleen Kinsella writes in an email. Chriss Sutherland explains in his email: "I would say that the group never officially disbanded, but around 2008 we just stopped doing anything. Caleb, Colleen, Tom, and I had been working together for over a decade and there was a lot of water under the bridge... I think in order to save our life long friendships we had to stop pursuing music together. That is my opinion. As I said above, we had been doing Cerberus Shoal since 1994 and it was nonstop. Our priorities were changing and some individual evolution was necessary. We needed a break." It is of course a loss, but all five of them are still active in music. No one works at a bank or a insurance company. Colleen Kinsella and Caleb Mulkerin continued with their own band (Big Blood) which was established back in 2006. Colleen Kinsella has also made a solo album. Chriss Sutherland plays under his own name and together with Tom Kovakevic in Olas. Tom Kovakevic plays in addition in the bands Alhan and Tarpigh and is also working on a solo album. Micah Blue Smalldone is playing under his own name.
Fire on Fire has released two albums "5 Song EP" (2007) and "The Orchard" (2008). Both are recorded in "Tank 28" which I presume is a paraphrase for their house opposite the oil tank number 28 on South Portland's Oil Tank Riviera. "5 Song EP" was recorded and mixed in spring 2006 and completed in the summer of 2007. Producers were Caleb Mulkerin and Michael Gira (ex-Swans and founder of the Young Gods Records). The EP was only released in 1000 handmade physical copies and only available to buy from Young Gods Records website or at the band's gigs. The cd envelope consists of recycled high quality paper. The lyrics are printed on a translucent vellum-like paper. The EP is very hard to get (out of print, naturally). But I managed to get a hold of a copythrough a want-list alert on Discogs. "The Orchard" is relatively easy to find. It was recorded early spring of 2006 (actually before "5 Song EP"). The album was mixed by Caleb Mulkerin and Michael Gira. The album covers are among the most beautiful in the "gothic country" genre. They are made by Colleen Kinsella who also is a visual artist. One would think the art work refers to the band name, but that's not the case. "The hot head images used on both releases existed before the band name." Colleen Kinsella writes in email. I asked if there were any plans for a third album. Chriss Sutherland" replies in his email: "No. What we recorded was pretty much all the music we had written. Maybe sometime in the future when time and space allow we'll do another record. It's difficult to be definitive on that."
| | | | |
| --- | --- | --- | --- |
| | | | |
Who knows what will happen in the future? They have been through a lot together while maintaining good relationships. It is far from always the case in the world of music. This would indicate a continuation. On the other hand, a couple of years have passed since they played together and they are all involved in other projects. We'll just have to see, but one can always hope. There is however nothing that suggests that there's any lack of energy or creativity for an additional album.
Below is a suggestion for a CD compilation.
| | | |
| --- | --- | --- |
| No | Song | Album |
| 1 | Hangman | 5 Song EP |
| 2 | Liberty Unknown | 5 Song EP |
| 3 | Lady Coffin | 5 Song EP |
| 4 | Amnesia | 5 Song EP |
| 5 | Three Or More | 5 Song EP |
| 6 | Sirocco | The Orchard |
| 7 | Heavy D | The Orchard |
| 8 | Assanine Race | The Orchard |
| 9 | The Orchard | The Orchard |
| 10 | Flordinese | The Orchard |
| 11 | Hartford Blues | The Orchard |
| 12 | Squeeze Box | The Orchard |
| 13 | Tsunami | The Orchard |
| 14 | Haystack | The Orchard |
Best albums: The Orchard
Best songs: Liberty Unknown, Sirocco, Heavy D, Assanine Race, The Orchard, Flordinese, Hartford Blues, Tsunami