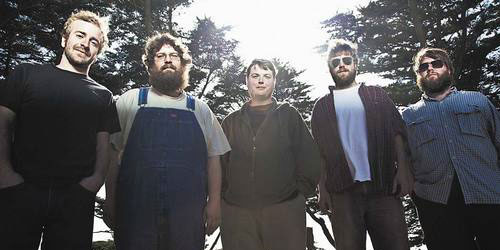 Trampled By Turtles (hence TBT) is a band from Duluth, Minnesota, see website (opens in a new window). The band was formed in 2003 by Dave Simonett (guitar, lead vocals and harmonica) and Eric Berry (mandolin and backing vocals). After a few shows as a duo Dave Carroll (banjo and backing vocals) joined followed by Tim Saxhaug (bass and backing vocals). Last to join the band in 2006 was Ryan Young (fiddle and backing vocals). The band name "Trampled By Turtles" is consciously or unconsciously shrouded in mystery and have many different interpretations. The first interpretation and story is that the band had a couple of shows coming up, but didn't have a name. "Trampled By Turtles" was suggested by Eric Berry and it was a name they all didn't hate. It's difficult to visualize a stampede of turtles. A second interpretation of the name is drugs (under the influence of them). A third interpretation and story is that the band saw a PBS documentary about how people were laying down in turtle migration zones and letting turtles walk on them in order to increase their penis size. A fourth interpretation and story is that the band were making toast and the burned toast looked like a person laying down and turtles walking over the body (a.k.a. simulacra, sightings of images with spiritual or religious themes or import to the perceiver). A fifth interpretation is a sexual euphemism and urban slang for a weird sexual activity. The band doesn't seem unaware of this latter meaning. On the contrary, the linguistic ambiguity seems to further contribute to the name mystery. But what do I know? I don't rule out a combination of interpretations. However, the name is wacky but fulfills its purpose - to avoid sounding like a bluegrass band. I believe, at least sometimes, in an interventionist God. TBT was meant to be despite their ridiculous name. The signs were there and easy to follow. Dave Simonett lost most of his gear after a break-in in a vehicle, but was left with an acoustic guitar (an obvious sign). Eric Berry, who then played bass, picked up the mandolin and more members followed. They all knew each other from rock bands that use to play together. They wanted all to play acoustic music as a break from their rock music. It was never meant to be anything, but the side-project became the main project for the members. Similar to .357 String Band no one in the band had previously played bluegrass or something even similar to bluegrass before. The band spent considerable time learning how to play and after a while they fully mastered their instruments. There are, of course, no drums in a bluegrass band.
Trampled By Turtles isn't the most gothic of bands, but makes up for this by their fervor. They have been labeled "progressive bluegrass", "twangy bluegrass", "trashgrass", "punkgrass", "neo-bluegrass" and just "bluegrass". Bluegrass from a Minnesota - is that conceivable? As mentioned in the introduction to this article series, this kind of music comes from the most unexpected places in the U.S. The music is not bound by geography. The epithet "bluegrass" seems to chafe a bit for the band since they never set out to be or have declared themselves as a dedicated bluegrass band. In my opinion, in their best moments they're a trailblazing bluegrass band. In other not-so-good moments, they are more of a generic folk-rock band and not very interesting (at least not for me). A good definition of their style would be included but not limited to bluegrass. The bluegrass community seems to be divided. Some hard-core people hate it and will not recognize TBT as a bluegrass band, while others in the community embrace them as a neo-traditional band steeped in the old tradition. An inside joke was that in the beginning of their career they were no bluegrass band because they weren't fast enough. When they became more skilled they were no bluegrass band because they played too fast. The latter can't be overstated. They play blistering bluegrass in break-neck tempo, but at the same time they are proficient musicians. Some artists/bands in the genre compensate their lack of talent and skills with fashion or style. The thing I like with TBT (besides their unbridled bluegrass mayhem) is their simple blue-collar anti-fashion style. This very liberating and welcome in a world highly corroded by poses, mannerisms and expressions. Trampled By Turtles is a hard-working band and also very successful. They have built up a strong fan-base over the years and sold many albums. The band strive to capture their raw live sound on their albums and you could expect a bluegrass mosh pit on their shows.

Dave Simonett writes the lyrics. Some of their early songs deal with social criticism, like the song "The Outskirts". "Well you take from our schools to build a bigger bomb / you tell us fiery lies about the course we're on". This type of message is otherwise unheard of in the genre. Trampled By Turtles is perfectly orchestrated with guitar, mandolin, banjo, bass. The fiddle fills in the few remaining gaps in the soundscape. Another nice feature is the sonorous backing vocals. In the beginning it was a challenge for the band to create their own sound and music on new instruments. The music of TBT has evolved over time (and evolution is not necessary a good thing). TBT seems to be aware of that some people are disappointed. When people ask questions about the change they tend to lapse into general responses, like that their earlier sound were music they felt doing at the time or that their new sound reflects that they are now older and wiser, have families and kids and so on. In my opinion, the quality of their music has deteriorated significantly on their last two albums (despite their press releases which emphasizes on the opposite) where they have moved in a more melodic and mainstream direction. Some less tolerant people claims that they have sold out to the popular but wimpy folk-rock trend. If this was to be true, this would mean an abomination of biblical proportions.
On October 13 2016 it was announced that Trampled by Turtles was put on hold. The five members plan to work on side gigs and spend time with their families. Damn family values. This may very well be the end. The statistical return rate from hiatus is not encouraging in the genre. But they came back.
Trampled By Turtles has released eight studio albums. The production is very even with a new album every one to two years. I got all physical studio albums. There's also a live album "Live At First Avenue", which was released in 2013. Their first album "Songs From A Ghost Town" was released in 2004. The album cover was designed by TBT. Their second album "Blue Sky And The Devil" was released in 2005. The album cover was designed by TBT. Their first two albums are both long out-of-print and very rare and ridiculously expensive. I got both albums. Their third album "Trouble" was released in 2007. The album cover was designed by Veti Design. Their fourth album "Duluth" was released in 2008 and on this album they pays homage to their hometown. Duluth is sometimes called "Nashville of the Midwest" due to its importance as a music and arts community. The album cover was designed by TBT. Their fifth album "Palomino" was released in 2010 and reached number one and maintained a position in the Top 10 on the Billboard bluegrass charts for 52 consecutive weeks. The album cover was designed by Dave Simonett. Their sixth album "Stars And Satellites" was released in 2012. The album cover was designed by Dave Simonett. Their seventh album "Wild Animals" was released in 2014. The album cover was designed by Sarah Hultin. All albums have been released on their own label, Banjodad Records. The attentive reader will notice that not one of TBT's albums are included on the list of 10 essential "bluegrass" albums, see link (opens in a new window). This is not an oversight or mistake from my part. Their eight album "Life Is Good on the Open Road" was released in 2018. The album artwork and layout was made by Michael Byzewski at Aesthetic Apparatus. Their albums are of uneven quality and contain both great and not so interesting songs. Their best songs from their eight studio albums fit within one cd compilation.
Below is a suggestion for a CD compilation.
| | | |
| --- | --- | --- |
| No | Song | Album |
| 1 | The Outskirts | Songs From A Ghost Town |
| 2 | Codeine | Blue Sky And The Devil |
| 3 | Blue Sky And The Devil | Blue Sky And The Devil |
| 4 | Written On The Wall | Blue Sky And The Devil |
| 5 | Burn For Free | Blue Sky And The Devil |
| 6 | Dyin' | Blue Sky And The Devil |
| 7 | Arming Of Infants | Trouble |
| 8 | Trouble | Trouble |
| 9 | Spoiler | Trouble |
| 10 | November | Duluth |
| 11 | Methodism in Middle America | Duluth |
| 12 | Duluth | Duluth |
| 13 | Shenandoah | Duluth |
| 14 | Wait So Long | Palomino |
| 15 | Victory | Palomino |
| 16 | It's A War | Palomino |
| 17 | Burnt Iron | Palomino |
| 18 | Feet And Bones | Palomino |
| 19 | Sounds Like A Movie | Palomino |
| 20 | High Water | Stars And Satellites |
| 21 | Risk | Stars And Satellites |
| 22 | Western World | Wild Animals |
Best album: Blue Sky And The Devil or Palomino (can't decide)
Best songs: Outskirts, Codeine, Burn For Free, Arming Of Infants, Duluth, It's A War, Feet And Bones, Risk