Pushin Rope is a band from San Diego, California. Finally, a band from the West Coast. "West" usually means Denver, Colorado in this article series. Everyone knows it's a long distance from Denver to the Pacific Ocean. Pushin Rope is an excellent band name. Pushin Rope is American slang and refers to the act of trying to engage in sexual intercourse with a flacid (limp) penis (in the figurative sense to push a rope in front of you. The rope will, of course, bend). General used for someone unable to perform the task. Pushin Rope is also a pun, in reference to "pushing dope". But this band doesn't contain any west coast surfing junkies with a tan, on the contrary. The band started in 2008 and consists of Josh Renner (guitar and vocals) and Sierra Colt (bass). The band also consists of Shawn Donahue (drums), Danny Iannucci ( banjo) and George Bitsakis (violin). Brent Gutzwiller later replaced Danny Iannucci.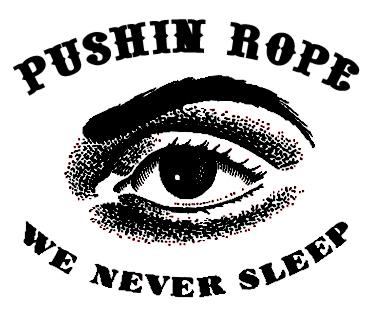 The members have a diverse musical background and it's therefore not very surprising that the music is an odd combination of outlaw country, bluegrass, delta music, punk rock and rock 'n roll. There's absolutely no anxious fine-tuning, poking or finesse over these guys. On a poster the band declares: "picture Johnny Cash on crack meets Hank the 3rd at a whisky drinking contest". That is a pretty good description of how they sound, both on album and live. It's very high energy and presence in the music. Pushin Rope has made two albums: "Murderous Songs Of Despair" (2010) and "Blood On The Line" (2011), both self-released. They have also made a live-album "Live At The Belly-Up". The lyrics are inspired of religious themes. Pushin Rope has a song (Devil's Son) represented on one (Rodenticide III) of the four compilations with The Best of Dark Roots from Devils Ruin Records. Again, it's a mark of quality. Their most known song "Reign In Hell" comes from John Milton's book Paradise Lost and refers to when Lucifer was cast out of Heaven: "It is better to reign in Hell than serve in Heaven." Here are the lyrics:
"Well them Hounds of Hell, are on my trail
I said them Hounds of Hell, are on my trail
And their belly's are filled with desire
And there heart's are all black with fire
And there's Hell to pay and I know I owe
I'm goin' straight to Hell Jesus yes I am
I'm goin' straight to Hell Jesus to make my final stand
I'm goin' straight to Hell Jesus cause I'm no god fearin man
Had a dream last night, of a burnin noose tied tight around my neck, as I cried
And I cried all night, with my dream in sight
And I know just where I'm gonna go
Well that burnin rope of fire, goin' to meet my dark desire
And I'm gonna reign in Hell
I'm gonna reign in Hell Jesus yes I am
I'm gonna reign in Hell Jesus to make my final stand
I'm gonna reign in Hell Jesus cause I'm no god fearin man"
The albums covers are very stylish. On the cover of the first album: a finely wrought around a bullet complete with two guns. The album cover is (probably) created by Sierra Colt. On the second album: a black raven depicted against a forest complete with two crossed guns at the bottom. The album cover was created by Adam Bauer and Sierra Colt.
Below is a suggestion for a CD compilation.
| | | |
| --- | --- | --- |
| No | Song | Album |
| 1 | Reign In Hell | Murderous Songs Of Despair |
| 2 | Evil In His Eyes | Murderous Songs Of Despair |
| 3 | Devil's Son | Murderous Songs Of Despair |
| 4 | Cuttin' Moon | Murderous Songs Of Despair |
| 5 | Evil Little Woman | Murderous Songs Of Despair |
| 6 | Just Me | Murderous Songs Of Despair |
| 7 | Blood In The Pine | Blood On The Line |
| 8 | Know Evil | Blood On The Line |
| 9 | Blood Hearst | Blood On The Line |
| 10 | Molly Faye | Blood On The Line |
| 11 | Suicide King Saloon | Blood On The Line |
| 12 | Raign In Hell | Blood On The Line |
| 13 | Final Hour | Blood On The Line |
Best album: Blood on the Line
Best songs: Reign In Hell, Blood In The Pine, Final Hour