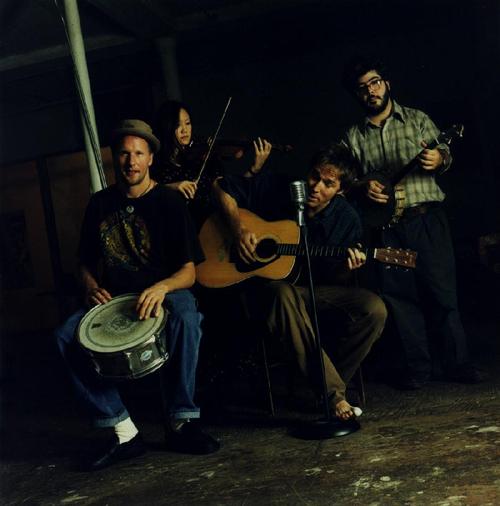 Rex is a band from New York, New York (originally from Maine). To find information about Rex is not an easy task even for an experienced "googler", due to a combination of scarce material and the common name Rex (which is not unique). Rex should not be confused with a couple of other bands (this article refers to artist ID P 180217 on ALL MUSIC GUIDE). I discovered Rex under my triangulation of the "gothic country" genre. In an unusual well-informed thread on a forum "Jackie Blue" provided suggestions of both well-known and lesser known artists/bands (including Rex). Rex is often labeled "slowcore", which is defined by "generally characterized by bleak lyrics, downbeat melodies, slower tempos and minimalist arrangements". Rex was active between 1994 and 1999. The lineup consisted initially of Doug Scharin (drums), Curtis Harvey (guitar and vocals), Phil Spirito (bass) and Kirsten McCord (cello). Rex released three albums: Rex (1995), C (1996) and 3 (1997) on Southern Records. McCord was replaced by Mike Billingsley on the second album. On the third album Scharin, Harvey, Spirito and some studio musicians were involved.
Whether Rex is "Gothic Country" or not is a matter of dispute. The music is however grinding, not to say unsettling. The pace is very slow by any standards. The music is built up in successive steps, slow tempo changes and drawn-out tones. The music is very brooding. The songs often begin with a lonely bass chord that lingers, which is then replenished with additional instruments. The vocal elements are not very prominent. It is really more of "backing vocal" than "vocal". It is however very evocative. You have to be in the mood for this kind of music because there's a compact wall that greets you when you enter the world of "Rexville". The songs are often very long, which means that the compilation below contains not more than 14 tracks. It would have included even fewer songs if some of the more longer songs were to be included.
Below is a suggestion for a CD compilation.
| | | |
| --- | --- | --- |
| No | Song | Album |
| 1 | Nothing Is More Honorable Than You | Rex |
| 2 | High School Dance Hit | Rex |
| 3 | Come Down | Rex |
| 4 | Critella | C |
| 5 | Audrey La'Mort | C |
| 6 | C | C |
| 7 | Porcelain | C |
| 8 | New Dirge | C |
| 9 | Farther Along | C |
| 10 | Gathered | 3 |
| 11 | Jet | 3 |
| 12 | Waterbug | 3 |
| 13 | Yah Land | 3 |
| 14 | Clean | 3 |
Best album: C
Best songs: Nothing Is Most Honorable Than You, Critella, Porcelain, New Dirge, Yah Land, Clean