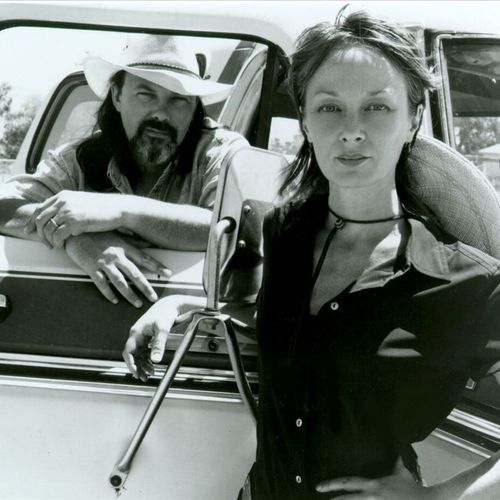 Snakefarm is a band from New York City, New York (later relocated to Los Angeles, California). This is gothic trip-hop. I can understand if you think that I've lost my mind. Exploring and promoting trip-hop isn't really what I do. Rest assure that this is a one-off field trip into new and (for me) unknown territories. I will return to safer grounds after this article. Snakefarm was formed in 1995 by Anna Domino (vocals and multi-instrumentalist) and Michel Delory (guitar) as a side-project to the solo works of Anna Domino. She released four albums and two EPs between 1984 and 1990 in Europe (and released a US album in 1996 called "Favorite Songs from the Twilight Years" with a collection of songs). Michel Delory joined her band in 1986 and they were married the same year. Anna Domino have several names (Domino is her artist name, she was born Taylor and her married name is Delory). The band name Snakefarm is very good. Snakefarm's claim to fame is their twisted take on murder ballads. The idea for this started out as a joke, but after a while it got serious. Anna Domino, who was raised on old folk songs, thought it would be interesting to give old folk songs contemporary arrangements. She studied the songs thoroughly and soon realized that the songs lived their own lives (titles, versions, lyrics, number of verses etc). The traditional songs never stop mutating. The songs were passed on, slightly altered, from one generation to another. What Snakefarm did with the songs was nothing more than an extension of this tradition. But, first after taking some liberties that would make the purists choke by making ambient trip-hop of the songs. The reactions from the purists is very odd, if you come think of it, since the songs are steadily rooted in the public domain and haven't got an officially approved and final version.
The Snakefarm project went on slowly, but surely with some recording. After some initial difficulties Snakefarm managed to release an album on a newly started record label and a tour followed. However, Snakefarm soon fell into obscurity for over ten years and then suddenly re-emerged with a second album. Whatever happened to Snakefarm? Their sad story could apply to many other bands in that genre and era. The first album was well-received and at the time they were actually hailed as the future of folk and even regarded as a cult band in some small but prestigious folk circles. But, band cult followers lacks stamina and are not very loyal in contrast to religious cult followers. Their new record label closed down. Snakefarm continued to work and from time to time they contacted record labels, but no label were interested in them. The alternative of self-releasing an album wasn't really an alternative. Furthermore, they experienced financial troubles which meant that they couldn't fully focus on their music. After many years of disinterest and rejection they got in contact with the editor of a british folk magazine (who have praised their debut album) who mediated a contact with a british record label. One should expect something new and different after nearly thirteen years, but Snakefarm appears to have slept in an oxygene tent. The second album took off precisely were the first album ended as if no time have passed. The album was released in late 2011, but it has an unmistakeably air of the late 1990s around it, which makes it a bit anachronistic. But, I have the deepest respect for bands that do what they do no matter what everybody else think they should be doing.
Whether Snakefarm qualify for this article series is highly questionable. You must posess an open mind and an inclusive approach to include them. I've got neither, but still they pass my thorough but non-transparent and non-traceable evaluation process. This is hardly any "gothic country" music. In their defense it's only fair to mention that there are, in fact, a couple of artists and bands in the article series who thrives in the outer perimeters of the genre. Snakefarm is definitely placed outside of the genre. A second and more serious objection is that Snakefarm doesn't write original songs (at least not for their albums). But reinventing old songs and making new arrangements for them could be at least as creative, if sometimes not more, as writing original songs. What I like about Snakefarm is their very unusual and innovative arrangements. Snakefarm have a distinct gothic sound which include an element of a dreamy atmosphere. The arrangements are dark and brooding, but not overly gloomy. I also like the themes, that is, long gone wrong, betrayal, murderous rage, sorrow and despair (not necessarily in that order). A murder ballad encompasses more than just a murder. The songs were popular culture at the time and still is today for people who understand. One fine quality of the songs is that they never wear out. They are open for interpretation, always recognizable and built to last. Snakefarm is totally unafraid to experiment and sometimes they're far too experimental. In my opinion, some of their songs would definitely have benefited from a more simple approach.

Snakefarm have been labeled "trip-hop", "acid jazz", "acid country", "acid blues", "techno", "speed folk", "electronic folk pop", "folk rock alternative", "folktronica", "electronica", "trance", "twisted traditional", "gothic contemporary" and "art-house pop music". People who don't like them dismiss them as an "arty-farty" band. However, I think they deserve their place in the gothic "Hall of Fame" with their gothic trip-hop. Snakefarm is still active, but the activity level seems to be low.
Snakefarm have released two albums. Their debut album "Songs From My Funeral" was released in 1999 on Kneeling Elephant Records. Their second album "My Halo At Half-Light" was released in 2011 on Fledg'ling Records. The album covers are stylish, especially the second album "My Halo At Half-Light". The album art was designed by cover artist Kiekebiche.
Below is a suggestion for a CD compilation.
| | | |
| --- | --- | --- |
| No | Song | Album |
| 1 | St James | Songs For My Funeral |
| 2 | Rising Sun | Songs For My Funeral |
| 3 | Frankie And Johnny | Songs For My Funeral |
| 4 | Laredo | Songs For My Funeral |
| 5 | John Henry | Songs For My Funeral |
| 6 | Black Girl | Songs For My Funeral |
| 7 | Tom Doley | Songs For My Funeral |
| 8 | Pretty Horses | Songs For My Funeral |
| 9 | Little Maggie | My Halo At Half-Light |
| 10 | Johnny | My Halo At Half-Light |
| 11 | Staggerlee | My Halo At Half-Light |
| 12 | Sadie | My Halo At Half-LIght |
| 13 | Omie Wise (You Forgot To Answer) | My Halo At Half-Light |
| 14 | Darlin' Corey | My Halo At Half-Light |
| 15 | Marbletown Girl | My Halo At Half-Light |
| 16 | The Bachelor | My Halo At Half-Light |
| 17 | Michael | My Halo At Half-Light |
Best album: Songs From My Funeral or My Halo At Half-Light (can't decide)
Best songs: Rising Sun, Frankie and Johnny, Laredo, John Henry, Black Girl, Little Maggie, Johnny, Staggerlee, Darlin' Corey, The Bachelor