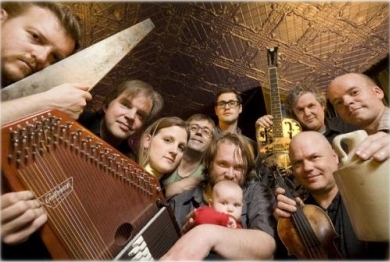 The Roe Family Singers (hence RFS) is from Kirkwood Hollow, Minnesota, see website. The band was formed in 2004. RFS consists of the married couple Quillan and Kim Roe. In addition, there are many musicians on the payroll: Adam Wirtzfeld (saw), Dan Gaarder (guitar, vocals), Rich Rue (steel guitar), Ric Lee (violin), Rob Davies (bottle), Kurt Froehlich (mandolin and kazoo) and Jon Olson (upright bass). Most of them also play in other bands, so it might not be any problem. Since 2005 RFS have a standing gig every Monday at the 331 Club in Minneapolis. On the website RFS declare: "With a mix of original music and contemporary takes on old-time, traditional, and gospel tunes, every performance raises a ruckus." The music is very traditional. RFS defines the style as "old-timey with punk and subversive influences".
It was not obvious for me to include RFS in this article series. I had to consider the basic question of whether they fall within the genre(s) or not. The decision was not taken lightly. In the introduction to the article series it is shown that very much (nearly everything) are included in "gothic country" and there is an extremely permissive view of who, what and why someone or some are included. But if Those Poor Bastards, Sons of Perdition and Uncle Sinner among others are examples in one extreme direction (death country) so is RFS so far you can get in the other direction (which does not even have a name, which suggests that it may not exist).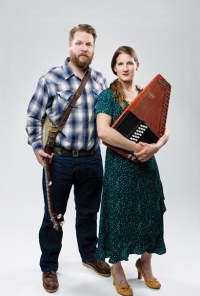 The band name - The Roe Family Singers - indicates an extreme harmlessness and if you just scroll around in this article series, and compare with other bands it will confirm my assessment. Here are no, at least as far I know, no tattoos, no drugs of any kind and no dramatic highs or lows in the band's history. RFS stands for traditional family values and striving to be an enlightened and committed citizen. The main explanation to why RFS qualified into this dubious company was the undeniable dark qualities in their music and lyrics. However, it was with the smallest possible margin. Kim and Quillan sing together and alternately in beautiful harmonies. With many musicians and instruments the sound is perfect. It is both minimalistic and well-produced at the same time. You don't notice that there's almost an entire soccer team behind. The all contribute to the overall sound. It's very consistent. The only thing that stands out is the saw which is always present both in the foreground and in the background. It sounds very spooky as when Konrad (Hans Alfredsson) is playing his saw in the movie "Pippi on the Run" (1970). The lyrics don't need any "Tipper stickers". They are melancholy and sad. The lyrics are great as here in their best song, "White Horse":
"I had a boy, a sweet young boy
growing in my womb
but the junk that I put into my veins
made my flesh his tomb
White horse, white horse
galloping through my veins
I'm a slave to that old white mare
since she took the reins
When I can't sleep at night it's the weed I like
When I can't wake up it's the speed
and if you've got $10 I'll turn a trick for you
I got a habit to feed
But don't you look down your nose at me
don't you scorn my vice
for money-grubbing avarice
can, too, destroy your life
Now Jesus said before He died
"Let him without sin cast a stone"
but every man that I've ever seen
is sinful to his bones
But don't cry for me, don't shed no tears
because this is the life that I've chose
and if my corpse gets to looking sad
it's just cocaine to powder my nose"
RFS have released many albums, but "The Earth and Everything that is in it" (2009) is the only one you have to know about. In other articles I have emphatically stressed that a good album cover interacts with the lyrics and the music. The album cover and music constitute an indivisible whole. I find it very difficult when too little effort and careful thought have been put in. The first album cover clearly meet the criterion: a black/white cover with a tree that dropped its leaves, branches forming the band name and the tree roots form the title of the album. It's state of the art.
| | | | |
| --- | --- | --- | --- |
| | | | |
On their website Kim and Quillan Roe states that their lives have changed when they became parents. And this is fully understandable to me, since I'm a parent myself. Somehow I think becoming parents have influenced their music in the sense that it has become more moderate. All too moderate, I'm afraid. I would personally like to see that they returned to the darker sides found on "The Earth and Everything that is in it". However, I'm skeptical about the further "gothic country" affiliation.
Below is a suggestion for a CD compilation.
| | | |
| --- | --- | --- |
| No | Song | Album |
| 1 | The Buckeye Tree | The Earth and Everything that is in it |
| 2 | Shallow Grave | The Earth and Everything that is in it |
| 3 | Snowy Downs | The Earth and Everything that is in it |
| 4 | My Poor Son | The Earth and Everything that is in it |
| 5 | Woe Is Me | The Earth and Everything that is in it |
| 6 | White Horse | The Earth and Everything that is in it |
| 7 | Upon God's Mystery | The Earth and Everything that is in it |
Best album: The Earth and Everything that is in it
Best songs: Woe Is Me, White Horse