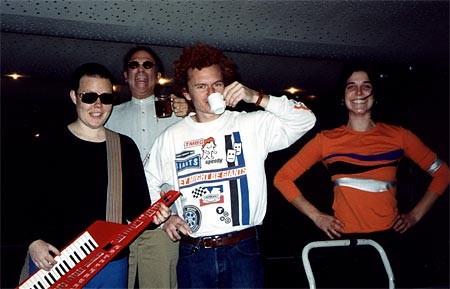 Adult Rodeo is a band from Austin, Texas (originally from Rhode Island, then relocated to New York and California). The band name Adult Rodeo is magnificent. When you search for "Adult Rodeo" on internet you will come up with a significant number of hits of rodeo clown costumes and sex toys. However, an adult rodeo is a serious thing which have been thoroughly investigated by anthropologist. The "adult rodeo" is a closed world almost like a travelling circus with male camaraderie, competitors who are helpful to their fellow contestants and even practise buddy systems when they place their entries for rodeos. The "adult rodeo" is a man's world. Women and childen are seldom seen in the rodeo chute area. Adult Rodeo was formed in 1995 by Stephanie Mankins (bass, vocals) and Rob Erickson (guitar, vocals) when their collegiate project Harmala disbanded. They moved to Austin in 1998 purportedly as the proprietors of a used car lot. In 1998 Kristin Erickson (sister) joined the band on keyboards and vocals. The trio released their debut album in 1999. Their second album was released in the following year, which also featured contributions from Jennifer Mankins (sister) on drums. The same year Adult Rodeo added Karl Lundin (drums) and Toby Scroggins (guitar) to their line-up. Kristin Erickson and Karl Lundin eventually left the band. The latter was replaced by Phillip White. According to unconfirmed information on internet: Adult Rodeo is still together and play gigs around Texas. There's not much evidence in support of that. On the contrary. According to my own private investigations (i.e. intense googling) this is just wishful thinking. Adult Rodeo disbanded long ago.
Whether Adult Rodeo qualify for this article series is highly questionable. I can't exactly say that Adult Rodeo skould be placed on the painted center line within the "gothic country" genre. Adult Rodeo is located somewhere in the outer perimeters of the genre. Of course, they have gone through the same thorough but non-transparent and non-traceable evaluation process as all other artists and bands in the article series. Besides, I can't see that another website, forum or list will pay any attention to them. It would be too sad if they were overlooked or forgotten. And someone has to take on the important mission and document for posterity. I like to believe that I hereby perform some kind of cultural act. Adult Rodeo are really weird and have been described as "partly goth, partly countrified, and mostly insane". They have been labeled "art rock", "avant rock", "experimental rock", "gothic country", "gothic americana" and "gothic twang". Their music is a strange amalgam of pop and country, but very far from the despicable "pop country" genre. Adult Rodeo is a contradictory band. On one hand they are sometimes almost a novelty act with a very playful attitude, on the other hand they have a strong committment and serious approach. They jump between minimalism and maximalism. Some songs are simple and catchy bagatelles, while other songs are inaccessible on the verge of unlistenable. Some songs (and albums) lack of focus, while other songs (and albums) do not. However, Adult Rodeo are always peculiar and willful. Stephanie Mankins and Rob Erickson are artistically oriented. They met in Rhode Island while attenting art school and fell in love. Besides music Mankins writes poetry and Erickson writes plays. These sidetracks seems to have had significance for their music creation and an impact on their songwriting. Their best song is the third track on the second album. The song starts with "Jesus, he loves LSD and me/I just find out the hard way". Lines like this says it all.

Adult Rodeo have released four albums. Their debut album "The Kissyface" was released in 1999. Their second album "Texxxas" was released in 2000. They were both released on Shimmy Disc. Their third album "Long-Range, Rapid-Fire" was released in 2001. Their fourth album "Tough Titty" was released in 2004. They were both released on Four States Fair Records (their own imprint). "Tough Titty" was released in a limited edition of 200 hand-numbered copies and is very hard to find. I'm very happy to have no. 119 in my cd collection as well as the other albums. The album covers are stylish, especially the second album "Texxxas". The album art breathes attitude. The album art on all albums are designed by Adult Rodeo.
A lot of songs fit in on a cd compilation, since the songs are short. Below is a suggestion for a CD compilation.
| | | |
| --- | --- | --- |
| No | Song | Album |
| 1 | Dragon | The Kissyface |
| 2 | If Skirts Don't Grow | The Kissyface |
| 3 | Outside The Me Show | The Kissyface |
| 4 | View Fom The Inside | The Kissyface |
| 5 | Nothing To Offer | The Kissyface |
| 6 | Rainin' | The Kissyface |
| 7 | Water | The Kissyface |
| 8 | Jesus, He Loves LSD + Me | Texxxas |
| 9 | The Man | Texxxas |
| 10 | Charlie Hack | Texxxas |
| 11 | Bamto Urine | Texxxas |
| 12 | Isaiah | Texxxas |
| 13 | Knitting Fat | Texxxas |
| 14 | Loretta Lynn | Texxxas |
| 15 | Celebrity Bingo | Texxxas |
| 16 | Invisible Snake Charmers | Texxxas |
| 17 | Moisturizin | Long-Range, Rapid-Fire |
| 18 | Pretty Yellow | Long-Range, Rapid-Fire |
| 19 | Seven Words | Long-Range, Rapid-Fire |
| 20 | Ultralight | Long-Range, Rapid-Fire |
| 21 | Turnaround | Long-Range, Rapid-Fire |
| 22 | Helicopters | Long-Range, Rapid-Fire |
| 23 | Gutterball | Long-Range, Rapid-Fire |
| 24 | Rotten Leaves | Long-Range, Rapid-Fire |
| 25 | Florida | Tough Titty |
| 26 | Octopus | Tough Titty |
| 27 | The Narc | Tough Titty |
| 28 | The Waltz | Tough Titty |
Best album: Texxxas
Best songs: View From The Inside, Rainin', Water, Jesus He Loves LSD + Me, Charlie Hack, Bamto Urine, Knitting Fat, Loretta Lynn, Celebrity Bingo, Invisible Snake Charmers, Pretty Yellow, Seven Words, Turnaround, Helicopters, The Narc