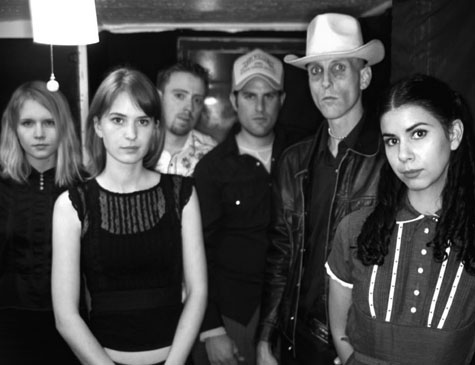 Munly & the Lee Lewis Harlots (hence MtLLH) is a band from Denver, Colorado. MtLLH can be labeled "gothic americana", "weird americana" or "southern gothic". The sound of MtLLH is reminiscent of 16 Horsepower, Nick Cave and Leonard Cohen. The music is often described as "a thinkin' man's country music". The themes in the music include religion, violence and dysfunctional relationships; often they are intertwined. We find many names for those we love, but in this case it's the frontman Jay Munly who has come up with all the names and variations "Munly", "Munly Jay Munly", "Munly Munly", "Munly & the Lee Lewis Harlots" and "Munly & the Lupercalians". His real name is, however, Jayson Thompson. He was born in Québec, Canada, but spent all his formative years in Denver. Jay Munly has played a role in the development of the famous "denver sound" that mixes gothic, country and gospel. In the introduction to this articles series I have declared that the articles will contain location, background, musical origin, mission statement, music style, "label", lyrics, anecdotes, status today and review of best albums and songs and a list of songs to compile. However, this article is a deviation from this line, due to the quality of the remarkable MtLLH lineup and their self-titled milestone album. Although Jay Munly's earlier albums are good or very good, the Lee Lewis Harlots album really brought the sound to a new and unsurpassed level. It's a masterpiece. In 2006, MtLLH was voted the best band in Colorado by over 100 music experts in the Denver Post Underground Music Poll (N.B. Wovenhand was placed no. 10). In order to better understand the musician, author and actor Jay Munly, there will be some glances both back and forward in time (lineups and albums). I have not been able to date when MtLLH was formed or even when they called it quits. One explanation is that the lineups forms and dissolves very quiet, soluble and discreet. My estimation, given the information available, is that MtLLH was active somewhere in between 2000-2006, give or take a year. As mentioned in other articles (under the West heading) most musicians in Denver play in at least one band, but often in three bands or more. SCAC is a good example. As mentioned in these articles SCAC seems to be working as a Temporary Work Agency in the "gothic americana" industry. Jay Munly is, of course, a member of Slim Cessna's Auto Club and also of Denver Broncos UK (together with Slim Cessna, Dwight Pentacost and Rebecca Vera). Prior to MtLLH Jay Munly released four solo albums with a vast array of musicians (from SCAC, Devotchka and future members of MtLLH).
Munly & the Lee Lewis Harlots consisted of Jay Munly (guitar, banjo and vocals), Paul Bradley (bass), Jeff Linsenmaier (drums), Rebecca Vera (cello), Elin Palmer (violin) and Frieda Stalheim (violin). They all came from the active, revolving and expanding Denver scene. For example Jeff Linsenmaier founded The Czars. Rebecca Vera has played with the better known David Eugene Edwards, Jeffrey-Paul Norlander and Dave Moore. She met Jay Munly in 1998 in John Rumley's guitar shop (see Tarantella article). Palmer and Stalheim met at Denver School of the Arts in the mid-90s and were playing in a punk band before they met Munly. Paul Bradley was the latest addition to the band. Jay Munly can be likened to the "gothic country" counterpart to the character Rasputin when it comes to charisma and enigma. You won't miss Jay Munly in a crowd. Tall and thin, either with mohawk hairstyle or with practically no hair at all, often dressed like Johnny Cash, entirely in black. A lot of people were frightened by him. On stage, seemingly non contactable, he used to stare at the audience and then twitch and begin to sing and play in a very spastic and intense manner. It's not surprising that Jay Munly is highly mystified in the "gothic country" genre. One fact (that he willingly confirmed) is that he is an avid hockey fan and that an injury in his youth put a stop to his hockey career. On his resume he can also put that he under his college years worked as a camp counselor for young children in the summers. The people that really know him, however, don't regard him as either odd or scary, on the contrary.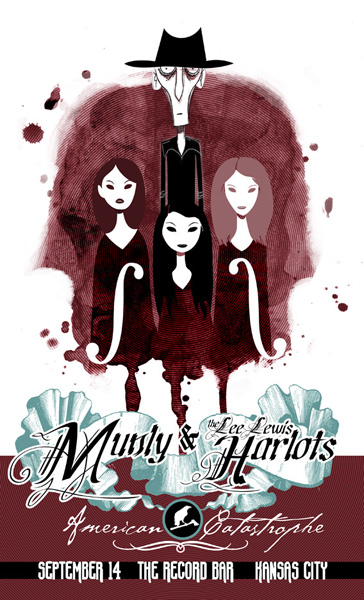 Jay Munly is self-taught on both guitar and banjo. He started with the banjo. His father had an old vintage banjo that he was told never to touch. He began of course to play, while no one was around. Jay Munly has a simple picking technique, flatpicking, and plays guitar and banjo in the same way. His mother bought him his first guitar as a consolation when he was not able to play hockey anymore. In my opinion, she was a very prescient mother. Otherwise, we wouldn't have got the chance to listen to the dark, haunting, yet very beautiful music of Jay Munly. I don't know if Jay Munly is a workaholic or simple bound by a very hard work ethic. However, he works very, very hard by all standards. Probably, he works hardest of them all in the "gothic country" genre, with his current and future projects and all of his commitments. I get exhausted just of reading about them. The lineup in MtLLH is congenial. The guitar, banjo, bass and drums build a stable foundation for any "gothic country" band. On top of that, there are the Harlots with double violins and a cello. Having two violins and a cello in a gothic-country band is a bit unusual. They also get a lot of space. The sound doesn't get any more "gothic" than this. They are all extremely talented musicians and master their instrument perfectly. Munly's wide vocal range from low to high is equally matched with the beautiful Harlots-choir singing. All together they create a unique sound. The music is unsettling and enthralling at the same time. If you mix a lot of Hell, a bit of insanity and traditional country music, there you have it. Jay Munly undoubtedly peaked with the Lee Lewis Harlots as his backing band. And now, let's go over to the lyrics. Lo and behold. The lyrics is dealing with religion, violence and dysfunctional relationships.
In other articles I have often declared that the music is "very dark". I therefore seem to have run out of the colour black. However, we are here dealing with the colour RGB=0 times three, namely total black. Jay Munly writes very strange and dark lyrics, which also are heavily narrative and often in the form of cautionary-like tales. Jay Munly has a master's degree in modern English literature from Columbia University and it shows. His lyrics have also been dissected from an academic point of view. In a very serious, well-written, interesting and amusing article the lyrics of the Munly & the Lee Lewis Harlots album have been thoroughly scrutinized and analyzed, see link here. One of songs that have been analyzed in the article is "Goose Walking Over My Grave". Here is a part of the lyrics (you will found that it's much worse than you think):
"She said 'punch me in the stomach' I said girl I do not know,
if I punch you in the stomach that our child inside will not grow.
She said 'if you truly love me you'll do this thing for me,'
so I punched her in the stomach and she fell down to both of her knees.
There's a goose walkin' over my grave
There's a goose walkin' over my graveShe said 'punch me in the stomach' I said girl I do not know,
if I punch you in the stomach that our child inside will not grow.
She said 'if you truly love me you'll do this thing for me,'
so I punched her in the stomach and she fell down to both of her knees.
There's a goose walkin' over my grave
There's a goose walkin' over my grave"
However, the distinct expression ability and the razor-sharp lyrics are sometimes overshadowed by the performance. It's hard (not only for a swede) to perceive the lyrics. The words are often not articulated properly. Jay Munly also relate very freely in relation to his lyrics, which adds to the difficulties. My simple approach to this is: it's art. And for the sake of the argument, Jay Munly is never going to be fully understood anyway.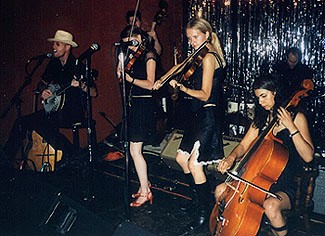 Nothing lasts forever. Even the longest, the most glittering reign must come to an end someday. And this is also true in this case. MtLLH kept going for a considerable time, but the combination of being young top musicians with their own ambitions and Munly's numerous and disparate ideas and projects must have put a strain on the band. The beginning to the end may very well have started with the Lupercalia-project, a series of multi-albums tentatively titled "The Kinnery Of Lupercalia" about the fictional town of Lupercalia and the people who live there (loosely based on the Peter and the Wolf composition by Sergei Prokofiev). According to unconfirmed information on the Internet, Jay Munly even had a map over Lupercalia. The "Pre-History of Lupercalia" has also been posted on Jay Munly's blog (no longer existent). MtLLH played less gigs and the activity diminished. A semi-clear shift came when the name shifted from Munly & the Lee Lewis Harlots to Munly & the Lupercalians. Munly and the band performed under this name at two shows in New Years Eve 2007 and 2008. According to additional unconfirmed information on the Internet the old line-up had started to record the Lupercalia-album, but the recordings were scrapped when changes in the line-up occurred. New recordings were made with the new lineup. The album was released in 2010. Paul Bradley and Rebecca Vera became Lupercalians. Jeff Linsenmaier, Elin Palmer and Frieda Stalheim left the band, but are still active in the music industry.

Munly has released six albums under a couple of different names (Munly, Jay Munly, Munly & and Lee Lewis Harlots and Munly & the Lupercalians): Blurry (1996), Munly De Dar He (1997), Galvanized Yankee (1999), Jimmy Carter Syndrome (2002), Munly and the Lee Lewis Harlots (2004) and Petr & the Wulf (2010). To my knowledge, they are all recorded by Robert Ferbrache at Absinthe Studio. I have, of course, all six albums. "Undelivered Legion" (vinyl and digital) is the first in a series of three Kinnery of Lupercalia records to be released by SCACUNINCORPORATED record label; one each by Munly & The Lupercalians, Slim Cessna's Auto Club and DBUK. But plans are just plans. Especially in the "gothic country" world.

Below is a suggestion for a CD compilation (only Munly & The Lee Lewis Harlots).
| | | |
| --- | --- | --- |
| No | Song | Album |
| 1 | Amen Corner | Munly & The Lee Lewis Harlots |
| 2 | Big Black Bull Comes Like A Caesar | Munly & The Lee Lewis Harlots |
| 3 | Old Service Road | Munly & The Lee Lewis Harlots |
| 4 | Another Song About Jesus, A Wedding Sheet And A Bowie Knife | Munly & The Lee Lewis Harlots |
| 5 | Cassius Castrato The She-Male Of The Mens Prison | Munly & The Lee Lewis Harlots |
| 6 | 'Ragin Cajun' | Munly & The Lee Lewis Harlots |
| 7 | Song Rebecca Calls, 'That Birdcage Song', Which Never Was Though Now Kind Of Is Because Of Her Influence... | Munly & The Lee Lewis Harlots |
| 8 | Goose Walking Over My Grave | Munly & The Lee Lewis Harlots |
| 9 | The Leavening Of The Spit-Bread Girls | Munly & The Lee Lewis Harlots |
| 10 | A Gentle Man's Jihad | Munly & The Lee Lewis Harlots |
| 11 | The Denver Boot Redux | Munly & The Lee Lewis Harlots |
| 12 | Of Silas Fauntleroys Willingness To Influence The Panel | Munly & The Lee Lewis Harlots |
| 13 | Jacob Dumb | Munly & The Lee Lewis Harlots |
| 14 | My Second Salvation Army Choir | Munly & The Lee Lewis Harlots |
| 15 | River Forktine Tippecanoe | Munly & The Lee Lewis Harlots |
Best album: Munly & The Lee Lewis Harlots (naturally)
Best songs: Goose Walking Over My Grave, The Leavening Of The Spit-Bread Girls, Denver Boot Redux, My Second Salvation Army Choir