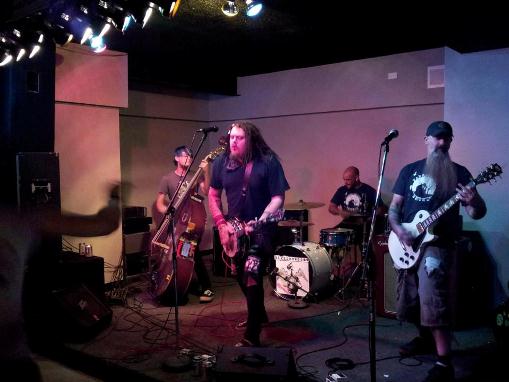 Highlonesome is a band from Milwaukee, Wisconsin. Highlonesome was formed in 2006. The name refers to bluegrass pioneer Bill Monroe, who described the bluegrass music as follows: "it has a high lonesome sound." However, Highlonesome is a highly misleading name in this case. There's nothing high and lonesome over Highlonesome. It's full speed from the beginning to the end. Noah Tyson (banjo and vocals) writes all the music and lyrics and the man everything is evolving around. The band has a high staff turnover. The first lineup consisted of Erik Nelson (percussion) and Bryan Kroes (bass, vocals, guitar and harmonica). The second lineup consisted of Bryan Morrison (drums), Ian Watson (bass) and Joseph Huber (banjo, guitar and fiddle). The third lineup consists of Bryan Morrison (drums), Ian Watson (bass) and Daleth Mountjoy (guitar). The fourth lineup consists of Bryan Morrison (drums) and Ian Watson (bass). And Noah Tyson, of course.
I personally believe .357 String Band has had a substantial influence on Highlonesome. There are both similarities and differences between Highlonesome and .357 String Band. If we start with the similarities: They are from Milwaukee, Wisconsin. They have roots in local punk and hard-core music. They play bluegrass in a furious tempo. There has also been some musical collaboration. On the first album .357 members Joseph Huber and Jayke Orvis plays on five respective two of the album's ten songs. Joseph Huber was a full-time member on the second album. If we switch over to the differences: there's a quality difference between them. However, it's an unfair comparison, since the .357 String Band is (was) so incredibly talented and without a doubt plays (played) in a higher division. Another difference is that Highlonesome is not an orthodox "string band". Drums are included in the band and the sound is more "electric". Highlonesome is also not as sophisticated as .357 String Band when it comes to songwriting. It's more of "one-two-three-go" over Highlonesome. This doesn't mean they are bad, just different. Highlonesome is a very talented band. They outshine most bands. No question about that.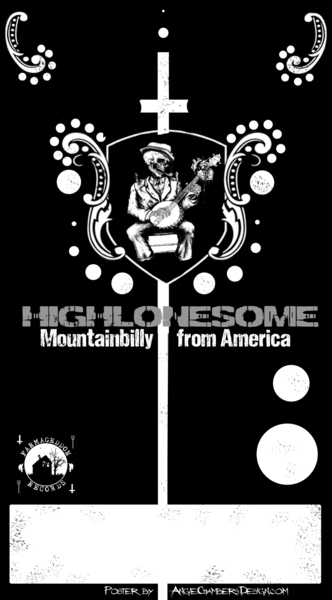 The music can be characterized as "mountainbilly" or as they accurate put it themselves on a poster "punk driven americana folk". In any case it's extremely fast. The lyrics are dark and deals with "death, drug addiction and love lost". Highlonesome have made three full-length albums : "Highlonesome" (2008), "In Life We Can't Be Free" (2009) and "The Unholy Gospel According To…" (2010) and one EP "Rock 'n' Roll (2014). The first album "Highlonesome" was raw and not fully completed in all details. Some of the songs from the first album were therefore re-recorded in new versions on the following two albums. It's also the new versions that are included in my compilation. For each album, the pace ratcheted up another few notches and the music has over time become more aggressive (and that's not a bad thing). In an interview on the readable site MoonRunners regarding their third album "The Unholy Gospel According To…" Noah Tyson says: "It is definitely not typical Bluegrass anymore, it's loud and it's fast like it should be. It's dark, mountain music mixed with some punk and metal, we just call it 'MountainBilly." The first album "Highlonesome" was self-released, while the other two albums have been released on reputable Farmageddon Records. Highlonesome is also represented with a song (Hell Bent) on one (Rodenticide III) of the four compilations with The Best of Dark Roots from Devils Ruin Records. It is a mark of quality. On March 24th 2017 the band announced on their FB-page that they decided to call it quits. Their final show will be in Milwaukee, like .357 String Band ended. Highlonesome will not go quietly into the night. Now it seems that they are back again. At least, Highlonesome played a reunion concert on the 7th of May 2019 (Moonrunners Music Fest). And they were back in 2021 and 2022. We will see.
The album covers are congenial. On the cover of the first album: black/white drawing of two men with nooses around their necks. The album cover was created by Richie Murry. On the second album: a skeleton on top of a cage containing a globe. The cover was created by Joseph Huber. On the third album: a skeleton quietly reading in the light of a candle. The album cover was created by Baylen Levore.
Below is a suggestion for a CD compilation.
| | | |
| --- | --- | --- |
| No | Song | Album |
| 1 | Wayfaring Stranger | Highlonesome |
| 2 | Storm Front | Highlonesome |
| 3 | On Your Knees And Pray | In Life We Can't Be Free |
| 4 | Alone And Forsaken | In Life We Can't Be Free |
| 5 | We're Just Gonna Fall | In Life We Can't Be Free |
| 6 | In Life We Can't Be Free | In Life We Can't Be Free |
| 7 | Devil At The Door | In Life We Can't Be Free |
| 8 | Lonesome Line | In Life We Can't Be Free |
| 9 | Sinner's Soul | In Life We Can't Be Free |
| 10 | Dead Run | The Unholy Gospel According To... |
| 11 | Head Hunter | The Unholy Gospel According To... |
| 12 | (With My Hands In Blood) I Thee Wed | The Unholy Gospel According To... |
| 13 | Lonesome Lucifer | The Unholy Gospel According To... |
| 14 | Hell Bent And Bottle Round | The Unholy Gospel According To... |
| 15 | The Boughs Have Broken | The Unholy Gospel According To... |
| 16 | Last Call | The Unholy Gospel According To... |
| 17 | The Longest Day | The Unholy Gospel According To... |
| 18 | I Ain't No Goddamn Holy Man | The Unholy Gospel According To... |
Best album: In Life We Can't Be Free orThe Unholy Gospel According To... (can't decide)
Best songs: Wayfaring Stranger, Storm Front, On Your Knees And Pray, Alone And Forsaken, Devil At The Door, Dead Run, (With My Hand In Blood) I Thee Wed, The Boughs Have Broken