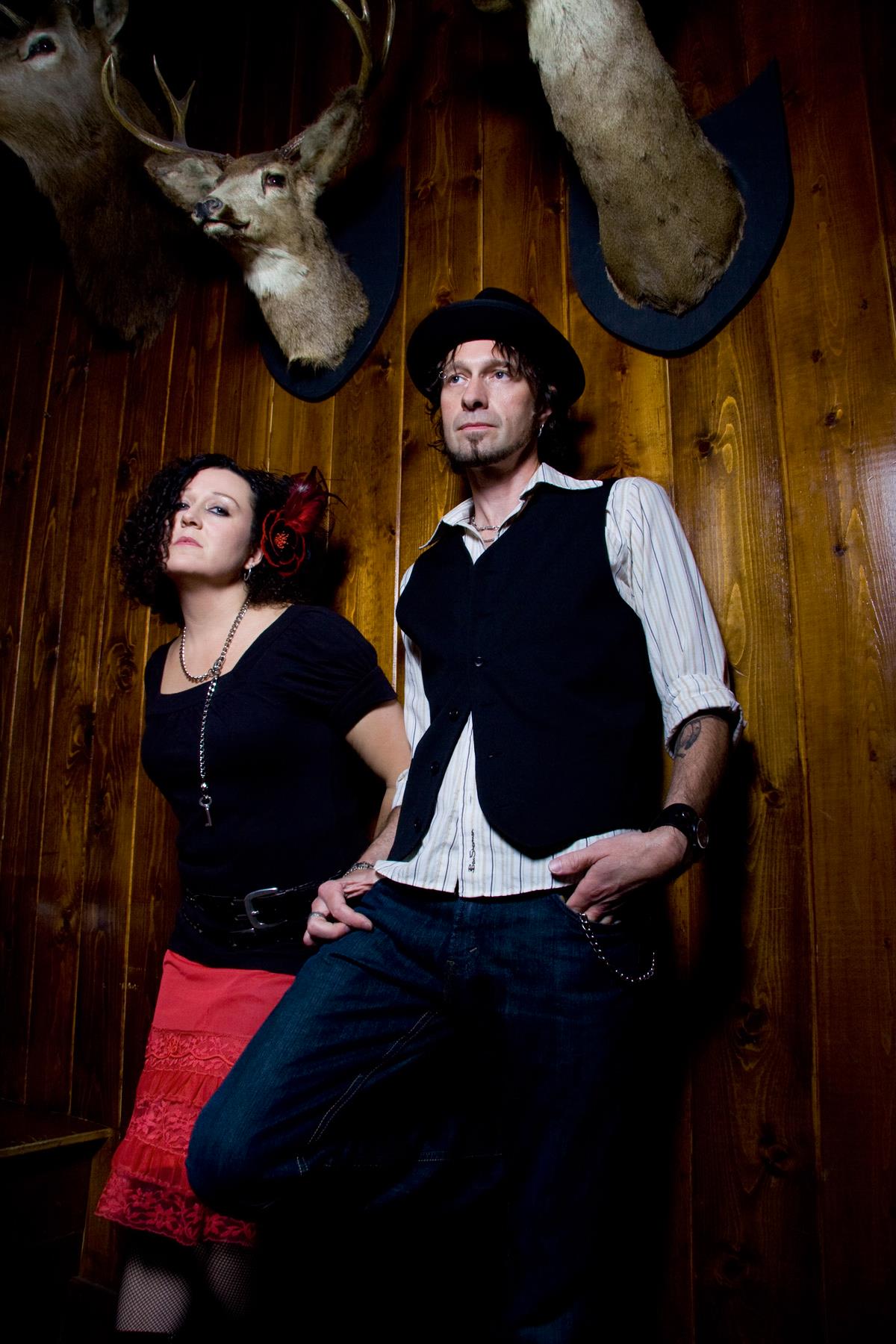 Palodine is a band from Ogden, Utah (originally from Seattle, Washington). The band name Palodine gives me no rest. Despite intense googling I'm left with only breakneck speculations. My best speculation so far is that Palodine is just another spelling of the word "Paladin" which is derived from the Latin word palatinus (high-level officials attached to imperial or royal courts). This is just a speculation. If I'm wrong I will have to go back to the drawing board and start all over again with some new facts. I have later found out that Katrina Whitney just made up the name so that when you searched for it, it would be easy to find. She liked the way it sounded too! Palodine was formed in 2005 by Katrina Whitney (vocals and percussion) and Michael Aryn (multi-instrumentalist). Palodine started out as a four-piece band with Jason Brooks (multi-instrumentalist) and Christopher Hydinger (drums) but soon became a duo. Whitney and Aryn had a parallel music experience in other bands in genres like shoegazer, gothic, experimental, folk and country. Whitney and Aryn also have another band, Blackwood Hymnal, with a less hard sound. Blackwood Hymnal can be placed somewhere between low intensity, long term hiatus or defunct on an activity scale. Whitney and Aryn got married in 2009. A caveat is in place. Don't let the husband-and-wife soft duo stereotype fool you. This is hard stuff, indeed. The hardness can be described in terms of haunting, yet beautiful vocals, pounding drums, pulsating bass and rowdy and impudent guitar riffs. Katrina Whitney started to play the drums when other members in the band suddenly quit and Palodine had a show coming up. Whitney was forced to learn how to sing and play drums in a couple of weeks. It's common knowledge that it's hard to play drums and sing at the same time. Whitney and Aryn scaled back to a duo format. Palodine perform both as a duo and a band (then reinforced by other musicians). The music of Palodine is made real justice on their albums. The sound quality is brilliant. Palodine has opened for better known acts like Wovenhand. Playing live is normal an opportunity to connect with the audience. All audience is not music lovers. Everybody hasn't come to the venue (i.e. bars) for the music. Palodine has, like many other artists/bands in the genre, experienced lack of interest from the audience when playing in venues where drinking and socializing takes over the music (i.e. more or less drowning out the music).
The music is, by "gothic country" standards, sophisticated. The music has been described as "goth moodiness, high and lonesome twang and a cinematic sensibility". Whitney and Aryn are both proficient musicians and skilled songwriters. While other bands in the genre take some pride in stripped-down and minimalistic arrangements and production, Palodine works with full-bodied soundscape with many instruments, care in details and entirety. Their albums are very well-produced. Their first album was recorded and mixed on an unheated floating barge in Seattle's Lake Union during one of the coldest weeks in the city's history. Palodine write a lot of songs to each album and not all of them end up on the album. Palodine can afford to be discerning when picking songs to their albums. The lyrics are dark and dreary, often filled with Biblical imagery and symbolism. The lyrics deal with outer and inner demons and topics like murder, abuse, "broken down cars and broken down dreams" and a mining death. There's a thin line between honesty and theatricality in the genre. Palodine goes however clear. The mood is bleak, but the bleakness never feels unnatural or elaborated. Another caveat is in place. This is not music for parties. Palodine has been labeled "southern gothic", "dark Americana", "avant Americana", "slowcore" and "indie rock". In my opinion, it's "gothic americana" spot-on. Palodine has been described as a mixture of 16 Horsepower and Mazzy Star, which I find is a pretty accurate definition. If I may contribute with a label to the genre, I would label Palodine "shoegazer gothic".
Palodine has released five studio albums and one cover album. Their first album "Desolate Son" was released in 2006. Their second album "Garden of Deceit" was released in 2008 and is their darkest (and best) album. Their third album "All the Pretty Wolves" was released in 2014. Their fourth album "High Desert Hymns" was released in 2015. In 2017 Palodine released a cover album "Melancholy Truckers Of Death" (digital only). Great choices and interpretations. The sixth album "Lowborn" was released in 2018 (digital only). The seventh album "Feathers and Fur" was released in 2022 (digital only). The two first albums were released on Tarnished Records. The latter albums are self-released. The albums are described in an aptly way on the site cdbaby. From first to last album: "Alternating in mood from fierce to somber and, Desolate Son is a provocative portrayal of violence, remorse & final words" (Desolate Son), "Dark and gritty with urgent guitar work, bombastic percussion and resonant female vocals" (Garden of Deceit), "Dark Americana meets Dirge Rock and Heavy Blues" (All the Pretty Wolves), "Gothic Americana dark roots music with hints of folk/rock/country, sophisticated lush and layered" (High Desert Hymns) and "A melancholic yet intense experience incorporating a myriad of influences from gothic americana to folk noir to atmospheric drone shoegaze rock" (Lowborn). I have a backlog when it comes to Palodine. I haven't found the time to check out "Lowborn" or "Feathers and Fur" yet. Michael Aryn and Katrina Whitney have formed a new band, Red Mountain Prayer, in 2019. Time will tell if this will mean the end of Palodine. Palodine is represented by a song (Revelations) on one of the four compilations with The Best Of Dark Roots from Devils Ruin Records (Rodentagogue II). It is a mark of quality. The album covers are stylish. All album artwork has been designed by Katrina Whitney, who also is a writer, artist, photographer, florist and interior decorator.
Below is a suggestion for a CD compilation.
| | | |
| --- | --- | --- |
| No | Song | Album |
| 1 | Fire In The Field | Desolate Son |
| 2 | Vengeance | Desolate Son |
| 3 | Devour Me | Desolate Son |
| 4 | How To Use | Desolate Son |
| 5 | The Maker | Desolate Son |
| 6 | Redwinged Blackbird | Garden Of Deceit |
| 7 | Scar | Garden Of Deceit |
| 8 | Sweet Mouth, Black Heart | Garden Of Deceit |
| 9 | Woman Of Cain | Garden Of Deceit |
| 10 | Sorrow Has Opened Our Eyes | Garden Of Deceit |
| 11 | Revelations | Garden Of Deceit |
| 12 | Ways To Drown | Garden Of Deceit |
| 13 | All The Pretty Wolves | All The Pretty Wolves |
| 14 | I Am Called The Black Sheep | All The Pretty Wolves |
| 15 | Crude Pine Box | All The Pretty Wolves |
| 16 | Light Above The World | High Desert Hymns |
| 17 | Abraham | High Desert Hymns |
| 18 | Amargosa | High Desert Hymns |
Best album: Garden of Deceit
Best songs: Vengeance, Devour Me, How To Use, Sweet Mouth, Black Heart, Woman Of Cain, Sorrow Has Opened Our Eyes, Revelations, Ways To Drown, All The Pretty Wolves, I Am Called The Black Sheep, Crude Pine Box, Light Above The World