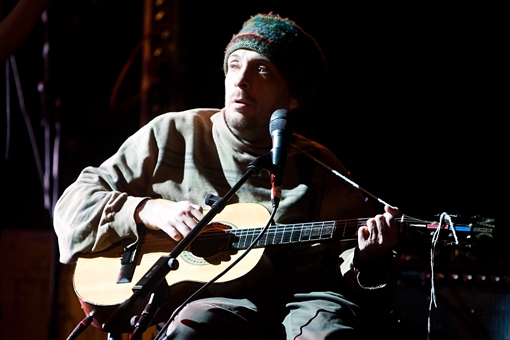 Vic Chesnutt (hence VC) is an artist from Athens, Georgia, see website. He was born in Jacksonville, Florida (VC used to call Florida the Redneck Riviera). He was, according to himself, abandoned at birth and found by the roadside. He was adopted when he was one years old. At the age of five his family (mother, father and younger sister) moved to Zebulon, Georgia (population circa 1 100 in "slave country"). His father worked as a loader at the airport in Atlanta and his mother worked as a clerk for the immigration department. They both died of cancer in 1989 and 1994 respectively (VC called Zebulon for Cancerland). His parents were born-again Christians and he had a religious upbringing, but this didn't spill off to VC who became an atheist at the age of 13. He spent a lot of time on his own in the surroundings of his home at the outskirts of town. In school he was ridiculed and often involved in fighting, but gradually moved up to class clown. He began to play trumpet and ended later up in a high school cover band. His parents gave him a guitar for Christmas when John Lennon was murdered in 1980 and his grandfather gave him basic guitar lessons. At this time he showed the first signs of depression. VC also played guitar in a new wave band called "Random Factor", but was fired when he refused to tuck in his shirt. At the time he lived a rowdy life with alcohol and recreational drugs. In 1983, a car accident (drunk or/and high) left him quadriplegic from the neck down with some remaining feeling and movement in his body left and was confined to a wheelchair. He spent a year in rehabilitation and then slowly relearned how to play guitar (simple chords) with two fingers. His vocal capacity was reduced to only half the use of his diaphragm. The accident and becoming disabled doesn't explain his style or music, but made him focus as a songwriter and he started realizing that he had something to say. After he recovered from his injuries he moved to Nashville, Tennessee to study poetry. Then he moved to Athens, Georgia where he began to study English at the University of Georgia. At the same time he began to drink heavily. His was known for his baggy clothing, southern accent and his sign that read, "No God Exists", promoting atheism. He began to play in a country punk band (where he met his wife Tina who played bass – the two married at a truck stop while on the road) and solo at the 40 Watt Club and soon had a standing gig there. The gigs could go either way; sometimes he was in good shape and delivered a more than habile show or only drunk and embarrassing. The frontman of R.E.M. Michael Stipe was one of the first to notice Vic Chesnutt's talent. Michael Stipe was eager to record the songs of Vic Chesnutt before he would die (which Michael Stipe thought - for good reason - could be any day soon). Stipe produced VC debut (Little) in 1990 and saved his life at the same time (at least for the foreseeable future).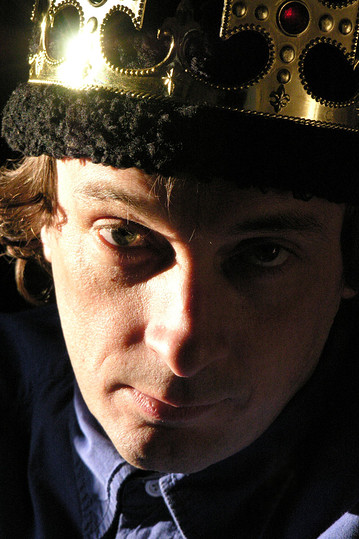 Vic Chesnutt has released 14 albums, of which 13 albums are released under his own name and one album with Elf Power and the Amorphous Strums. Two albums with Brute (side project with Widespread Panic) should also be included in the production. Of course, I have all albums. The albums are: "Little" (1990), "West of Rome" (1991), "Drunk" (1993), "Is The Actor Happy?" (1995), "About To Choke" (1996), "The Salesman And Bernadette" (1998)", "Merriment" (2000), " Left To his Own Devices" (2001), "Silver Lake" (2003), "Ghetto Bells" (2005), "North Star Deserter" (2007), "Dark Developments" (2008), "At The Cut" (2009) and "Skitter on Take-off" (2009). The production can be cut in very many different ways. Michael Stipe produced the two first albums "Little" and "West of Rome. Many VC connoisseurs hold the latter album as the best of his production, which is impressively large. However, the first four albums, "Little", "West of Rome, "Drunk" and "Is The Actor Happy?" all released on the independent Texas Hotel Records are often regarded as a cohesive block. Drunk was Chesnutt at his darkest (so far, that is). Two of his greatest songs are included in this quadrilogy, "Panic Pure" and "Supernatural". The lyrics are brilliant: "My earliest memory is of holding up a sparkler, High up to the darkest sky, Some Fourth of July spectacular, I shook it with an urgency I'll never ever be able to repeat." (Panic Pure) "It was an out of body experience, I flew around that hospital room once, on intravenous Demerol, but it weren't supernatural" (Supernatural). VC music was not given much attention until Sweet Relief II: Gravity Of The Situation" (for the benefit of the Sweet Relief Musicians Fund, a nonprofit fund that offers medical support) was released in 2006. The album made him known to a wider audience when artists like R.E.M., the Smashing Pumpkins, Madonna and Sparklehorse covered his songs. The Sweet Relief album led to a debut on a major label (Capitol Records) with the album "About to Choke". There's a great video "Ladle" starring VC himself. However, Capitol dropped him shortly thereafter which is not very surprising to anyone with rudimentary insights in how the music industry works and not works. In 1998 he released the album "The Salesman & Bernadette" with Lambchop as backing band. The album is by far VC most accessible album. Not only are the arrangements excellent, but the style on this album is very casual and relaxed. Some VC connoisseurs regard this album as his best album. In 2000 Vic Chesnutt released "Merriment" an album on which VC wrote and sang the songs and Kelly and Nikki Keneipp played the music. Then VC went through hundreds of cassettes with songs, sketches and fragments from the period 1999-2001. The songs had been recorded on simple boom box or hand-held recorders and four and eight-track machines. The album cover is a photo of an elderly Athens squash farmer surrounded by large, curved cushaws. VC produced, mixed, and mastered the album. It was released on spinART in 2001. In 2003 and 2005 VC released to very well-produced albums, "Silver Lake" and "Ghetto Bells", on the New East label. His masterpiece, in my opinion, is however "North Star Deserter" in 2007 with its dark and compact sound. The album was recorded at the Hotel2Tango in Montreal. On the album Thee Silver Mt. Zion Memorial Orchestra & Tra-La-La Band, members of Godspeed You! Black Emperor and Guy Picciotto (from Fugazi) contributed. "Everything I Say" is probably the hardest song and "Marathon" the saddest song he ever recorded. The lyrics are touching: "but all the recurring dreams, will increase and then peter out and cease, tears do evaporate, but oh so slowly like piss on toilet seat". The album was released on Constellation Records. In 2008, VC collaborated with Elf Power and the Amorphous Strums (Curtiss Pernice and Sam Mixon). The album "Dark Developments" was released on Orange Twin Records. Many VC connoisseurs hold "At The Cut" as his best album. Vic Chesnutt regarded the album as the most accomplished thing he had ever done as a musician. The album was recorded in Montreal with the same lineup as on "North Star Deserter". One of his greatest songs is "Flirted With You All My Life" (often described as a breakup song with death). Here is a sample of the lyrics: "When you touched a friend of mine, I thought I would lose my mind, But I found out with time, That really, I was not ready, O Death... I'm not ready". The production rate was high. After only a month he recorded and a released a rough and stripped-down album called "Skitter On Take-Off". Jonathan Richman produced the album. In my rationed compilation there are no songs from this album, although there are some good songs on it. One self-disclosure song on the album is "Worst Friend". VC cut out a piece of the song because he thought it was too much (I wonder what this particular cut out related to, since the existing lyrics, by any standards", is VERY explicit). 14 albums are an impressive production. However, according to Soundscan (official information and sales tracking system), VC sold - in total -104,000 copies, which is not even 7 500 copies per album. And, yet many people said that they absolutely loved his music. It seems to be a discrepancy between loving and buying.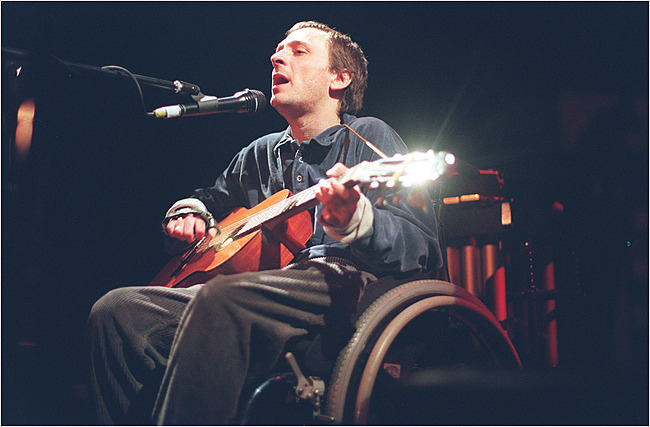 Vic Chesnutt died on December 25, 2009. His website looks precisely the same now as then (which gives you a kind of spooky feeling). He died in an Athens hospital from an overdose of muscle relaxants that had left him in a coma. If his dead were accidental or intentional is an open question. He had made a couple of suicide attempts before. However, this time he left a note, which indicates it was intentional. All his life he struggled with depression. Other than that, he had economic problems due to medical bills and was even afraid that he was going to lose his home as a result. The situation became acute when he couldn't pay a Georgia hospital for an expensive surgery. The hospital filed a lawsuit against him. When he died he had approximately $70,000 in debt, which was transferred to his family. In an interview for the Los Angeles Times on December 1, 2009 he said: "I was making payments, but I can't anymore and I really have no idea what I'm going to do. It seems absurd they can charge this much. When I think about all this, it gets me so furious. I could die tomorrow because of other operations I need that I can't afford. I could die any day now, but I don't want to pay them another nickel." Death ironically outsmarted Vic Chesnutt very soon after he had released the death breakup song "Flirted With You All My Life". I'm not going to burden this article with the obituaries. "It Is What It Is" like the title of his song: "Like the invisible man directing traffic, I'd be ineffective, no matter how enthusiastic". VC had chronic pains and was a supporter of medical marijuana. He tried almost every drug there is, like cocaine, heroin, crystal meth, antidepressant among others. Some ignorant people put an equal sign between him being disabled and confined to a wheelchair and his creative output. They thought he should use his experiences and write songs about it. In the documentary "Speed Racer" he comments: "What rhymes with wheelchair anyway?" In my opinion he could also have gone a little bit further in his commentary and used his favorite word - motherfucker – which he used often and firmly. The constantly reminders of his disability and wheelchair is nothing more than a way to reduce him as an artist. Vic Chesnutt, however, took his own artistry very serious. On Youtube there is a video clip from a concert where a guy in the audience without much thought just sits down on the stage in front of VC who gets very annoyed. "Get the fuck off my stage", Vic shouts and stares. The guy drips off slowly trying his best not to look embarrassed. This type of occurrence has clearly nothing to do with megalomania or some warped sense of reality, but only has to do with respect and dignity as an artist. On the spine to the album "Left To his Own Devices" there is written "This is what I do". Yes, and very much so (if I may be so bold and add a commentary).
Vic Chesnutt defies categorization. On the website All Music Guide his music is described as a "skewed, refracted version of Americana that is haunting, funny, poignant, and occasionally mystical, usually all at once". He didn't swerve for the less beautiful America and its people. In an interview for the New York Daily News in 2005 he declared: "Other people write about the bling and the booty. I write about the pus and the gnats. To me, that's beautiful." His favorite theme was death ("through death, life is nourished"). Other common themes were mortality, vulnerability and life's simple joys often packaged in literate and allusive way. His mark was an introspective self-loathing and his ragged dark americana often emanated from childhood memories. In an interview for the Rolling Stone in 1996 he explained: "You know, I don't care what anybody says; I don't think my songs are all that depressing,…There's a lot of humor in my little stories. I'm not saying they're easy to listen to, but I like to think that when people hear my music, it pulls them in both directions at once – like life does."


Vic Chesnutt was a serial collaborator. He liked to work with others and others liked to work with him. The list of collaborators is long: Michael Stipe, Jonathan Richman, Brute (Widespread Panic), Lambchop, Kelly and Nikki Keneipp, Kristen Hersh (watch them in, Panic Pure, the closing number of their June 3, 2000, concert at Foley's Cellar in San Francisco, available on Youtube), Cowboy Junkies, Elf Power and The Amorphous Strums, Thee Silver Mt. Zion, Godspeed You! Black Emperor! among others. VC also contributed on other artists albums. He sang in the song "Grim Augery" on the "Dark Night of the Soul" album by Danger Mouse and Sparklehorse. Vic also sang "Aunt Avis" which was recorded by Widespread Panic. I also recommend his concert video taken from the film "Vic Chesnutt – It Is What Is" filmed November 21, 2009 at a house show in Saskatchewan in Canada, one month before his death. The video clip is available on Youtube. After his dead Cowboy Junkies has recorded the tribute album "Demons" in their Nomad series. Rock The Cause has released Minnesota Remembers Vic Chesnutt in 2011, a tribute album to VC similar to Sweet Relief. Lambchop's album "Mr M" is dedicated to the memory of Vic Chesnutt. In my opinion, Vic Chesnutt is the greatest of them all in dark americana. The force that flows from Vic Chesnutt is remarkable. The arrangements are often minimal. You don't even think about it. It's just there. Vocals and music converge in to one. He died only 45 years old. If one is to indulge oneself in counterfactual reasoning: if he had lived, what albums couldn't then have been made. The last two albums (not counting the demo-like "Skitter On Take-Off") "North Star Deserter" and "At The Cut" clearly showed how much talent he still had inside him.

With 14 studio albums Vic Chesnutt definitely has enough material for a 2-CD compilation. It could just as easily have become a 3-CD compilation, without any noticeable quality reduction. Below is a suggestion for a 2 CD compilation.
| | | |
| --- | --- | --- |
| No | Song | Album |
| 1 | Isadora Duncan | Little |
| 2 | Withering | West Of Rome |
| 3 | Panic Pure | West Of Rome |
| 4 | West Of Rome | West Of Rome |
| 5 | Supernatural | Drunk |
| 6 | Gravity Of The Situation | Is The Actor Happy? |
| 7 | Sad Peter Pan | Is The Actor Happy? |
| 8 | Free Of Hope | Is The Actor Happy? |
| 9 | Betty Lonely | Is The Actor Happy? |
| 10 | Guilty By Association | Is The Actor Happy? |
| 11 | Threads | About To Choke |
| 12 | Bernadette & Her Crowd | The Salesman & Bernadette |
| 13 | Arthur Murray | The Salesman & Bernadette |
| 14 | Woodrow Wilson | The Salesman & Bernadette |
| 15 | Blanket Over The Head | The Salesman & Bernadette |
| 16 | Merriment | Merriment |
| 17 | Very Friendly Lighthouses | Left To His Own Devices |
| 18 | Distortion | Left To His Own Devices |
| 19 | Styrofoam | Silver Lake |
| 20 | Wren's Nest | Silver Lake |
| 21 | Virginia | Ghetto Bells |
| 22 | Little Caesar | Ghetto Bells |
| 23 | The Garden | Ghetto Bells |
| 24 | Everything I Say | North Star Deserter |
| 25 | Rustic City Fathers | North Star Deserter |
| 26 | Debriefing | North Star Deserter |
| 27 | Marathon | North Star Deserter |
| 28 | Mystery | Dark Developments |
| 29 | Coward | At The Cut |
| 30 | Chinaberry Tree | At The Cut |
| 31 | Chain | At The Cut |
| 32 | Concord Country Jubilee | At The Cut |
| 33 | Flirted With You In All My Life | At The Cut |
Best album: North Star Deserter
Best songs: Withering, Panic Pure, Supernatural, Free Of Hope, Betty Lonely, Bernadette & Her Crowd, The Garden, Everything I Say, Debriefing, Marathon, Flirted With You All My Life