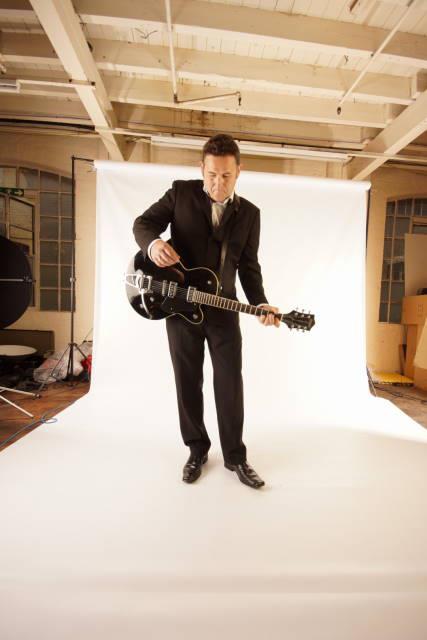 Mr Plow is an artist from Leicester, in the English Midlands, in United Kingdom. Obviously, there is a darkness everywhere. I came across Mr Plow very early in the process of triangulating the genre, but it wasn't until recently that I began to immerse myself in the music. Mr Plow began to play under the moniker name, Mr Plow, in 2005. The first gig was in Loughborough, in October 2005. In an e-mail Mr Plow explains how it all began: "Formed for no other reason to write and record some songs. There was no plan to become a Gothic Country or Noir Country act. It just turned out that way; the simple but dark songs came out best and started to flow. In an article for BBC from 2007 he describes himself: "Mr. Plow is a tall bloke with a guitar, a sweet voice and a hatful of gloomy songs." Very apt. There are, at least, six other artists or bands with the same name, from punk to funk. But there's no risk of confusion. There's not much information about Mr Plow on the Internet. The story behind the artist name is very simple. In the e-mail Mr Plow explains: "It's simply taken from the Simpsons episode 'Mr Plow', where Homer buys a snow plow to clear drives in Springfield. I needed a name for the music I was starting to make, and that's what I chose". Mr Plow is an odd name for a gothic country act. In fact, it's un-gothic. And moreover, Mr Plow isn't dressed to plow any snow in his dark suit. Johnny Cash seems to be a great inspiration both musically and fashion-wise. Mr Plow is by some people regarded as "Leicestershire's own Man In Black". Mr Plow started as a solo act then grew into a band. The writing and recording has normally been done by Mr Plow himself, but playing live the band has featured Sgt. Thorley on guitar, The Chrusher on drums and Flame Boy on bass among others. In the BBC interview Mr Plow was asked if he would consider starting or joining a band. He answered: "I'm the worst person you'd ever want to be in a band with – it turns me into a psychotic tyrant. So of course my plan is to put together the Mr. Plow band and make their lives misery." However, they don't look too miserable when they play together as a band. Mr Plow is labeled "gothic country", "country noir", "murderbilly", "americana noir" among other labels.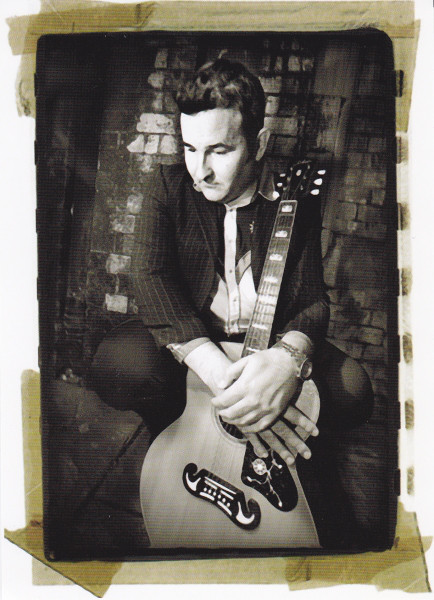 Most artists/bands in the "gothic country" genre follow a standard formula when it comes to their creative process, for example idea/theme first, then lyrics followed by arrangement and chords including finding themes, moods and expressions for the lyrics. Englishmen are men of few words. Mr Plow is no exception. In the email Mr Plow describes how the creative process looks like: "It's quite loose. Sometimes an interesting riff or set of broken sounding chords. Sometimes an item is seen on tv/the internet or read that prompts a lyric. Sometimes it's a flight of fancy involving people I know put into extraordinary situations. There's no mission statement or fixed plan – whatever happens I/we go with." Mr Plow is a versatile artist and moves quickly and freely between unfettered rockabilly and the darkest corners of gothic country (and back again). The songs are upbeat and gloomy, with a strong emphasis on the latter. In the BBC interview Mr Plow declares: "Once or twice I've played too many miserable songs in my set, and managed even to make myself sad." The lyrics are narrative with an ironic bite. Mr Plow posseses a dark and euphonic voice, which he knows how to adjust and vary. What I like about Mr Plow (and respect him for) is the respectful nods to the music he apparently loves, but at the same time bringing something new to the table. The epigones with a guitar hanging around their necks are everywhere. However, Mr Plow is the real thing. No hipster attitude or anxious glancing sideways, only a consistent implementation of musical ideas. In our confirmation seeking world dominated by social media, that's admirable. In the email Mr Plow reveals the future plans:"We're currently on a bit of a hiatus. We released three albums in five years, which took a lot of effort. However, there will be more Mr Plow music – I'm just waiting until the time feels right. I have a bunch of songs in different states of completion, which I add to/redraft when the mood strikes. All of them are suitably bleak and tragic!" In the email Mr Plow shares his thoughts about the future for musicians/bands in the "gothic country" vein: "Well it's not a way to become rich or famous. It's a very small, niche genre. However, the best country and folk music has historically dealt with tragedy of some kind, so Gothic Country is just a logical continuation of that. Hank Williams was the first and most tragic figure of them all. Long may dark, tragic country music continue!"

Mr Plow has released four full-length albums. The first album "The Book Of Common Despair" or more correctly "Mr Plow presents The Book Of Common Despair" was released in 2009. The second album with the Yoda-like title "Joyful In Song Are We" was released in 2011. The third album "Not The Beginning, Not The End" was released in 2014 on vinyl with bonus cd. All three albums have been released on Pink Box Records. The sound quality is, with gothic country standards, brilliant. The album art is both coherent and enigmatic. In the email Mr Plow explains: "Pinkbox Records boss Mr Garland likes photography. Our cover model Kirsty likes to have her photograph taken. Between the two of them they cook up the cover art and it seems to work well." As always, the simplest explanation for some phenomenon is more likely to be accurate than more complicated ones (Occam's razor). The fourth album "Legendary Super Hits! (Volume Four) was released in 2022 (digital only).

Below is a suggestion for a CD compilation.
| | | |
| --- | --- | --- |
| No | Song | Album |
| 1 | Before The Flood | The Book Of Common Despair |
| 2 | Mary Margaret | The Book Of Common Despair |
| 3 | Dying Sinner's Final Sin | The Book Of Common Despair |
| 4 | Sarah Elizabeth Bell | The Book Of Common Despair |
| 5 | Link Wray | The Book Of Common Despair |
| 6 | Unforgiven | The Book Of Common Despair |
| 7 | Slave Ship | The Book Of Common Despair |
| 8 | Mr. Plow's Inferno | Joyful In Song Are We |
| 9 | Typhus | Joyful In Song Are We |
| 10 | Thank You Mr. Ford | Joyful In Song Are We |
| 11 | Muhamad's Atom Bomb | Joyful In Song Are We |
| 12 | Tango Pera El Tigre Cautivo | Not The Beginning, Not The End |
| 13 | Bag Of Bones | Not The Beginning, Not The End |
| 14 | Cotton Gin Babies | Not The Beginning, Not The End |
| 15 | The Children And The River | Not The Beginning, Not The End |
| 16 | Ballad Of Enduring Freedom | Not The Beginning, Not The End |
| 17 | Lonely Cold Waltz | Not The Beginning, Not The End |
| 18 | You Are Not Me | Legendary Super Hits! (Volume Four) |
| 19 | Every Loser Loses Again | Legendary Super Hits! (Volume Four) |
| 20 | 300 lbs | Legendary Super Hits! (Volume Four) |
Best album: The Book Of Common Despair
Best songs: Mary Margaret, Dying Sinner's Final Sin, Sarah Elizabeth Bell, Unforgiven, Slave Ship, Typhus, Thank You Mr Ford, Bag Of Bones, Cotton Gin Babies, Ballad Of Enduring Freedom