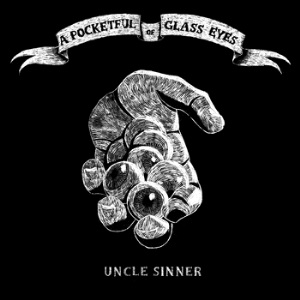 As stated in my blog entry on March 2, 2014 "Uncle Sinner to release a new album" a collection from Uncle Sinner with outtakes and rarities, "A Pocketful of Glass Eyes" was to be released as a fundraiser for modest recording gear. Well, now it's here. You could buy the album digitally in the format of your choice at Bandcamp (now taken out of circulation) The price is set according to the "name your price"-principle.
In an email Uncle Sinner explains that the outtakes are of varying quality and don't form a proper album. Yes, "A Pocketful of Glass Eyes" is rough and stripped down to the bone. But, on the other hand, you don't want an (over)produced from Uncle Sinner. Uncle Sinner is according to his Bandcamp-page: "...a figment of his own imagination. He holds several degrees in psychological vandalism and enjoys hollering, guitars, banjos, mandolins and rage." I think, however, he's too modest regarding the view that it doesn't form an album. It outshines most releases that are made these days in my opinion. The album is a bit more bluesy (but not too much blues) compared to "Ballads and Mental Breakdowns". Best songs are Little Margaret, Want to Go to Cuba, Can't Go Now, Illinois Blues, Kerosene, The Cuckoo (demo) and Glory in the Meeting House. In the email Uncle Sinner writes that the next album [Let the Devil In] will sound much better than the tracks on "A Pocketful of Glass Eyes" and the for the most part the tracks will be a bit more complex (but not too complex). That sounds very reassuring, I think.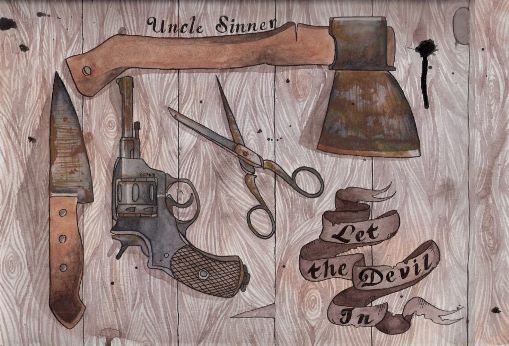 However, I'm already looking forward to the next album "Let The Devil In". The painting is made by Gal Arad Kabiri to be used on the next album. If the album sounds like the album cover then I'm reassured. The date for the release was earlier set to December 2011 as a "firmly arbitrary deadline". Uncle Sinner writes in his email that he dislikes deadlines and the feeling that he owe people something. I really hope that Uncle Sinner fundraising will succeed and he will be able to release this album. In due time, of course. I have waited. I can wait a little longer. When it comes to CDs, I have been equipped with the patience that withstands a comparison with Job.