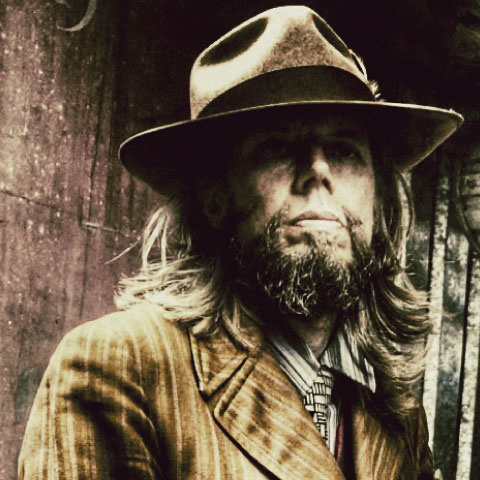 Everyone in Australia doesn't surf or work as a life guard. In fact, some of them play the hardest doom blues you will ever come across. I'm referring to T.K. Bollinger from Melbourne. The music of T.K. Bollinger has an unmistakable gothic streak over it, which makes it eligble for this "gothic country" site. Doom from Down Under, is that conceivable? Of course it's conceivable. "Gothic country" and its genre cousins thrives in all time and climate zones, so also in the Southern Hemisphere. T.K. Bollinger is labeled "sadcore" (a branch of "slowcore"). It's a jumble without precedent anyway. T.K. Bollinger has been an important part of the Melbourne underground scene for over 25 years and the discography is impressing. Some of the albums are available on Bandcamp. On his equally tasteful and informative website you can read about his long and winding road along musical projects, names and constellations. The latest project is T.K. Bollinger & That Sinking Feeling. The band consists (naturally) of T.K. Bollinger (vocals and guitar), R.S. Amor (bass and engineering) and Vis Ortis (drums). A caveat is in place. The music is dark and depressing located in the absolute outskirts of what this website deals with. However, I like it.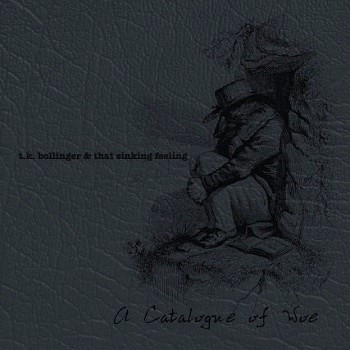 When you're steadily rooted in the doom genre you expose yourself for a considerable risk of mannerism, overplay and theatricality. But the doom and the gloom is here balanced with a considerable proportion of fragility. T.K. Bollinger's latest album "A Catalogue of Woe" took three years to complete and was released in August 2014. It's literally pitch-black. The album cover is in fact so dark that I had to adjust the brightness of the album image (see right) so it would be possible to distinguish the motif. The music is even darker, but not beyond what you can take with a normal emotional setup. The album contains nine songs. The song titles are witty and ironic. You would expect a title that starts with "That which does not kill me..." to be followed by "makes me stronger", but instead it's followed by "gives me cancer". Another example is "Tortured by a Racialised Folk Devil". The best songs on the album are "Betting On Your Dying Day", "Tortured by a Racialised Folk Devil", "Rich Man's Heaven", "That Which Does Not Kill Me Gives Me Cancer", "Wearing Down My Devotion", "Fools Walk Were Logic Fear To Tread" and "Were You There When They Crucified My Love". The album moves between extremes. In some songs they almost goes beserk (where they remind me of Neil Young's band Crazy Horse in their messiest and loudest moments) while other songs have a more delicate and restrained expression. On these latter songs, the vocals of T.K. Bollinger are more heartfelt. The album "A Catalogue of Woe" is (besides digitally) released as a limited edition cd and as a limited edition cd including a book with illustrations. Both editions are very affordable. You can listen to the album and buy it (bottom left).
If you click on the icons below they will open in a new window, from left to right: T.K. Bollinger's Bandcamp page, T.K. Bollinger's Facebook page, T.K. Bollinger's homepage and T.K. Bollinger's Myspace page.
| | | | |
| --- | --- | --- | --- |
| | | | |