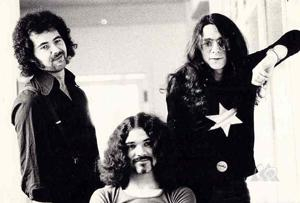 This blog post may seem a bit off-topic, but it actually has some bearing on how I later in life became the Ambassador. It's funny how the brain works. When I wrote a blog post recently about home taping and then listened to some early heavy metal albums it triggered a memory from childhood. Obviously, it had been filed somewhere. Here it comes. I grew up in a small "company town" at the mercy of structural change. There wasn't much to do besides football (soccer) and icehockey. Some of us upper primary school kids without direction turned to music. I didn't have any money, but my classmate (we can call him Carl) had excellent contacts with older guys who could afford to buy LP albums. Actually, it was in his cubic-formed and semi-detached house with needle-loom carpets that I heard "Band of Gypsys" with Jimi Hendrix for the first time. From that moment I was on the slippery slope of a milder form of music addiction. Carl later pursued an adroit career in shoplifting, insurance fraud and using shell companies for tax evasion. Carl was, despite his later career choices, entrusted and could borrow albums over night and record them on compact cassettes. This was analogue times. How did you get a copy from a cassette in those days? It was simple. Nowadays, we consider this procedure as obsolete and tedious. This is the way it was done. I borrowed the cassette from Carl and went home and connected a cassette recorder (A) to a reel-to-reel audio tape recorder (B) through a five-pin DIN connector and started to record. Then I recorded back from B to A (new cassette). All of this was done in real time (this was before any slow living or mindfulness). The sound quality was, at this point, quite terrible. Carl also had an illegible handwriting. In fact, he had trouble reading his own handwriting. I had to put in a lot of work into transcribing his scrawl from the cassette cases and I didn't always get it right. Anyway, I'm thankful to Carl for introducing me to Budgie.

Budgie was formed in Cardiff in 1966 by Burke Shelley (bass and vocals) and Brian Goddard (guitar). They soon found drummer Ray Phillips through an ad in the local paper. Tony Bourge (guitar) joined in 1967. They weren't "Budgie" from the beginning. In fact, they played a few gigs under the unglamorous name "Hills Contemporary Grass" before changing their name to the more spectacular "Six Ton Budgie", then changed again to just "Budgie". The story behind the band name is that they loved the idea of playing noisy, heavy rock and calling themselves after something diametrically opposed to that. A budgie is a fragile thing. Brian Goddard left the band early for family reasons (got a girl pregnant and had to get a job). Since then Budgie always had a three-piece lineup. The username Brocashelm really hit the head on the nail in a blog entry in The Metal Archives; "If you took Black Sabbath's density, King Crimson's peculiar song constructs, and added a dash of Rush's overall style, you should get an idea of what's going on here." Budgie never got the recognition they deserved. However, when Metallica, Iron Maiden and other bands later made covers of their songs they got a late but rightful redress. In this blog entry I will walk you through their first five albums; the MCA years and their golden age.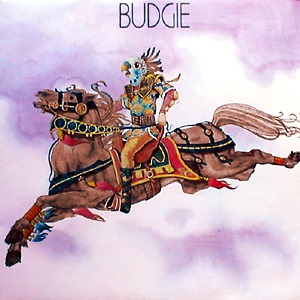 Budgie didn't sell enough albums so that the members could retire in a nice country house in the countryside with crawl distance from the local pub. The conditions for this event were in fact quite good. First, there was a growing interest for early british heavy metal. Second, the met a renowned producer, Rodger Bain (producer of Black Sabbath's first three albums), who was on a talent spotting mission in Wales. Third, they signed a contract with the big record company MCA. Their self-titled debut album is raw and brutal. The album was recorded in Rockfield Studios in Monmouth in South Wales in only four days on a eight track tape. The album starts off with "Guts" which encompass their trademarks; nasal and high-pitched vocals, thick bass lines, proficient guitar riffs and pounding drums. The second song "Everything in my heart" is a delicate ballad and only one minute long. The heavy stuff is back again in the next song, "The Author". Burke Shelley had a penchant for wordplay and pun. The fourth song is "Nude Disintegrating Parachutist Woman". This song is a good example of their other trademarks; weird arrangements, dynamic variations between hard and soft, shifts between mangling and sensitivity and last but not least unexpected tempo changes. The song is eight and a half minute long. The first song on the flip side is "Rape of the Locks", which bears many similarities with classic Black Sabbath. Second to Toni Iommi, Tony Bourge was the riffmaster of early heavy metal. The next song is "All night petrol", which is rather tiresome. The next to last song is a short ballad "You and I", delevered in 1 minutes and 45 seconds. The album closing song is "Homicidal Suicidal", a compact song to say the least. "Homicidal suicidal / Big time loser, big time boozer / Live and learn, let it burn / All time winner, you're a sinner". Not any lyrics of Nobel Prize standards, but the lyrics served its purpose.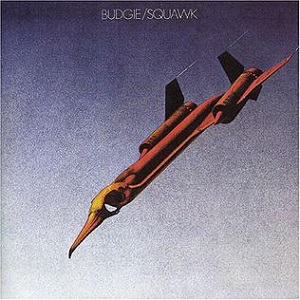 The self-titled debut album received moderately positive reviews. It's hard to believe today, but in the 1970s a band could get an opportunity to grow and evolve through albums and find its true shape and form. Even the big record companies had a certain element of patience. However, Budgie was bent and shaped from the very beginning. There was no difficult second album syndrome (DSAS). Budgie began to work on their second album called Squawk (a loud, harsh or discordant noise made by a bird or a person). Rodger Bain got renewed trust as producer (co-producer is more correct). Budgie knew which song to place where. "Whiskey River" is a hard and driving opening song. The second song "Rockin Man" got the guitar riffs, plink-plonk basslines and drums in the right places. In the third and extremely Beatles-inspired song "Rolling Home Again" it's all too clear that this album isn't as focused as its predecessor. The fourth song "Make Me Happy" makes this fact even more clear. They were trying to combine different styles and made experiment. The order is restored in the next song "Hot As A Docker's Armpit", allegedly coined by Steve Marriott in another context. The song has the same song structure as many of Black Sabbath songs. The first song on the flip side is "Drugstore Woman". This bluesy song is as simple as a shoe sole. The song seamlessly goes over into the instrumental "Bottled". The next to last song on the album "Young Is A World" is one of the highlights. It begins as a meditative ballad and gets slightly harder. The song is a good example of the unexpected tempo changes. The closing song "Stranded" was inspired of a bass guitar riff from John Paul Jones (Led Zeppelin). Squawk was recorded in two weeks in Rockfield Studios. The album isn't as doom-sounding as the debut album. It's more of heavy metal intermingled with acoustic interludes. However, the album meant that Budgie could reach a larger audience and begin to tour in UK and Europe. The album outshines the other MCA albums at one point, namely the album cover. It's the work of legendary artist Roger Dean.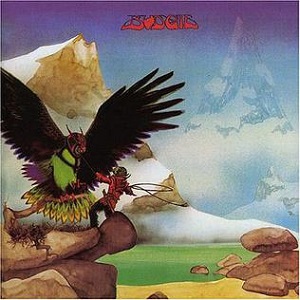 The third album "Never Turn Your Back On A Friend" is flawless. It veers more towards progressive rock than their previous two albums. Produced by Budgie and recorded at Rockfield Studios. Album cover by Roger Dean. The opening song "Breadfan" deals with the love of money (slang: bread) "Breadfan, open up your mind, open up your purse / Open up your bones, never, never gonna lose it." The song starts with one of best guitar riffs of early heavy metal. Speaking of unexpected tempo changes. In the middle of the song there's a melodic interlude which goes over into the initial riff. The next song is a cover of "Baby, Please Don't Go", a blues song popularized by Big Joe Williams in the 1930s. Budgie's claim to fame in covering this classic song is the rolling basslines, rhythmic drums, catchy guitar and Shelley's spectacular vocals. The third song is a beautiful ballad "You Know I Always Love You". The fourth song "You're The Biggest Thing Since Powdered Milk" begins with a drum solo for nearly two minutes (it was the 1970s) before a guitar riff comes into play. This song has all the desirable attributes. It's gets even better in "In The Grip Of A Tyrefitter's Hand". This proves that Budgie were a class act and also give a glimpse of what might have been. The next to last song is "Riding My Nightmare", a ballad and the weakest song on the album. The closing song "Parents" still hits me with the same force after all these years. The music is mid-paced and acoustic. The lyrics are percipient. "When I was a little boy / They would say to me / Don't go in the world and play / It's bad company". A couple of verses later Shelley sings; "Wash your hands and up to bed / Mind your manners / Or you're dead / Mind the cars cos you've got school on Monday". Guitarist Tony Bourge makes his guitar sound like squeaking seagulls in the end of the song, maybe a nostalgic reference to the upbringing on the South Coast of Wales. Anyway, this is a groundbreaking album.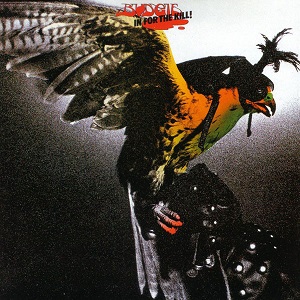 The fourth album "In For The Kill" is their masterwork. Actually, this was the first album of Budgie I heard (and taped). By this time drummer Ray Phillips had left the band and been replaced by Pete Boot. The album was produced by Budgie and recorded at Rockfield Studios and Lee Sound, Birmingham. Album cover by John Pasche Gull Graphics. The opening song "In For The Kill" is six and half minute of hard mangling with a thick bassline, a few but disctinct guitar riffs and effective drumming. The second song is "Crash Course In Brain Surgery". It was originally released in 1971 as a single. This is a catchy song with lyrics as weird as the title. The third song on the album is an acoustic song, "Wondering What Everyone Knows". For once, Burke Shelley lowered the pace and sang in clear and beautiful way. The result is flabbergasting. The fourth song is the suggestive "Zoom Club". Almost eight minutes of droning heavy metal. Tony Bourge brings out his hardest riffs and solos. Distortion, echo and reverb - all at once. The bass and drums are exquisite. "Come on everyone of you g.I's / You are the ones who can care / Speed on you wonderful dropouts / We'll break the walls of this room in". This grandiose song has stood the test of time. "In For The Kill" contains one of the best A-sides in early heavy metal. Time to flip side. The song "Hammer And Tongs" isn't a nod to Led Zeppelin's "Dazed And Confused", it's a deep bow. "Running From My Soul" is a straightforward rock'n' roll song and doesn't leave any mark in history. The closing song "Living On Your Own" is almost nine minutes long and wraps it all up. The song structure is, as I wrote above, similar to many of Black Sabbath's songs. This can't be a bad thing.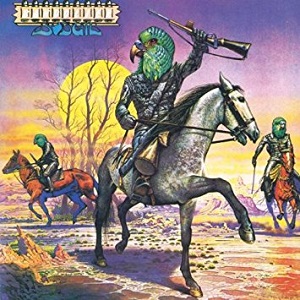 Nothing lasts forever. Even the longest, the most glittering reign must come to an end someday. The downfall of Budgie began with their fifth and last album on MCA, "Bandolier" (a bandolier or a bandoleer is a pocketed belt for holding ammunition). The album was produced by Budgie and recorded at Rockfield Studios and Mayfair Studios, London. The album illustration was made by Patrick Woodroffe. Drummer Pete Boot had left the band and been replaced by Steve Williams. The albums opens, as always, with a very strong song "Breaking All The House Rules". But what happens next? The dreamy "Slipaway" is pure soul music and "Who Do You Want For Your Love" is a funky groove. The order is restored on the flip side in "I Can't See My Feelings". The fierce guitar riffs, bass lines and pounding drums (including cowbells) are all there. The following song is a cover of Andy Fairweather Low's "I Ain't No Mountain" from his 1974 album "Spider Jiving". The decision to include this song on the album is beyond the pale. Budgie ends the album in style with "Napoleon Bona-Part One" and "Napoleon Bona-Part Two". Very witty and amusing song titles. "Bandolier" marks the end of the band's golden age. Since "Bandolier" they have released six studio albums, four live albums and five compilation albums. Furthermore, they changed the lineup several times, disbanded and re-formed and are since 2010 on a long-term hiatus. All resuscitation attempts were in vain after "Bandolier".
The injustices in the music industry are numerous, extensive and outrageous. Budgie never became as big as "the big three"; Black Sabbath, Deep Purple and Led Zeppelin. On the other hand, it's only fair. Budgie didn't belong on the pedestal among "the big three", but they were better than most other contemporary bands (except maybe for Judas Priest). Budgie stood beside the road and saw themselves being overtaken by less talented bands. Despite talent, dedication and hard work Budgie only achieved moderate success. Why? Here are some hypotheses. They were too normal. No sex, drugs and rock'n roll mystique. Burke Shelley would fast from 3 PM before gigs and perform breathing exercises to keep his voice in shape. Tony Bourge sought musical purity and avoided to listen to other bands in case it would influence him. Ray Phillips, the first drummer, wanted to do more commercial things. No provocative religious themes or references. Budgie suffered from bad press and lacked strong management of Peter Grant-type (Led Zeppelin). Their record company MCA did nothing to promote them. At the same time, they were too abnormal. Quirky, humorous and playful lyrics, weird arrangements, banshee vocals, unexpected tempo changes and an unorthodox mix of hardness and softness. The critics mocked them, not many people liked them and "we few, we happy few" loved them. The most important reason for the lack of success was the absence of a hit. "Breadfan", "Crash Course In Brain Surgery" and "Zoom Club" came close. Close but no cigar.