T.K. Bollinger's second solo album "Shy Ghosts" contains thirteen sad and bittersweet songs. You can enhance your listening experience by watching thirteen associated videos produced by Vis Ortis, see link here (opens in a new window). If someone would ask me what I thought about the idea of making an album where eternal and existential themes are investigated deep and thoroughly without avoiding any human shortcoming or vulnerability - I would strongly advise against this. Furthermore if this daring idea was based on personal life expericence, gathered insights and a large dose of self-disclosure this would only strengthen my opinion. The risk of "epic failure" (in both meanings) is imminent. But T.K. Bollinger didn't ask for my advise. He just went on and made the album. The album project described in his own words: "A collection of slow, delicately arranged songs that speak of sorrow and loss, dementia and decay, fog and fear. Oh happy day! Combining elements of Gothic Country, Doom Metal, Gregorian Chant, Folk and dark Soul these songs explore the eternal question, "why does suffering exist?" No clear answers emerge, other than we must keep walking and enjoy the brief insights and the occasional ray of hope that helps us to summon forth compassion for the shy ghosts that hide in our shadows." This daredevil project caught my eye when T.K. Bollinger started to post songs from the forthcoming album on his Facebook page. I was intrigued by what I heard and was given the opportunity to pre-listen to the album for a couple of weeks. Let me start by saying that I'm overwhelmed by what Mr. Bollinger has achieved. This is sadcore of the highest carat. Making this kind of music is a difficult balancing act. Sad songs without honesty is just embarrassing. However, there's no lack of honesty here. In fact, T.K. Bollinger sings so emphatically on the album that it feels like he is the last man left on the planet. Naked, tormented and not overly beautiful, but with a heartfelt presence. I'm not an expert on the music of T.K. Bollinger. My reference point for this review is "Catalogue of Woe", which was an album with T.K. Bollingers & the Sinking Feeling. In some songs the band almost went beserk (not unlike Neil Young's band Crazy Horse in their messiest and loudest moments) while other songs had a more delicate and restrained expression. Shy Ghosts" is a stripped-down album, sparsely instrumented and simply arranged with just vocals, drum machine, acoustic and electric guitars. No mess or noise. This is an album filled with almost hymnal music.
Let's go over and dissect the album. "Shy Ghosts" begins majestically. The first song is "All Seems Lost". The song starts in slow motion with muffled drums and rimshots (drum machine rimshots). The slow tempo is there to stay. The mood is set from the first acoustic guitar chord. An electric guitar is introduced followed by vocals. "What I once took in hand / Now seems overwhelming / Simple tasks, the provinence of a child / Make no sense". The song fades out with a guitar solo. The second song is "Milk of Human Kindness". The song title refers to (in addition to daily speech and its everyday meaning) to Shakespeare's play Macbeth. When the "milk of human kindness" transforms into almost primal screams the song reminds me of John Lennon's renowned song "Mother". The third song "No More" doesn't belong to the highlights on the album, but it fills its purpose. The song gives you a opportunity to catch your breath after the milk excitement. However, the fourth song "Nothing At All", restores the order and mood. The song is, like all songs on the album, very simply arranged. The lyrics deal with lost love in a very insightful way. "Was it time or complacency / Did I just miss the call? / Now we pass the time by searching for novel ways / To say nothing at all". In the following five songs T.K. Bollinger pull out all the stops. This is sadcore quality lined up in a row. The fifth song is "Habits Defeat Me". It also follows the same formula with drum machine rimshots and minimalistic arangements. The song begins "Without sorrow or shame nothing could change / In doubt I walk down the same road again / Strange how the cure still makes you suffer / Stranger still is how I blame anyone but me". The sixth song "The Limits of What We Can Love" is one of the absolute best songs on the album. T.K. Bollinger sings in an almost liturgical way. The song ends "While vanity scars most of us / Some could profit from more self regard / Life may prescribe but we must administer / And learn what's best for each of us / The limits of what we can love". I'm impressed and flabbergasted. Only a person with a grave emotional disorder is untouched by this song. The seventh song "Where Has It All Gone" is perfectly calibrated. It follows the same formula as the other songs. The lyrics deal with the slipping of time and what time does to us. "What I once saw clear / No longer seems bring me there / Makes me wonder / Where has it all gone?". The pained guitar solo underlines the message. In the end we are all alone.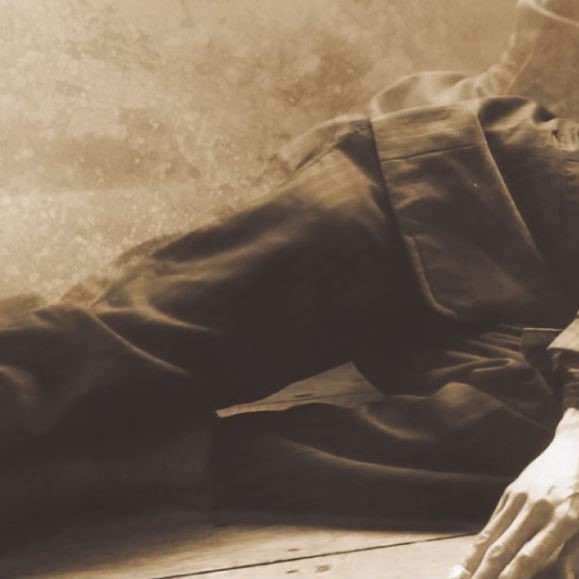 The eight song "Til Exhaustion or Collapse" is the best song on the album. A song that begins with the line "I should have died / If not in the womb / Then by my parents bedside" and ends with "No angel spoke to me / But I still feel blessed / So I'll still sing my dark to you / Even though you're unimpressed / 'Til exhaustion or collapse" can't be anything other than great. The song ends with a whining electric guitar. No more, no less. The album "Shy Ghosts" reaches its climax in the haunted ninth song "All I Feel is Cold". The song is darker than the previous songs and have a slightly harder expression. The first line refers to King Midas "I had just one small wish / That all I touch turn gold". As always, be careful what you wish for. It can have undesirable effects. The song ends with "The darkness lies upon me / It blinds and binds me so / I knew love's warmth once long ago / Now all I feel is cold". T.K. Bollinger really gives his best and pushes his vocal abilities to the limit when singing these lines. The tenth song is "The Body Remains". Despite listening to the song over and over again it doesn't start to grow on me. I spent considerable time trying to figure out why. It's not the lyrics. They are impeccable. I think the reason is the exceptional long and drone-out tones. My conclusion is that the tempo of the song - even by T.K. Bollinger standards - is too slow. In my opinion, this song would have benefited from a slightly faster pace. This is a peripheral remark. There are more highlights on the album. The eleventh song "If I'm Not Ashamed" gives self-disclosure a new and deeper meaning. "If I'm not ashamed / Of who and what I have to say / Why are the keys best known to me / Backspace and delete?" The song ends "If I'm not ashamed of who I am / And what I have come from / Why is the thought that freezes and most frightens me / The one I must stay longer?" Well, as I wrote, there's no lack of honesty here. There are two more songs on the album. The twelfth song is "Sad and Broken". In this song T.K Bollinger goes the whole hog. "If I had to start again / I wouldn't cope / I played the game of trust / And I wound up sad and broken". A guitar solo elegantly wraps it up. The thirteenth and last song is "Flesh and Bone. The last song on an album is very important. It concludes what the artist want to say with the album and should also have a close connection to the themes and a scent of the atmospere on the album. This last song meet all these requirements. "It's not the light that has betrayed me / It's not the night that has brought me home / It's just that ignorance waylaid me / When I pulled out flesh and bone". T.K. Bollinger ends the album in style.
And finally, the overall assessment. Reviewing this album was time well spent. I only review an album if there's a possibility that I might like it. Everything else is just a waste of time. In fact, I can't think of a more cruel punishment than being forced to listen and review terrible music. This is probably T.K. Bollinger's most accessible album. To compare it with "Catalogue of Woe" isn't very meaningful since it has a completely different approach. But, the album had some delicate and restrained moments. "Shy Ghosts" is delicate and restrained in its entirety. What I particularly like is that the album is so worked through and thorough. There's nothing to add or withdraw. There's also care in album details, for example the order of the songs. I find it very disappointing when too little effort and careful thought have been put in the process of ordering the songs. Needless to say, the song order is perfect. T.K. Bollinger definitely has something to say and now he has spoken. This is a exceptional album. Being mangled by T.K. Bollinger for nearly 72 minutes is probably more than most people can take. T.K. Bollinger is not for everyone, very far from, but maybe he's just the artist for you. On his Facebook page he wrote about the album: "Cheaper than Valium and twice as effective". I'm inclined to agree.
If you click on the icons below they will open in a new window, from left to right: T.K. Bollinger Bandcamp page (where you can buy a digital and eventually a physical copy), T.K. Bollinger's Facebook page, T.K. Bollinger's Homepage and Press kit and lyrics for "Shy Ghosts".