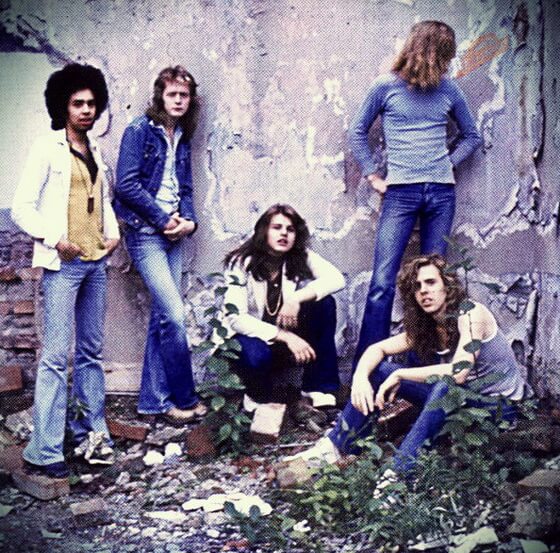 When I grew up there were no Swedish hard rock bands worth listening to. Sweden lagged far behind. Then Neon Rose emerged out of nowhere. Neon Rose was a short-lived band (1973-1975), often regarded as the first Swedish hard rock band (and, by connoisseurs, the only hard rock band). There road leading up to the formation of the band was stochastic and erratic. However, the classic line-up consisted of Roger Holegård (vocals), Piero Mengarelli (guitar), Benno Mengarelli (bass), Gunnar Hallin (guitar) and Stanley Larsson (drums). The band name was chosen with dedication and accuracy. The name should include a contradiction in terms, like Iron Butterfly. The band logo in glowing neon is also very fitting (see the first two albums below). Neon Rose played their first gig at Bagarmossen ungdomsgård (youth center). Not exactly an arena debut. Well, the journey of a thousand miles begins with a single step. One thing led to another and they came to play several gigs at Groupie, a club on Malmskillnadsgatan in the center of Stockholm. In those days Malmskillnadsgatan was best known for its prostitutes. The life span for Neon Rose was short, but they were productive and managed to release three albums in two years. Neon Rose signed with no less than Vertigo Records in 1974. The band was exited, but it wasn't a sweet record deal. The band percentage of the record sales was ridiculously small and the promotion activities non-existent. For example, Neon Rose never went on a proper tour under their own name. They toured on weekends and without much help. Their booking company, specialized in dansband music, actually booked them to play at dance palaces, like Baldakinen in Uppsala. Not a perfect match. The dansband lovers used to shout "turn it down". And they were absolutely right. Neon Rose played loud on their 100 W Marshall amplifiers. They learned how to by-pass the decibel meter, which would have cut the power. Neon Rose became opening acts for established bands as Dr. Hook & the Medicine Show and Nazareth when they toured in Scandinavia. In contrast to weekend touring under unglamourous conditions, the band got a taste of how life might have been, staying on hotels with breakfast buffets. In the case of Nazareth, Neon Rose maybe unintentionally broke the golden rule for an opening act. Never outshine the headliner. However, the tour went well and there were no hard feelings. Actually, Gunnar Hallin was offered to replace Manny Charlton (guitarist in Nazareth). He declined. Neon Rose split up in December 1975. Some band members continued with music in an anonymous existence backing Swedish artists, while others pursued a "civilian career". The driving force Piero Mengarelli tried to revive the band twice (in 1977 and 2015). However, a reunion of the classic line-up isn't possible. Stanley Larsson and Benno Mengarelli passed away in 2007 and 2019, respectively.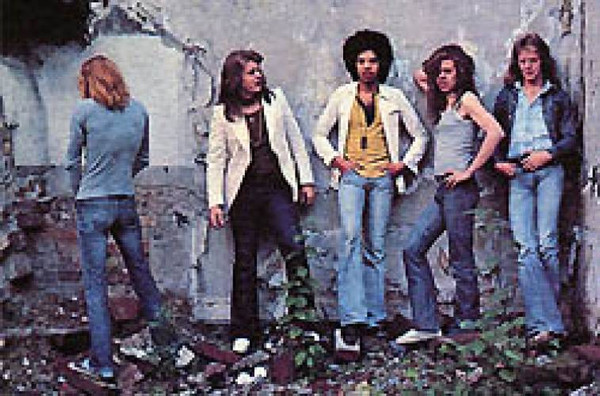 The debut album, "A Dream of Glory and Pride", was released in 1974, and was followed with a sophomore release, "Two", early in 1975. Following the recording of this album, drummer Stanley Larsson left the band (for the third time) and was replaced by Thomas Wiklund. The debut album was recorded in only three weeks on eight channels. It was recorded in December 1973 at Decibel Studios, a classic recording studio situated near Slussen, Stockholm by Anders Oredsson. The ideal at the time was to achieve a laboratory sound. Tape and foam rubber were applied everywhere to get rid of so much resonance as possible, which led to a numb and artificial studio sound. There was also a statement on the back cover: "This is another album without synthesizer." The album sold about 9 000 copies. The record company was eager to follow up the debut album. The band never got time to rehearse the new songs or try them out live. The album was created under pressure. The unimaginative title, "Two", says it all. The band were not ready to release a new album. But, the album was recorded on 16 channels. Apparently, the band was moving up in the world of recording studios. It was recorded at Ljudkopia Musikstudio, Stockholm by Anders Oredsson. The album sold about 10 000 copies. The conditions were far better during the recording of their third album, "Reload". It was recorded at Marcus Music, Solna, Sweden in July and August 1975 by producer, technician and engineer Leif Mases. The band had a good material and also had time to play them live. If the two first albums were somewhat underproduced, the third album was maybe a litte bit overproduced. Piero Mengarelli later found a recording that was made after half way through the recording sessions. In his opinion, some additional choirs and vocals was all that was missing. Then "Reload" would have been a fantastic album. Their first two album covers are stylish, but the "Reload" album cover created by Anders F. Rönnblom is absolutely hideous and an early product placement for Adidas sneakers. The third album was recorded on 24 channels and sold about 10 000 copies. A fourth album was planned with Manny Charlton as producer. Words never became deeds. All in all, Neon Rose sold about 30 000 copies. Today, international buyers are willing pay top dollar for their vinyl albums in good shape. All albums were re-relased on cd in 2005 with bonus tracks. Of course, I got all three. Now and then, I listen to them with great pleasure. All three albums stand the test of time.




Neon Rose effectively combined somber vocals, hard guitar riffs, pulsating basslines and pounding drums. They would have become more famous if they had managed to stay together and just kept going. Stanley Larsson quit no less than three times. He later told singer Roger Holegård (quit two times) that leaving Neon Rose was the biggest mistake of his life. Obviously, the timing wasn't perfect. In those days, playing hard rock music, singing in English and having an attitude was to stand out and to stand alone. The counterreaction was not long in coming. The radical music journalist Tomas Tengby wrote a review with the headline "Neon Rose - a product" in the influential left-wing music journal "Musikens Makt" (The Power of Music). The zeitgeist was hostile with little or no tolerance for individualism or commercialism. In a follow-up article the journal claimed that "Neon Rose denies their origin". Unadulterated nationalism from the left, an opinion which you today would expect from the far-right. The once so radical Tomas Tengby ended up his career in TV cooking programs on senior citizen-friendly broadcasting hours. This serves him right. A second explanation to why the band didn't break big was that the record company didn't promote them, which is incomprehensible considering that record companies wants to make money. It was amateurish and cheap. The record company didn't even provide them with money to buy guitar strings. Instead, they were offered fancy meals at restaurants. The latter was a tax deductible activity. A third explanation to the lack of success was that there existed a work permit agreement that prevented Swedish bands from playing in England and the USA, while foreign bands could tour and play in Sweden without any restrictions. Neon Rose was virtually unknown outside Sweden. And fourth and maybe most important, internal musical differences led to strain, conflict and quitting. The setbacks were many and varied. Their final gig was at Jarlateatern, Stockholm on December 4th 1975. The band didn't go quietly into the night. They played loud. The dream of glory and pride became just a dream. And the grading? A for effort, C for attainment.