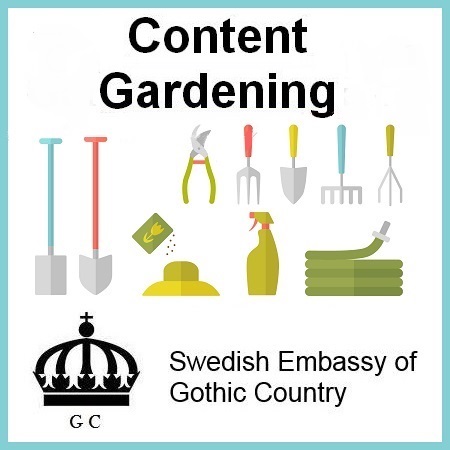 Exactly three years ago I launched this website. The first blog entry I ever posted had the fateful title "So it begins...". Two years ago I posted a one-year anniversary blog post with the expectantly title "So it continues..." in which I discussed the past, present and future for the site. One year ago I posted a two-year anniversary blog post with the prosaic title "And so it goes on and on and on and on and on..." in which I did some merciless following up. This time I will focus on web content gardening in general and with respect to this website in particular.
Assessment
I read an article where it became known that your website, with the proper content gardening, could live forever. I suspect that "forever" actually means foreseeable future and not indefinitely. The article highlights three important aspects: the value of old content, the low cost of old content and making time explicit. The interesting thing is that this foreseeing article is almost twenty years old (!) and still valid, read more here (opens in a new window). The bottom line is keep your web content updated, remove dead links and use time stamps. It's as simple as that. But, it's very hard living by these rules. My old friend Mikael (site architect and professional web analyst) gave me some initial advice of what I should do to get a well-groomed and manageable "garden". That's why the site looks like a website for a government agency. To my knowledge, there's only one dead link on the site. It links to the Obscurometer, read more here (opens in a new window). The Obscurometer was taken down by its creator for a complete overhaul, but was never reintroduced. The site now seems to have been hacked. I kept the link to the website in some vain hope that it will resurrect from the dead. I really liked the basic idea. Instead of focusing on popularity, it focused on obscurity. It would have been almost scientific to be able to monitoring the obscurity in the genre and analyzing changes in small fractions of percent.
Visitor statistics
On November 20, 2014 the visitor counter passed 10 000. On July 5, 2015 the visitor counter passed 20 000. On March 5, 2016 the visitor counter passed 30 000. On October 21, 2016 the visitor counter passed 40 000. Today, the visitor counter shows 46 277 visitors. This is far more than I could ever dream of.
Flaws
Besides brutal content gardening, I take some pride in that the site is up and running twenty-four seven. I can proudly say that there's been no disruptions of any kind during the last year. Moreover, it seems that the futile war against spam referrals (ghost traffic in order to inflate and magnify the senders website) has been temporarily won. My friend Mikael created an ultra-efficient spam crawler filter. However, the war is not over. They will come back.
Menu status
There are 62 articles published under the menu "Articles". The "Artists" department is a simple table overview, but one of the most visited pages. At the moment there 128 artists. There are links to the "Albums" department and, where applicable, a link to "Articles". The "Albums" department consists of plug-in product (Music Collection). The "Lists" department (artists, albums, songs and miscellaneous) contains 27 lists. The Miscellaneous department still only have 8 links, but on the other hand a beautiful ivy stem. At the moment there are 84 blog entries. My initial aim was to write at least one blog entry per week. Never happened. It's better to aim high and miss then aim low and hit. The "Contact" form works as it's supposed to.
Reflections
In the anniversary blog entry last year I wrote that the website growth rate was decreasing rapidly. Of course, it's expected when the number of articles increases and the most important artists and bands are covered. Here's some hard facts to back this up: there are only 4 new articles, 7 new artists in the table, 10 new lists and 11 new blog entries. Not an overwhelming high production rate by any standards. In my defence, I have a new job since April 2016 which is very demanding. In fact, it takes a ridiculous amount of time and energy. In the blog entry I also wrote that I would probably be back next year with a poor excuse regarding the "unrevealed project". But this year I have a good excuse, a job-related one. The "unrevealed project" has exactly the same status as last year and the year before that, still pending. It seems like this project is only getting further and further away and the whole idea is starting to look like naked self-deception.
Future
The regrowth in the gothic country genre is disturbingly low. The future for the genre is unknown, but the prognosis isn't very good. Because of this it's important to document the genre before everything falls into oblivion. Time for digging, raking, sowing, watering, fertilising, weeding and reaping in the plethora of the gothic country music. I will go on untiringly within the limits of family, work and other duties.