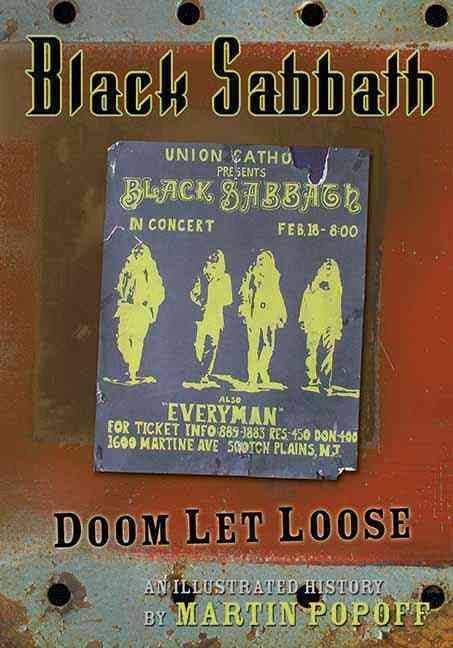 I'm old. In fact, my age stands the comparison with Methuselah. As you get older flashbacks comes more often and lasts longer. You begin to think about why, when and how you stumbled into gothic country music. Black Sabbath definitely played a part in this progress if you can call it that. At the time - and with their down-tuned riffs ringing in my ears - I didn't realize the full magnitude of their gothicismus. Recently, I've been absorbed by their equally impressive as implausible history. In short: it's the story of Tony Iommi, Bill Ward, Ozzy Osbourne and Geezer Butler hailing from Aston, a gloomy industrial suburb of slightly less unglamorous Birmingham who changed heavy metal for ever. I got down to work, as always, with an scientific approach. In practise, this means that I googled "best book Black Sabbath" to get recommendations. A lot of books showed up in the search results. Then I made an assessment. Let it be said. Most of the books are pure crap. However, I found five distinctive books which also constitute the standard references. This is my assessment: "Rat Salad: The Classic years 1969 - 1975" by Paul Wilkinson. This personal and fan-inspired book focus on the first six albums. The second book is "How Black Was Our Sabbath: An Unauthorized View from the Crew" by David Tangye and Graham Wright. The two authors were part of the Black Sabbath crew. The book is truffled with piquant anecdotes and trivia. The book focus on the period 1969-1979. The third book is "Sabbath Bloody Sabbath" by Joel McIver. It's a thorough book. The fourth book "Sabbath Bloody Sabbath: The Battle for Black Sabbath" by Garry Sharpe-Young is another notable book. This book focus on the period 1979-1995. However, the definitive book is "Doom Let Loose: An Illustrated History" by Martin Popoff.
"Doom Let Loose: An Illustrated History" is a massive piece in many respects. The dimensions are 8x0.8x10 inches (20,3x1,9x25,5 cm) and the weight is 2.2 pounds (1 kg). The book contains 355 pages with 373 graphics, consisting of 127 band photos and 246 memorabilia and record sleeve shots. Doom Let Loose was published in 2006 on ECW Press and is long out-of-print. Used copies are expensive. But, I'm a lucky bastard and found a copy in very good shape on Tradera (Swedish eBay) for 150 SEK (which is approximately $17).
Doom Let Loose explains how the classic albums and songs came to be and is meritorious written in chronological order. The chapters are divided in each individual album and it's consecutive tour. The book deals with the strains of relentless touring, psychiatric and physical problems, legal disputes, alchohol and drugs. Black Sabbath gives the concept of consumption of cocaine a new and deeper meaning. "Lying snowblind in the sun" in Los Angeles, CA. You get new insights. For example, the house on the cover of their debut album is Mapledurham Watermill, located on the River Thames in Oxfordshire. N.I.B. or Nibby is Bill Ward's nickname (a very popular misconception is that the abbreviation stands for Nativity In Black). The leather trousers they wore in the beginning of their career were made of car seat leather from a Birmingham car manufacturing company. You will also find out why Bill Ward wears red tights (belonging to his wife) on the cover of their sixth album, Sabotage, which many - including myself - also consider their "last". When "Technical Ecstasy" was released in September 1976 even I realized that, sadly, it was all over. Nothing lasts forever. Even the longest, the most glittering reign must come to an end someday.