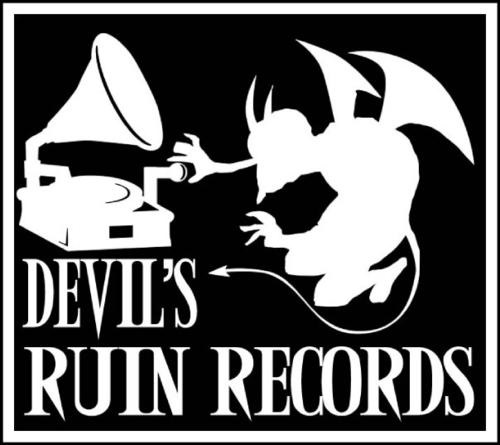 There are record companies and there are "record companies". Some of them have made a lasting impression and been very influential, like Sun Records founded in 1952 by Sam Phillips. Over the years they released groundbreaking records with very renowned artists. Sun Records is, strangely enough, still active. The "gothic country" counterpart to Sun Records is Devil's Ruin Records (DRR), which was a short lived, but legendary record company. Devil's Ruin Records motto was "Loathsome music for sinners, saints, imps and angels". The label was active between 2008-2010 and released 30 albums of which five were compilations. You can check out the complete DRR catalogue here (opens in a new window). Devil's Ruin Records was based in Leo, Indiana and owner was Joshua Warfel. You can read an interview with him on the reputable site Sepiachord (whose motto is "Music Now for a Past That Never Was"). You will find a link here (opens in a new window). I don't know anything about the business side, contract issues or reimbursement. I just focus on the music. All that glitters is not gold. But almost all. In many articles, I have stated that the provenance of DRR is a mark of quality. The list of artists is exquisite: The Dad Horse Experience, Christian Williams, Pinebox Serenade, Reverend Elvis, Uncle Sinner, OldBoy, The Mountain Apple Epidemic, Black River Brethren among others. I proudly admit that I have found a lot of artists through Devil's Ruin Records. At the moment I have managed to get a hold of 18 of the 30 albums that have been released. Some of the DRR releases, like "Thin & Pale" with The Mountain Apple Epidemic (DRR028), are on the verge of impossible to get a hold of.
But, their claim to fame and what really stand out are the four compilations in their serie "Best of Dark Roots Music". The album titles are inspired by rodents. Rodentia (vol I a double album), Rodentagogue (vol II), Rodenticide (vol III) and Rodentum (vol IV). They are all out of print and very hard to find. I'm very pleased to see them in my cd shelves. The album art is fitting (see below). The art work are designed by Ronaldo Selistre, Gromyko Semper, Eddie Obituary (a.k.a. Joshua Warfel) and Huseyin Ozkan, respectively. The four "Best of Dark Roots Music" compilations makes the list of renowned artists in the genre even longer: Strawfoot, O'Death, Reverend Glasseye, Creech Holler, Tarantella, Antic Clay, Lonesome Wyatt And The Holy Spooks, Sons of Perdition, Slackeye Slim, Those Poor Bastards, Myssouri, Palodine, The Blackthorns, Pushin' Rope, .357 String Band, Highlonesome, Murder By Death among others. If this exquisite series weren't enough there's also a fifth compilation, Compendium, released in 2009, which is also a must have album.
Devil's Ruin Records really left a mark on the genre and on me. The idea behind Devil's Ruin Records is very close to a dream I have. You can read more here (opens in a new window) in my blog entry.