You should never try to recreate moments that have already passed. Why not? Because it was the moment that made it special. This rule of life is applicable to places, parties and sometimes people. And it's also true for concert experiences. In 1981, I experienced the best concert ever, read more here (opens in a new window). Bruce Springsteen & the E Street Band. We who were there understood that we had experienced something out of the ordinary. Already then, I realized that this moment will never be recreated or surpassed. This was magical and I wanted to cherish this moment forever. I decided not to go to a concert with him again. Until now, that is. When I turned an important age last year, I got two tickets to the last of three concerts in Gothenburg. The concert was also a family gathering moment. Back in 1981, "The River" had just been released and was promoted by a tour. Today, no promotion is really needed. Nowadays, it's arena venues and film screens of gigantic proportions. However, something has probably been lost on the way. Bruce Springsteen is a mega-superstar with a solid fanbase and strong purchasing power. But, not exclusively. People with less purchasing power seems to prioritize this event over other things in their lives. Bruce Springsteen attracts all kinds of people: young and old, male and females, urban and rural and new and old fans. They all got their reasons and stories.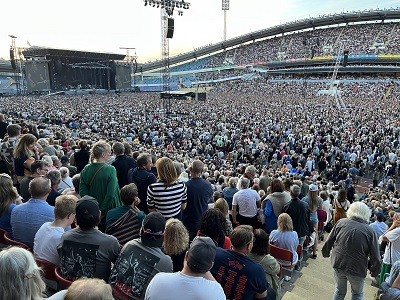 According to the official statistics there were 65 158 people attending the last concert. Despite the fact that people were in good time and the entry control system was efficient, it took a while to fill up the arena. The weather was warm and sunny, and the atmosphere was friendly. I didn't know what to expect. To be honest, after "Born in the USA", I haven't cared much for his albums. In fact, a couple of years ago I struggled to put together a cd compilation of his later releases. My personal favorite is his first album "Greetings from Asbury Park, N.J.", which is an underrated album that not many people know about. I'm a man of principles. My point of reference is the 1981 concert. The show is considered by many to be the best of all the European shows and is very well documented. And a bootleg favorite for old hard-core fans. It's hard not to compare the two concerts, but also unfair. After all, 42 years has passed. And it's rude to look a gift horse in the mouth. Oceans of time has passed since 1981. Death inevitable, time is ineluctable. People age differently. Bruce Springsteen is 73 years old and in great physical shape. Clarence Clemons and Danny Federici have passed away. Roy Bittan, Garry Tallent, Steven Van Zandt and Max Weinberg are very much alive. Nils Lofgren, in my world, is the new guy in the band. He joined the band in 1984. There are many supporting musicians on stage and on the payroll, predominantly on brass instruments and backing vocals. This creates a formidable wall of sound.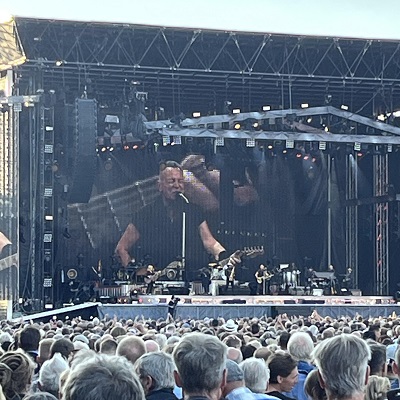 The concert began with "Night" and ended with "I'll See You in My Dreams". You can check out the complete setlist here (opens in a new window). Bruce Springsteen & E Street Band played for three hours without any break. Impressive! Even more impressive is that Bruce Springsteen manages to turn the heat up a couple of notches with each song. The first show didn't get the best of reviews (warming up). The second show got slightly better reviews (getting there). The third and last show got top reviews (magic). Unlike the 1981 concert there were not a lot of interacting with the audience during the show. It was more like 1,2,3,4 and go. The tempo was furious with one song after another. In total, 28 songs and a strong emphasis on his fast and upbeat songs. Personally, I prefer his slower and more epic songs. I would have made some other choices. To leave out "Point Blank" and "The Ghost of Tom Joad" is incomprehensible. In addition, he could also have played some covers like "Fire", "This Land Is Your Land" or "War". The highlights on June 28th were "Prove It All Night", "Darkness On The Edge Of Town", "The River", "Backstreets", "Badlands" and "Because The Night". Especially, the latter was performed with a lot of power and passion. Bruce Springsteen works hard to let the audience get their money's worth. I think he succeded. People were very pleased when they left the arena. He even succeded to impress me, who are traumatized by the 1981 concert and not easy to please. Finally, I have heard some rumours that this was Bruce Springsteen's last tour. This doesn't seem to be very true. Bruce Springsteen leaved the concert with a greeting and a promise "We will be back".